Virag Pachpore
The meeting between 30 Muslim clerics and social leaders and Prime Minister Narendra Modi held on Shab-e-Baraat on June 2, 2015 has stirred the Muslim psyche to a great extent. This was visible from the reaction and responses of the Muslim leaders who participated in various television debates on the following day. The political opponents of BJP have taken this meeting as a 'show' by the 'Hindu' BJP while the diehard Muslim leaders like Asasduddin Owaisi of AIMIM perceived it as one more ploy of the Prime Minister to befool the gullible Muslims by pocketing some of their religious leaders.
This is the second such meeting between the Muslim leaders and the Prime Minister Narendra Modi. Earlier a delegation of prominent Muslim leaders met the PM and discussed with him the issues and concerns of Muslim society.
However, the Tuesday meeting holds more ground in improving the overall position of the Muslim community because most of the members of the 30-member team were religious personalities. This class still has its sway over the Muslim masses which a ground reality that can't be ignored.
The delegation led by Imam Umer Iliyasi, Chief of All India Imam Council included stalwarts like Dr. Khwaja Iftekhar Ahmed, President, Quami Majlis-e-Shoora, Qari Mohd. Mian Mazhari, Chairman, Islamic Council of India, Moulana Mohd. Haroon, Imam – Khateeb Jama Masjid, Race Course, Moulana Bilal Ahmed, Member, Shoora Tableeg-e-Jamaat Hazrat Nizamuddin Auliya, Moulana Mohd. Yunus, Imam – Dargaah Sharif Ajmer, Moulna Nasirudeen, Shahi Imam, Jama Masjid Kaithal, Moulana Mohammad Ikram, Imam – Khateeb Jama Masjid Bangalore, Moulana Burhan Ahmed Qasmi, Shahi Imam – Jama Masjid Jaipur, Moulana Allama Zafar Janakpuri, Shahi Imam – Muballig – e – Azam, Moulana Ayub Ali, Imam – Masjid Shahjahan Ajmer, Moulana Zakir Hussain, Tableeg -e- Jamat, Moulana Abdul Majeed, Shahi Imam-Khateeb Jama Masjid Cantt, Moulna Qari Abdul Lateef, Imam – Masjid Sarai Kale khan Mohatmim Madarsa Faizia Miftahul Quran, Moulana Ilyas Bharatpuri, Imam-Khateeb Mohatmim Madarsa Mariful Quran, Delhi, Moulna Mufti Zulfikar, President, Tanzeem-Aimma – Masajid, Uttar Pradesh, Moulna Lukman Tarapuri, Imam – Jama Masjid Anand, Gujarat, Moulana Aamir, Imam-Khateeb Jama Masjid, Meerut, Dr. Parvez Ahmed, Son of Late Fakhruddin Ali Ahmed, Ex-President of India, World Renowned Heart Specialist, Dr. Asgar Ali Khan, Advocate, High Court, Delhi, Dr. Firoz Ahmed Bakht, Grand Nephew of Moulana Abul Kalam Azad, Dr. Aslam Parvez Ahmed, Principal – Zakir Hussain College, Prof. Qazi Obaid Ur Rehman, Jamia Milia Islamia, Moulana Ashgar Ali, Shahi Imam, Patna, Mohd. Kasim, Journalist, Moulana Bilal Ahmed Bijroulvi, Mohatmin Madarsa Jamia Arabia, Moulana Usman Gani Qadri, President, Amin – e – Shariat, Gujarat, Prof. Abdul Haleem Khan, Chairman – Girls' College, Indore, Moulana Kalbey Rushaid, Shia aalim e Deen, and Moulana Mufti Afroz Alam Qasmi, Qazi Chairman – Markaji Milli Foundation.
The Prime Minister met each one of the delegation personally exchanging pleasantries with them when they called on him. Modi told them clearly that he did not believe nor indulge in politics of majority and minority. For him, he is the leader of the 125 crore Indian community that includes people of all religious faiths Muslims included. He also told them about the damage the politics of majority-minority did to the social fabric of the country and stressed to strengthen "Bharat and Bharateeyata" to make India united.
The members of the delegation were also happy with their meeting. "We conveyed our 'dil ki baat' to the PM who often shares his 'man ki baat' with the masses" Moulana Umer Iliyasi said adding that they had conveyed to the PM the concerns of the Muslim community. The Muslim leaders were in for "forging a partnership for progress and development with the Prime Minister and showed their readiness to reject the divisive politics of vote banks.
Firoz Bakht Ahmad, grandnephew of Maulana Abul Kalam Azad, the famous freedom fighter and first education minister of independent India and contemporary of Pt Nehru, was more explicit in expressing his opinion about the meeting.
Appreciating PM's vision of Muslim youth with "Quran in one hand and a computer in the other" Ahmad said the PM had assured them that he would not play the Hindu or Muslim card, but would play the India card."Every member came away with the impression that he a strong PM who mean business", Ahmad commented.
This is not the first time that Narendra Modi has made his position clear vis-a-vis Muslim issue in the country. Right from the election campaign days he spoke the language of 125 crore Indians and not of majority – minority. Attempts were made by the media, political adversaries and seculars and leftists to besmirch his image and project him as enemy of the Muslims. But they could not succeed.
The disappointment of the Muslims from the Congress and the secular (read anti-Hindu) leaders was so intense that they had decided not to vote in their favours. In addition to this efforts of social organizations like Muslim Rashtriya Manch (MRM) to awaken the Muslim voters paid better dividends this time. According to Urdu media estimates, 8-12 per cent Muslim voters have cast their votes in favour of BJP and Narendra Modi.
And this is the reality that the secularists and communal leaders could not digest so easily. Hence, they are looking at every such event with a jaundiced eye. The indignation of MIM's Owaisi and others can be explained against this background. They are more afraid of losing the vote bank than development of the Muslims.
Muslims in India are very much Indians as any other Indian citizen. They belonged to this land, they are born and grown here; and they will have the last rest in this land only. They share the ancestors, culture, and motherland with the Hindus. Only they have changed their mode of worship some years ago maybe due to historical reasons. Prominent Muslims scholars like Tarek Fatah, Akbar Khan, agree to this reality. Akbar Khan who chaired the Dharma Sabha in Kurukshetra in the recent past had said openly on record that 16 generation his forefathers Ranvir Singh Rana and Mamu Singh Rana had accepted Islam. Since then they are Muslims. This is the reality of 99.99 percent of Muslims and Christians in India. From this point of view, all Indians are descendents of the same ancestors. And when Modi says he is the Prime Minister of 125 crore Indians he only refers to this ground historical reality.
The delegation of Mulsim clerics seems to have understood this perception of Modi.
BJP sharing government with all Muslim PDP in J & K is a political masterstroke of Narendra Modi. It has helped improve his personal image and that of BJP as acceptable political ally even to the PDP. This will pave the way for further Hindu-Muslim thaw in India. This bold statement marks the best understanding of the political reality by Modi and sends a clear message to all the Muslims of India.
The Muslims in India are restive and restless. Their association with the Congress only added to their poverty, illiteracy and unemployment. The Congress only indulged in creating a fear complex amongst them about the RSS and other Hindu organizations and used them but criminally ignored their development.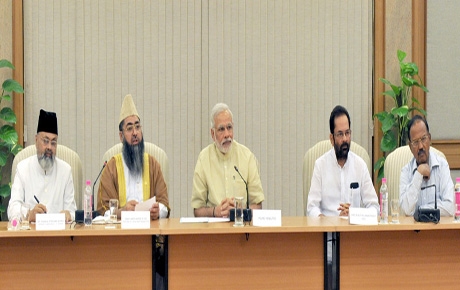 The Muslims are coming to terms with this stark reality and drifting away from the Congress and its anti-Hindu politics. But they are yet to be fully assured about the BJP. Though the PM has spoken his mind on many occasions, the statements of some of the leaders of his party and others from VHP, Bajrang Dal etc. have blurred the clarity of PM's statements.
It is against this background this meeting needs to be seen. The gathering of the Muslims clerics and intellectuals and the cordial atmosphere in which it was held heralds a better future for the country and for the Muslim community as well. This is the most positive approach to resolve this complex issue and ensure equitable development of the 125 crore Indians.