Politics of protest over Maharashtra Bhushan award to Purandare
Total Views |
Virag Pachpore
With the Bombay High Court quashing the PIL filed by Sambhaji Brigade activists challenging Maharsahtra Government decision to confer the prestigious Maharashtra Bhushan award to 'Shivshaheer' Babasaheb Purandare Wednesday, the decks are cleared for honouring this socially acclaimed 'Bard' of Chhatrapati Shivaji Maharaj.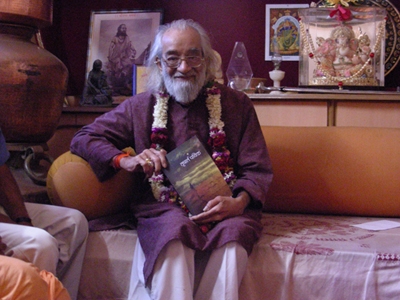 The High Court snubbed the petitioners by calling their petition as 'publicity stunt' of the Sambhaji Brigade as the plea came up for hearing hours before the award was to be conferred on Purandare. The High Court had said that there was 'no substance' in the petition and imposed fine of Rs. 10,000/- on the petitioners for 'wasting the Court's time.
The state has been witnessing an unnecessary and uncalled for controversy relating to this decision of the BJP state government led by Devendra Fadanvis for last some days. This controversy has shaken the otherwise calm and peaceful social life in the most progressive state. Maharashtra is known for its progressive attitude right from the days of Mahatma Fule, Lokmanya Tilak and Maharshi Dhondo Keshav Karve to Yashwantrao Chavan. Chavan, the first chief minister of Maharashtra had the nack of taking all the good people along with him in the state's progress. He had even praised Purandare for his works. But the same Maharashtra is witnessing today exchange of wildest of accusations and casteist expletives at each other vitiating the otherwise peaceful atmosphere.
The reason?
The State Government headed by Chief Minister Devendra Fadanvis announced the most prestigious Maharashtra Bhushan Award 2015 to veteran historian, prolific writer and best known 'Poet of Shivaji' (Shivshahir) Babasaheb Purandare of Pune for his notable contribution in the field of literature. But accusing him of subscribing to Hindutva ideology and espousing the cause of Hindutva through his lectures and writings on Shivaji, the Maratha lobby which dominated the state politics for over six decades, started opposing the decision of the government.
Amidst the opposition voiced by Nationalist Congress Party MLC Jitendra Awhad, the members of Sambhaji Brigade, Dnynapeeth Award winner litterateur Bhalchandra Nemade, former PCI chief Justice P B Sawant and others, another group supporting Purandare also came out in the open. The verbal controversy took violent turn Tuesday when some alleged activists of Sambhaji Brigade pelted stones at State Transport buses, and even burned some buses in Pandharpur, Osmanabad and other areas of their stronghold.
Some over enthusiastic writers even filed a PIL in the Bombay High Court challenging the Government decision. The High Court is expected to give its verdict on the same by Wednesday evening when the award is slated to be conferred on Purandare.
However, ignoring the opposition the state government has decided to go ahead with its decision and the award is likely to be conferred on this 'devout devotee of Shivaji Maharaj' this evening. The High Court decision came as a shot in the arm for the state government.
The Prestigious Award:
Initiated in 1996 the Maharashtra Bhushan Award is the highest prestigious award presented annually by the Maharashtra state government to persons in recognition of their significant contribution in various walks of social life.
Initially the award was given to persons belonging to fields of literature, science, arts, and sports. In the later days, other fields like social work, healthcare services, journalism and public administration are included. The award carries a cash amount of Rs. Five lakh, a memento and a citation. A government appointed committee selects the winners.
The government had appointed a committee comprising state Cultural Affairs Minister Vinod Tawade, Cultural Affairs Secretary Valsa Nair Singh, Cultural Affairs Director Ajay Ambekar and non-official members Wasudev Kamat, cricketer Dilip Vengsarkar, lawyer Ujjwal Nikam, journalist Rajiv Khandekar, and social activist Mangala Kamble. This committee had unanimously agreed on the name of Babasaheb Purandare for this prestigious award and the Chief Minister made the announcement to this effect on May 1, the Foundation Day of Maharashtra. The Award was to be given to him on August 19.
Table: List of persons conferred with Maharashtra Bhushan Award since 1996
| | | | |
| --- | --- | --- | --- |
| Sl. No. | Year | Name | Field |
| 1. | 1996 | P. L. Deshpande | Literature |
| 2. | 1997 | Lata Mangeshkar | Art & Music |
| 3. | 1999 | Vijay Bhatkar | Science |
| 4. | 2001 | Sachin Tendulkar | Sports (Cricket) |
| 5. | 2002 | Pt. Bhimsen Joshi | Art & Music |
| 6. | 2003 | Dr Abhay and Rani Bang | Healthcare |
| 7. | 2004 | Baba Amte | Social Work |
| 8. | 2005 | Raghunath Anant Mashelkar | Science |
| 9. | 2006 | Ratan Tata | Public Administration |
| 10. | 2007 | R K Patil | Social Work |
| 11. | 2008 | Nana Dharmadhikari | Social Work |
| 12. | 2008 | Mangesh Padgaonkar | Literature |
| 13. | 2009 | Sulochana Latkar | Film |
| 14. | 2010 | Jayant Naralikar | Science |
| 15. | 2011 | Dr Anil Kakodkar | Science |
| 16. | 2015 | Babasaheb Purandare | Literature |
Who is Purandare?:
Though Babasaheb Purandare is a household acquaintance in Maharashtra, to people outside the state he may be lacking proper introduction. Especially when the news of this 'secular and progressive' opposition this award is so widely published by the 24x7 TV News Channels and secular Main Stream Media (MSM) as their sacred duty, this ignorance about this 'ardent devotee' of Shivaji Maharaj outside the state might weigh heavily lopsided against the ground reality about his contribution to spreading the life and mission of Shivaji as a national hero.
Born on July 29, 1922, the nonagenarian Balwant Moreshwar Purandare (Ba. Mo. Purandare) is popularly and fondly known as 'Shivshaheer Babasaheb' all over Maharashtra. He is not just a traditional 'Bard' of Shivaji, but has studied Shivaji's biography, experienced it and lived it as in the times of that great hero. He is that senior historian for whom every ridge and each peak of Sahyadri Mountain range is an actor, every fort a chapter in his ballad.
Household name in Maharashtra:
An authority on Maratha history Purandare made Shivaji's biography his only goal in life, and firmly believed that "through history one should be searching for what the nation is endowed with, not be mired with the facts of peace treaties and battles". His writings and commentaries on historical events in the life of Shivaji Maharaj made him a household name besides taking Shivaji's inspiring life to every nook and corner of Maharashtra. Babasaheb took Shivaji to every household, the crèches, and even the wombs of expecting mothers, and this is his greatest contribution by any measure.
He had his education at Pune where he came in contact with noted historian like G H Khare, and worked with him at Bharatiya Itihas Sanshodhan Mandal. His short stories based on historical facts were published as "Thinagya" (Sparks) in Marathi. But his monumental contribution is his "Raja Shiv Chhatrapati" on the life and mission of Chhatrapati Shivaji Maharaj which saw its 16 editions in print! It reached to over five lakh households till date. The historical plays "Fulwanti" and "Jaanata Raja" added colourful feathers of success in his cap. The mega play "Jaanata Raja" completed 1000 plays in last 23 years!
A sense of pride in history, research orientation and perseverance to seek the truth, self-control, doggedness, passion, obsession, sharp memory characterize Babasaheb Purandare's personality. These are supplemented by his sharp intellect, analytical abilities, and his presentation skills through his writing or oration. These qualities have inspired many to take up scholastic study of the life of Shivaji. He is looked up on a guru to those who revere Shivaji.
Purandare created a record of sorts by delivering over 10,000 lectures in the last 50 years spreading the message on the life and mission of Chhatrapati Shivaji. His lecture series on life of Shivaji Maharaj became very famous in country and abroad. His work on Shivaji was acclaimed by prominent historians including G H Khare, Mahamahopadhyaya Datto Waman Potdar, G B Deglukrkar, Setu Madhavrao Pagdi and others. They have not pointed to any lacunae in his works.
Participation in Goa Mukti andolan:
Purandare came in contact with Rashtriya Swayamsevak Sangh (RSS) in his formative years and imbibed the values like patriotism and commitment to nation and society. He worked as a fulltime RSS pracharak also. He, along with his other friends took active part in the Dadra-Nagar Haveli liberation movement. These areas were under the Portuguese occupation even after India became free in 1947. His close friend the late Sudhir Phadke, whose melodious voice had cast a magic spell on Maharashtra a couple of decades ago, had accompanied him to this mission of liberating the areas under Portuguese control. Purandare, along with another notable litterateur Gopal Neelkanth Dandekar visited each and every fort of Shivaji Maharaj and organised in grand scale the 300th anniversary of Shivaji's coronation at Raigarh in 1974.
Through his association with personalities like Acharya Atre, GoNiDa, Pu. La. Deshpande, Atal Behari Vajpayee, the Mangeshkar family, Thackeray family, Babasaheb successfully managed to propagate the persona of Shivaji. Shivaji's biography, he believes, is a study of creation of a person's character. He aptly showcases and unfolds the character, traits, and persona of Shivaji through his life and times in his writings, discourses, commentaries and plays.
For his works, in the field of drama, he was awarded the Kalidas Samman by the Madhya Pradesh government for the year 2007-08.
The politically motivated controversy:
The pseudo-seculars, progressives and leftists leaders in Maharashtra sought to create a controversy over state government's decision to confer this prestigious Maharashtra Bhushan Award to such a great, ardent devotee of Chhatrapati Shivaji by raking some trivial issues. They shamelessly raised the 'caste' factor in this controversy. It is sad irony that those who claim to work for eradicating caste from public life resort to the same tactics to voice their opposition to this award in to a 'Brahmin' scholar of 'non-Brahmin' Shivaji Maharaj!
This exchange of allegations and counter-allegations by warring factions has created a political storm in the state, at least for the present. Jitendra Awhad, the most cantankerous NCP leader was the first to voice his displeasure in rudest terms over this decision. The NCP, which then sought to distance from this controversy, later joined the bandwagon with its supremo Sharad Pawar, the powerful Maratha satrap, too accusing the state government of indulging in caste politics. Udayan Raje Bhosale, the direct descendent of Shivaji Maharaj, and a prominent NCP leader from Satara, too, jumped into the controversy with an advice to Maharashtra government to 'put off' the award function.
While the MNS chief Raj Thackeray slammed these leaders for indulging in dirty caste politics over this issue, noted personalites like Vishwas Patil, Avinash Dharmadhikari, G B Deglurkar came in support of Purandare. This war of words Tuesday degenerated into violent outbursts by the members of Sambhaji Brigade pelting stones and burning buses and attacking the office Maharashtra Minister of State for Home Ram Shinde at Ahmednagar.
The opposition argument:
The NCP, Congress and others are opposing the government decision on the basis that Purandare's portrayal of Shivaji Maharaj was not based on historical facts and that he twisted them to suit his design of propagating Hindutva ideology and thus depicted Shivaji as protector of 'cows and brahmins' and a king who established the 'Hindu Pad Patshahi'. Some leaders are also accusing him of writing history through a Brahaminical prism.
NCP supremo Sharad Pawar supported Awhad stating that though he respected Purandare and his scholarship he was not in agreement with his 'derogatory writing' on Shivaji. In his opinion Awhad had done nothing wrong in opposing the decision. Some days ago his nephew Ajit Pawar distanced him and his party stating that whatever Awhad had said was his 'personal opinion' and not the official party line. Pawar's daughter Supriya Sule too had praised Purandare a couple of months ago. Two days later, Sharad Pawar changed colours like a chameleon.
Justice P B Sawant, former Chairman of Press Council of India, and Dnyanapeeth award winner Bhalchandra Nemade, are two prominent public figures who toed the similar line in opposing the award to Purandare. While Sawant aired the views similar to those expressed by Pawar, Nemade felt that the portrayal of Shivaji in Purandare's work was not in keeping with history.
Two activists of Sambhaji Brigade based in Pune Padmakar Kamble and Rahul Pokale, filed a PIL in the Bombay High Court challenging the government decision to bestow this highest civilian honor to Purandare. The petitioners have claimed that the government has not given proper thought while deciding the granting of state's highest honour.
Raj Thackeray's retort:
MNS Chief Raj Thackeray retorted to Sharad Pawar's observation accusing him of playing a 'dirty politics' over this issue. Raj pointed to the fact that Maharashtra is ruled by a Brahmin Chief Minister and this is what most disturbing factor for the Maratha satrap like Pawar who dominated the state politics on caste lines spearheading supremacy of the Marathas over other castes. Raj had threatened to create 'tandava' (havoc) in Maharashtra should anyone touch Purandare.
State Cultural Affairs Minister Vinod Tawade, however, appealed to all the concerns to keep restraint and do not indulge in such controversies. There was no issue involved in this controversy, he said. The government would go ahead with conferment of this award as scheduled, he said.