Mired in the controversy of 'who first' the future of proposed NSA-level Indo-Pak talks seems to have caught both the sides in a dilemma. Pakistan High Commissioner in Delhi Abdul Basit has stoked fires by inviting the separatists Hurriyat Conference and JKLF leaders for a meeting with the Pakistan's National Security Advisor Sartaz Aziz who is coming to India for talks on August 23 with his Indian counterpart Ajit Doval.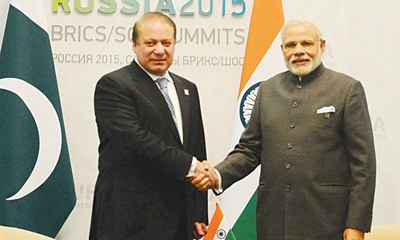 The Government of India took strong steps in putting those Hurriyat Conference leaders Syed Ali shah Geelani and Mirwaiz Umar Farooq and JKLF leader Yaseen Malik under house arrest sending a strong and stern message to the neighbouring country that talks will be held only on the issue of terrorism.
But the Government of India hurriedly released them just a couple of hours of their arrest in Srinagar. In view of the Indian government the meeting between the Pakistani NSA and these separatist leaders would not be in tune with the spirit of Ufa understanding between the two heads of the states – Narendra Modi and Nawaz Sharif.
India had cancelled the NSA level talks in August last year exactly owing to this initiative of Pakistan High Commissioner in inviting the separatist Kashmiri leaders for talks preceding the official dialogue between the two countries. S Chandrasekharan, Director of South Asia Analysis Group (SAAG) had described this as "deliberate attempt to irritate India". However, Pakistan maintains that "this has been the practice before, which was never objected by India."
After a change of guards at the Centre in 2014, the Bharatiya Janata Party (BJP) government under the leadership of Prime Minister Narendra Modi has been trying to improve relations with India's immediate neighbours who share similar culture, history and traditions. His visits to Bhutan, Nepal, Sri Lanka and Bangladesh are aimed at striking an emotional chord with these countries. His invitation to all the heads of neighbouring states for his swearing in ceremony and the positive response it evoked was looked at a novel initiative in improving the regional relations and ushering in an era of peace, progress and peaceful coexistence.
Barring Pakistan, all the nations responded in a most positive way to Modi's initiative. Pakistan, however, did not fall in the line and continued its promotion and encouragement of cross-border terrorism in J&K and Punjab. The recent attacks in Gurudaspur and J&K border areas suffice to explain the dubious politics Pakistan is involved in. This is despite the good gestures and initiative by the Indian Prime Minister in Brazil and later in Ufa where he met his Pakistani counterpart Nawaz Sharif.
The Frontier Post of Pakistan, blamed India for stalling the peace initiative. It reported "Pakistan invited Kashmiri leaders from India-held Kashmir for a meeting in a move that risks further straining efforts to restart a peace dialogue ahead of a rare meeting between top security officials from the nuclear-armed nations."
The Frontier Post quoted Sartaz Aziz's interview to NDTV's Group Editor Barkha Dutt in which he said he believed that "meeting with the Kashmiri leaders was perfectly right. But the timing of Pakistani High Commissioner meeting separatist leaders was not proper and affected the Foreign Secretary-level talks between the two countries in August last year".
Pakistani media viewed this cancellation of Secretary level talks last year as short-sighted approach of the Modi Government. It holds that the talks should cover a range of issues from Siachen to Kashmir to Sir Creek, and not only on terrorism as insisted by India. It also sees Indian government's initiative to have talks limited to terrorism as a feeler to judge and gauge the response of Pakistan for further such meetings.
The Washington Post too held India primarily responsible for failure of the proposed talks. A recent article titled "India-Pakistan Talks Hang in the Balance Over Kashmir", the author Niharika Mandhana expressed:"Two days before Pakistan's National Security Advisor Sartaj Aziz is scheduled to land in New Delhi for meetings with his Indian counterpart Ajit Doval, statements from India's foreign ministry Friday morning cast doubt over whether the talks would actually take place. The reason: another planned meeting between Mr. Aziz and separatists from the Indian state of Jammu and Kashmir at a reception at the Pakistan High Commission on Sunday.... Through a series of tweets, a televised interview and a media statement, India hardened its stand against Pakistan's decision to consult with Kashmiri separatists. The Kashmir region lies at the center of decades of enmity between India and Pakistan. Both countries administer parts of the territory but claim it in full."
The Dawn also raised concerns over India's threat to cancel the proposed meeting in view of the invitation to separatist Kashmiri leaders. It quoted Foreign Office spokesman Qazi Khalilullah who in a statement on Wednesday clarified: "there is nothing unusual in such meetings and it has been normal practice for Pakistan to consult Hurriyat leaders prior to high level meeting with India".
While Pakistani media seeks to put the onus for failure of the proposed NSA level meeting on India, the Indian opinion seems to be caught in a Hamlet-like dilemma. As expected the non-BJP opposition leaders and the secular media supporting them have launched a sustained campaign to highlight the failure of the Narendra Modi government in initiating the dialogue process with Pakistan. Their argument was such an exercise would be futile and counter-productive as far as the issue of terrorism was concerned. Their opposition to every move of this government apparently stems from their frustration and bleak future.
But the tone of criticism by none other than the senior BJP leader and former Foreign Minister Yashwant Sinha was unexpectedly surprising. Prime Minister Narendra Modi had consistently been saying that each issue would have to be resolved across the table and through dialogue. During his recent address to the jam-packed audience in Dubai's cricket stadium he had categorically reiterated his position on bilateral dialogue.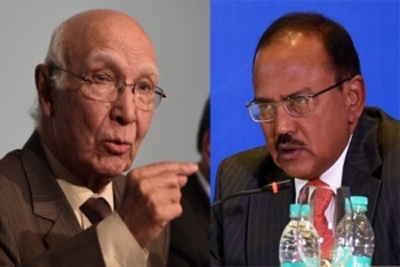 It is now globally accepted reality that cross-border terrorism received encouragement from Pakistani rulers-mainly the army that de facto runs the country- against India. Right from 'Operation Topaz' this has been going on. This is also true that the world- especially the USA and the UK—always ignored Indian position on terrorism and supported Pakistan as a compulsion of their South Asian political exigencies. They ignored the evidences India submitted to substantiate its position on terrorism from across the border. With the arrest of a LeT terrorist in J & K last week, and the terrorist attack in Gurudaspur and Udahmpur, the world has come to understand the seriousness in Indian stand on terrorism.
While Yashwant Sinha made his opposition to talks public in a TV interview, there is another section in the BJP that seems to sanguine that the talks would serve limited purpose of discussing cross-border terrorism. They feel that this NSA level meeting should be construed as 'operational meeting' between the two neighbours. They also pointed to the fact that the Hurriyat Conference leaders would be meeting Pakistani NSA at a public reception after the official meeting and as such this is distinct from the earlier sought meeting prior to the talks.
As Government of India advised Pakistan in most clear terms against holding any dialogue with the separatist leaders in Kashmir and talk to the government directly, Aziz too had admitted that the "timing of the Hurriyat talks" could have been better.
Pakistan wants the inclusion of Kashmir issue in the talks and their attempt to involve the Hurriyat Conference leaders in these dialogue processes should be looked from that point. Against this ground reality hoping for peaceful resolution of the issue will be like chasing a mirage.