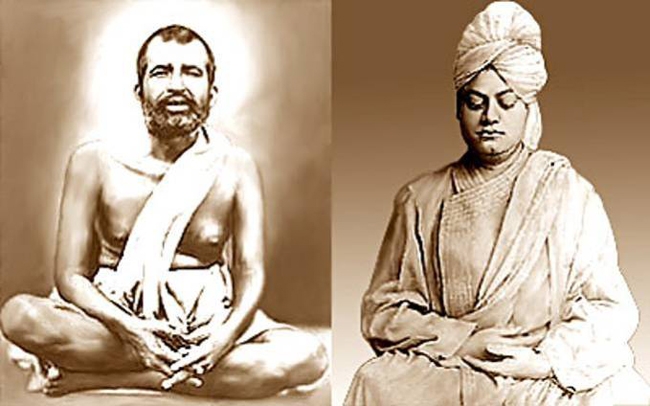 "The time will come when Naren will shake the world to its foundations through his intellectual and spiritual powers. There is much more to be done by him." – Ramakrishna Paramahamsa
Noted patriot, freedom fighter and statesman-philosopher of modern India Chakravarty Rajagopalachari alias Rajaji once commented about Swami Vivekananda: "Swami Vivekananda saved Hinduism and saved India. But for him, we would have lost our religion and would not have gained our freedom. We therefore, owe everything to Swami Vivekananda. May his faith, his courage and his wisdom ever inspire us, so that we may keep safe the treasures we have received from him." (Swami Vivekananda: His Life and Legacy, by Swami Tapasyananda, Sri Ramakrishna Math, Mylapore, Chennai, 2011, PP 1)
How clearly and deftly Rajaji summarized the tremendous contribution Swami Vivekananda made to the national life of India and for preservation of Hindu Dharma and culture. Swamiji's greatness transcended all the mundane achievements which were only partial expressions of his greatness, the glimpse of which can be had from the quotation of his spiritual Guru Sri Ramakrishna Parmahamsa given at the beginning of this article. Sri Ramakrishna had a premonition about the arrival of this great soul on the earth to save us all from the impending doom.
Swami Vivekananda's family origin can be traced back to the ancient and famous Datta family of Bengal. The Dattas of Simulia or Simla in North Kolkatta originally hailed from Dariatola or Dereton in Hooghly district. Reference is found to Vyasa Datta, a minister in the Kingdom of King Ballal Sen, who ruled over Bengal in 1165-85; and Narayan Datta, also a minister in the court of King Laxman Sen who temporarily revived Hindu rule in Bengal in 1402 AD.
The Datta family is believed to have migrated to Kolkatta during the early days of British Raj and shifted to their house on Gaur Mohan Mukherjee Street where Vivekananda's great grandfather Rammohan Datta built a house. It was in this house Swami Vivekananda was born. It stands today a witness to that epoch-making event –the birth of this great son of Mother India – in a dilapidated state sporting a marble plaque on the outer wall proclaiming its identity.
Rammohan had two sons—Durgaprasad and Kaliprasad. Durgaprasad was well educated through Persian and Sanskrit. He was married to Shyamasundari—youngest daughter of Dewan Rajib Lochan Ghosh of North Kolkatta. Durgaprasad, though an inheritor to immense wealth, developed spiritual interest and at the age of 25 suddenly left home, family and became a monk. Before this he was blessed with a son – Vishwanath.
Vishwanath Datta was born in 1835. His birth marked the entry of Datta family into the modern age. Vishwanath was the first individual in the family who possessed a keen interest and a mind that was free from restrictions of superstitions and prejudices of the Hindu society of his era. Vishwanath passed his junior and senior examinations with credit and entered the firm of an Englishman. In 1866 he passed the attorney-ship examination and after a brief career in partnership, started his own law firm. A noble-minded gentleman and a connoisseur of music and other fine arts, Vishwanath possessed knowledge of English, Arabic and Persian and Sanskrit.
Swami Vivekananda's father was a product of his time that saw blending of Hindu, Islamic and Western (Christian) cultures. He was liberal in his outlook on life and did not strictly follow the Hindu standards in food, dress and other habits of life. Swami Saradananda was of the opinion that he (Vishwanath) had lost faith in Hindu shastras and considered the poems of Hafiz and teachings of Jesus to be the high point of spiritual thoughts. To earn money, live amply and make others happy by practicing charity constituted the highest purpose of his life, noted Swami Saradananda.
Vishwanath was married to Bhuvaneshwari Devi when he was 16 years. She was the daughter of Nandlal Basu and Rajkumari—residents of Simulia. Bhuvaneshwari was 10 years old at the time of her marriage. She was a pious lady and shared the joys and sorrows of the difficult household with her husband with exemplary devotion and equanimity. During the difficult days following her husband's death in 1884, she saved the family from ruin due to her tact and fortitude. Her gentleness and spirit of self-sacrifice held the joint family together during the days of suffering. A disciple of Swami Vivekananda who saw her in her old age recorded about her: "Her very appearance commanded respect. She was a strongly built lady with large fine eyes with long eyelashes. She had a remarkably strong personality that made her obeyed without any questioning. No wonder that Swamiji had inherited these qualities from her." (Reminiscences of Swami Vivekananda by his Eastern and Western Admirers, Calcutta, 1961, Pp 356)
Narendranath or later days Vivekandna was born of such illustrious parents on Janaury 12, 1863. The Dattas had four sons and six daughters. Narendranath was born on the auspicious 'Brahma Muhurt" on Makar Sankranti day. Brahmavadin describes this situation in these words: "The country was full of the songs of harvest, the canticle of praise; Indian homes were cleansed and renewed; doorsills and streets were painted; the granaries were filled; men, women, children walked the earth with joy on their faces saying hallelujah unto the Lord. All waters were worshipped. Horses and cattle were adorned and marched through the streets in procession". ('Swami Vivekananda-His childhood and boyhood' an article published in Brahmavadin in 1911).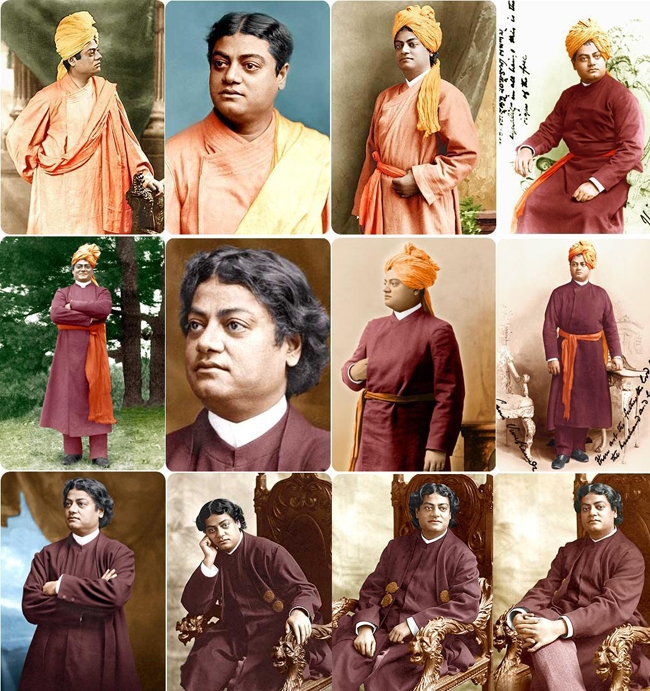 There are certain beliefs associated with the birth of Swami Vivekananda and his "real nature". These beliefs rest on certain ideas of Hindu philosophy that have influenced the Indian minds through the ages. Swamiji in his lecture on "Women of India" mentioned about this in these words: "My mother fasted and prayed for years so that I should be born. Parents pray for every child before it is born. Says our great lawgiver Manu giving the definition of Arya: 'He is the Aryan who is born through prayers'. (Complete Works of Swami Vivekananda, Vol. III)
His parents named him Vireshwar. From his early childhood Naren had a liking for Lord Shiva and remained his devotee throughout his life. He told Sister Nivedita once: "He is the Great God, calm, beautiful and silent and I am his worshipper". He wrote to Ms. Ole Bull on April 11, 1895 about Shiva: "Thou art my right, Thou my wrong, My Shiva, Lord. Since a child I have taken refuge in Thee. Thou wilt be with me at the poles, on the tops of mountains or in the depths of oceans. My stay, my guide in life, my refuge, my friend, my teacher, my God, my real self- Thou wilt never leave me, never." (Complete Works, Vol VI).
Naren also had profound reverence for Lord Buddha and specially admired his large heartedness and compassion which prompted him to lay down his life even for a kid, what to speak of 'Bahujanhitaay, Bahujansukhaay'. Swami Turiyananda, who met Swami Vivekananda at Mount Abu some time before he left for America, found him deeply distressed at the sufferings of the masses of his countrymen with which he became acquainted during his wanderings as a monk through a good part of India. He told Swami Turiyananda: "Haribhai, I am still unable to understand anything of your so-called religion." Recalling this later, Swami Turiyananda said: "Can you imagine what passed through my mind on hearing Swami Vivekananda speak like this? Aren't these 'the very words and feelings of Buddha?' I could clearly perceive that the sufferings of humanity were pulsating in the heart of Swamiji—his heart was a huge cauldron in which the sufferings of mankind were being made into a healing balm". (The life of Swami Vivekananda by his Eastern and Western Disciples, PP 282)
Indications of future greatness were visible in him from his very childhood. As he grew up, Biley, as he was fondly called, developed extraordinary generous nature. Whenever a beggar or a mendicant came for alms, he readily gave away even valuable things to them. He was fond of pet animals and birds and had several such dumb companions, some of them being a cow, a goat, a monkey, a peacock, a pigeon, and some guinea pigs. The coachman with his whip was his hero. His favorite play in those days was the 'King and his Court' and he invariably played the part of the King and appointed others as officers.
Young Biley was exceptionally brilliant and possessed a razor-sharp memory. He showed the signs of extra-ordinary intelligence. As a result of this method of rapid study, he became a scholar of vast erudition and great powers of argumentation even as a student. As a boy, Biley displayed the best qualities of the heart such as resourcefulness, courage, self-confidence, and so on besides exhibiting striking signs of excellence.
His rare spiritual bend of mind distinguished Naren from his friends. He displayed great powers of concentration even in his boyhood. The young Narendra used to experience a luminous glow into which he felt himself dissolving whenever he closed his eyes. At that young age Narendra discovered even without anyone's advice that meditation was the best way to realize God. He practiced meditation in a bolted room regularly without anybody's knowledge.
In 1877, Vishwanth had to visit Raipur in Chhattisgarh for some business dealings. He took the family with him to Raipur. The Dattas first alighted at Nagpur from where they travelled to Raipur in a bullock cart. Much of the travelling was through the thick forests of the Vindhyan ranges. The virgin wild beauty of the forests surrounding presented to Narendra a perfect ambience for meditation. After a long stay at Raipur along with his family, Narendranath returned to Kolkatta in 1879 and passed the Entrance examination qualifying to get admission in the famous Presidency College. During the stay at Raipur, since there was no school, Vishwanath himself taught the boy and thus brought the father and son into close contact with each other for the first time in their lives. "Being open and free in thinking and attitude Vishwanath gave the boy the free intellectual rein strengthening the latter's innate tendency to wish to see and think out things for himself, to grasp the essentials of things, to see truth from the widest and the most synthetic standpoint and to hold to the real issue under discussion." (A Comprehensive Biography of Swami Vivekananda, by Prof Sailendra Nath Dhar, Part One, Vivekananda Kendra Prakashan, 2005, Pp 64)
Narendra was a voracious reader. He spent hours in reading books on varied subjects mostly out of the syllabus during his college days. His borther Mahendra Nath Datta tells us that he read all the four volumes of Gibbon's 'Decline and Fall of the Roman Empire' in just three days only devoting all his available time to them during these three days and memorized their contents fully. So wonderful was his memory, says Mahednra Nath, that he quoted extensively in later life from Gibbon without committing a single mistake.
Narendra had a liking for music and developed devotion for it. He was gifted with sweet voice from his mother. He had a passionate desire to develop and cultivate the art of music, which was strengthened from his father also, who personally gave him the first lessons in music while the family stayed at Raipur. (Ibid Pp 72-73)
It was his expertise and proficiency in music that played an important role in bringing him to his spiritual master Sri Ramakrishna Parmahamsa, who till his last days, loved to hear him sing—on many occasions falling into Samadhi as soon as Naren began to sing. Perhaps not a day passed when the two met without Naren singing some devotional song for Sri Ramakrishna, and sometimes they sang and danced together in ecstasy.
The social and political situation surrounding the growth and personality development of Narendra needs to be mentioned here to have an idea and understanding of the future events. After the British conquest of India following the defeat at the battle of Plassy in 1757, efforts were launched in connivance with the British occupation government to conquer the very soul of India. Some of the contemporary Indian scholars and reformist were of the opinion that India's social and religious fabric had proved to be rotten and a complete overhaul was necessary in accordance with the Western patterns. The first generation of reformers in Bengal was influenced and guided by the teachings of Henry Louis Vivian Derozio-- a young Anglo-Indian teacher of the Hindu College, Kolkatta. They worshipped reason and were aggressive in their display of modernism and slavish imitation of the Western way of life vices included. The remedies they proposed were worse than the disease. The great reform movement started by Raja Ram Mohan Roy, the founder of Brahmo Samaj, concentrated on regeneration of Hindu Dharma and Culture and stressed on rejection of outdated rituals and customs. The Brahmos questioned the Hindu social system, widely accepted concepts of God, image worship and so on. Their criticism of Hinduism was eloquently placed before the youth by teachers like Keshab Chandra Sen and Sivnath Sastri. It was no wonder then these reformist ideas and discourses that advocated the 'pursuit of western social ideals and the adoption of the Christian patterns of devotion' as Swami Tapsyanand says, had powerfully influenced the minds of the youth like Naredra Nath and his friends.
Narendra was the product of this time that was witnessing a different kind of restlessness in the entire Hindu society. He was a staunch votary of the intellect and reason, and was attracted towards the thought currents of Brahmo Samaj which advocated the pursuit of Western social ideas and Christian pattern of devotion. Narendra used to meet different religious personalities to satisfy his quest for realization of the Supreme Truth but no one could satiate his queries. One day in great excitement he went to Maharshi Devendra Nath Thakur, father of the great poet Rabindra Nath Thakur and confronted him with a direct question: "Sire, have you seen God?"
Maharshi Devendra Nath Thakur was a renowned personality of his times and was Acharya of the Adi Brahmo Samaj. Swami Saradananda says that Narendra Nath, accompanied by his friends, one day paid a visit to the Maharshi when the latter told him, "All the marks of a yogi are manifest in you; you will win quick success if you practice meditation". Swami Saradananda records that since that day Narendra followed the instructions of Maharshi Devendra Nath Thakur and practiced meditation before going to sleep.
According to Sister Nivedita, while walking on the banks of the Ganga one afternoon, Naren saw a boat gliding down the waters at some distance from it, with the Maharshi seated on the prow. He immediately plunged into the stream, chased the boat swimming, overtook it, and climbing up the deck, asked the Maharashi, "Sir, have you seen God?" Sister Nivedita said: "The Maharshi could not but reply in the negative". (The Complete Works of Sister Nivedita, Vol. I, Pp 370, Calcutta, 1967)
It was this quest of Narendra that finally brought him to Sri Ramakrishna Paramhamsa.
Sri Ramakrishna, as Sri Nagendra Nath Gupta, a companion of Narendra since his college days, describes, was "an unlettered man like some of the great prophets of old religions, and by occupation he was the priest of a temple, a vocation for which he became unfit later on. Ignorant people thought his mind was giving way, but in reality it was a struggle of the spirit seeking true knowledge and finding its expression. And when this was attained, he no longer avoided men, and drew around him a small band of earnest young men who sought for guidance from him and endeavored to follow his teachings. It may be said with absolute truth that he was the one of the elect who appeared at long intervals in the world for some great purpose. It has been my privilege to hear him speak; and I felt then, as I feel now, that it is only rarely that men have the great good fortune of listening to such a man." (Reminiscenses of Swami Vivekananda by His Eastern and Western Admirers, Advaita Ashram, Kolkata, May 2004, Pp2-3)
Narendra heard about Sri Ramkrishna from the Principal of his college William Hastie who mentioned Ramakrishna's name as one who passed into ecstasy in one of Wordsworth's poems. Narendra also came to know about the great Master from his relative Ramchandra and Manmohan.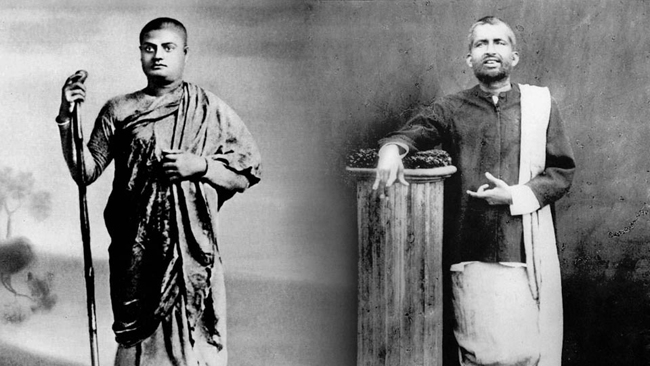 And the epoch-making meeting between the two took place sometime in November 1881.
Sri Ramakrishna Paramhamsa's views about Narendra were very peculiar. "Let no man judge Naren", he once warned, for "none will ever be able to understand him fully". When Narendra met him at Dakshineswar he took him inside and told him that he was 'Nara' the great rishi, the incarnation of Narayana born to remove the miseries of mankind."
Whether Naren was the incarnation of God Shiva, or 'Nara', the incarnation of 'Narayana', or 'Bodhisattva' or a 'Nityasiddha', but the son of Vishwanath Datta, he was no ordinary personality. He eluded any classification. His brother Mahendra Nath Datta comments, "A Vivekananda is not born in a day. He is the fulfillment of family trends."
Some others including Swamiji himself believed that he was what his Guru made him. Sister Nivedita recorded that 'one of the older generations' had told her that "Ramakrishna had lived for making of Vivekananda". (The Master as I saw Him: Sister Nivedita, 1918, Calcutta)
As Shivaji was the sword of Samartha Ramdas, so was Vivekananda the "mouthpiece" of Sri Ramakrishna Paramhamsa. These correlating examples have a limited use in understanding Swami Vivekananda. Nevertheless they do explain some aspects of his personality. Heredity has some influence on everyone's personality in addition to social environment and times. But as Vivekananda had said in his lectures the theory of heredity does not explain world-movers like Buddha, who was the son of a petty prince, or Jesus of Nazareth, who was the son of a carpenter.
It was Sri Ramakrishna who understood the potential of Narendra when the latter met him in November 1881, and this meeting proved groundbreaking for Narendra's spiritual uplift as well as India's emancipation from the inferiority complex that had eclipsed the Hindu society, its psyche and spirit due to slavery of foreign masters.