As expected the Sonia-Rahul attack at Nagpur on the sunny Sunday remained mainly focused on the Rashtriya Swayamsevak Sangh (RSS) and Prime Minister Narendra Modi. Both the mother-son duo perceived RSS and Modi as grave threat to Indian democracy and polity as both are 'fascist and anti-dalits'.
That this 'double barrel' attack from the 'rejected icons' of the now dying Congress party would not make any dent into the popularity of Prime Minister Narendra Modi or growing acceptance of the RSS in the country and even abroad. Nevertheless, it raised certain pertinent questions that the Congress leaders and more so, those followers of Dr Babasaheb Ambedkar need to answer honestly.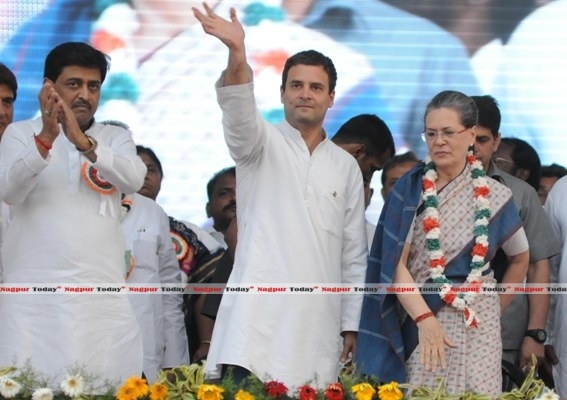 The public meeting was organized at the historic Kasturchand Park ground where thousands of 'Dalits' were 'brought' from all over the Vidarbha region in buses and other vehicles. According to reports the party had booked 158 state transport buses @ RS 48/- per km for ferrying the 'Dalit' workers of the party. But they could collect a sizeable crowd at the KP Ground.
The occasion was the concluding event of the 125th birth anniversary of Dr Ambedkar celebrated by the Congress party. The party decided to organize this event at Nagpur where Dr Ambedkar got initiated into Buddhism in 1956 along with his hundreds of followers. The place where he got converted today has the magnificent memorial called 'Deeksha Bhumi' which has now become an important pilgrimage centre of modern India. It was natural for both mother-son duo to visit that place and spent some time there, which they did.
Sonia Gandhi, President of the 130-year-old Congress party launched a frontal attack on Rashtriya Swayamsevak Sangh (RSS) raising the same old issues of RSS' participation in freedom struggle, its views on reservation and so on. But most surprisingly she discovered that the RSS had 'opposed Ambedkar tooth and nail' then and now singing paeans to him in order to lure the Dalits to their fold.
Now, this is far from the truth.
Sonia must have done little home work before making such blatantly false and unfounded allegations against the RSS. Far from opposing Dr Ambedkar the RSS had welcomed him when he visited its summer camp in Pune in 1939 when RSS founder Dr Hedgewar was alive. He appreciated the RSS efforts to eradicate caste differences and the curse of untouchability. Dr Ambedkar had noted with great satisfaction that Swayamsevaks were moving in absolute equality and brotherhood without even caring to know the caste of others. In his address to the Swayamsevaks, he said: "This is the first time that I am visiting the camp of Sangh volunters. I am happy to find absolute equality between Savarniyas (Upper caste) and Harijans (Lower caste) without any one being aware of such difference existing." When he asked Dr Hedgewar whether there were any untouchables in the camp, he replied that there are neither "touchables" nor "untouchables" but only Hindus.
The same RSS helped Dr Ambedkar during his election from Bhandara in Vidarbha. The founder of Bharatiya Mazdoor Sangh (BMS), late Dattopant Thengdi was the election agent of Dr B R Ambedkar, who fought from adjoining Bhandara Lok Sabha constituency in 1954 but lost due to Congress treachery.
Moreover, the 'Bharat Bhakti Stotram' recited in the RSS daily includes names of Dr Ambedkar and Mahatma Jyotiba Fule. This clearly shows that either Sonia was ignorant about the historical facts or was intentionally lying to confuse the people. In fact, it was her party that discriminated against the Dalits and Ambedkar and not the RSS or BJP. The followers of Dr Ambedkar must realise this 'truth' and then decide which way they should go.
Her other allegation against the BJP and RSS was regarding insulting the Constitution by 'dethroning elected Congress governments'. However, the facts are otherwise. There are umpteen instances to prove that the Congress had 'misused' the Article 356 to destabilise the non-Congress governments in the country. Sonia Gandhi should now that the RSS is not a political party and is not a part of the government either. The Congress governments in Arunachal Pradesh and Uttarakhand fell prey to the internal squabbling of the party and not because of the BJP or RSS. When Sonia as Congress President could not salvage the party governments in these small states, should she be allowed to hold the post? The Congress leaders must seriously ponder over the question lest Modi translates his dream of "Congress Mukt Bharat" in days to come. If this were to happen, god forbid, the Congress will be held responsible for its "Bad Days".
Sonia Gandhi also accused the "Nagpur Organisation" of trying to 'end India's composite culture' while Modi was maintaining silence. However, the "Nagpur Organisation" has been committed to uphold the Indian Culture since its inception in 1925 and the popular acceptance to its ideology shows that the people have faith in this organization as compared to 130-year-old Congress party. She reiterated her resolve not to allow this to happen and that the party will continue to strengthen the voice of Dalits, tribals, women and poor. Maybe she is not aware of the fact that the RSS and RSS inspired organizations have already made sufficient inroads into these constituencies making it more difficult for her 'air condition-culture' party to accomplish this task.
The Congress president also raised the reservation issue vis-a-vis RSS Chief Mohan Bhagwat's remarks about its review and alleged that the RSS was bent upon ending reservation for the Dalits and thereby insulting Dr Ambedkar and 'his' Constitution. Dr Bhagwat himself had cleared the doubt time and again about his views on reservation. Even the Prime Minister Narendra Modi too had said in most certain terms that reservation would not be scrapped. Then what is the point in raising the 'dead controversy'?
The speech by her 'heir apparent' son 'Shahzada' Rahul Gandhi, who is also Vice-President of the Congress party, was no less than the 'travesty of truth'. There was not a single fact in his speech. In fact, by comparing Dr Ambedkar and Rohit Vemula he actually gravely insulted Dr Ambedkar who is revered and worshipped as incarnation of Lord Buddha by his followers. Firstly, Rohit Vemula was not a Dalit. Secondly, he did not commit suicide because of RSS or BJP or Narendra Modi. He was frustrated and out of that frustration he committed suicide.
But Rahul Gandhi is bent upon making it a political issue in his personal animosity towards Prime Minister Narendra Modi and RSS. Eulogising people like Vemula and comparing them with patriot par excellence Dr Babasaheb Ambedkar will only earn bad name for Rahul and his party. The reactions on social media amply ridicule him for his crass ignorance about the history of this country. Better he should learn his lessons lest the people reject him in toto.
Prime Minister Narendra Modi had rightly said in the Parliament that some people refused to learn with growing age. Rahul's Nagpur speech only proved Modi how correct he was. By comparing Vemula with Dr Ambedkar he had given rise to a new controversy which might cost dearly to the Congress.
Rahul's other important allegation against RSS-Modi-BJP was regarding 'Manuvad'. I don't know what he intended to convey by term 'Manuvad'. Manu is considered as 'Father of Human Race' (Manav). He is also regarded as the 'First Law Giver of Humanity'. His statue adores the entrance of the Supreme Court in Indonesia, a predominantly Muslim country. The 'Manu Smruti' is nothing but the ancient Indian jurisprudence and there is nothing that could be described as religious or discriminatory or even casteist. It is not known how and why Rahul Gandhi has turned his guns against this 'Manuvad'? Maybe he found it a handy and catchy weapon to launch offensive against the Prime Minister and the RSS.
Rahul seems to be badly disillusioned and totally desperate at present. Therefore, he is blurting out his acrimonious thoughts that come to his head about RSS and BJP and thinks that this will fetch votes to the Congress party and him. But he should remember what the people had done to the Congress party in 2014 Lok Sabha elections. He should change his ways of public discourse and dialogue. Only talking about and against RSS, BJP, Modi, Dalits, Hindu, etc. will not do. At present, his politics seems to start and end with these words only.
However, Sonia and Rahul used their Nagpur visit to vomit the venom they collected in their hearts against the RSS and Narendra Modi. Besides this, the meeting had nothing to do with Dr Ambedkar, his thoughts, his policies and programs to empower Dalits and weaker sections and Congress party's plans and programs in that direction.