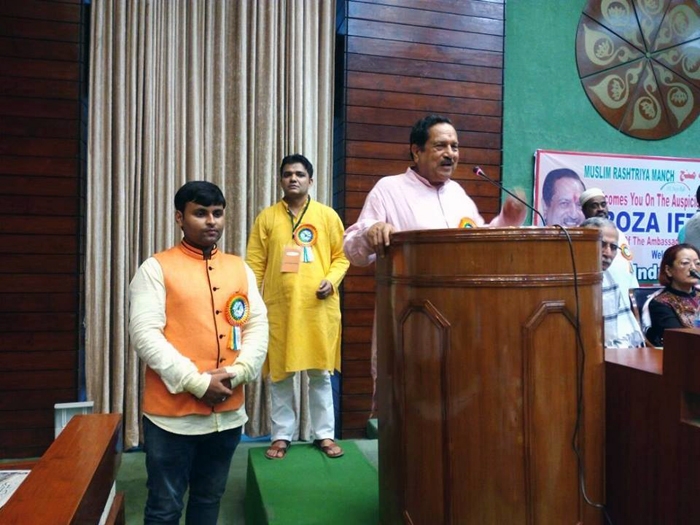 New Delhi, July 4: "The whole world is full of religions and sub-religions, castes and sub-castes. There are differences also but these differences should be viewed as varieties like a garden full of flowers of different colours and fragrance. We must follow our own religion and respect the others without interfering in them", appealed Indresh Kumar, Patron and Guide of Muslim Rashtriya Manch (MRM), here on Saturday.
Indresh Kumar, who is also a senior functionary of Rashtriya Swayamsevak Sangh (RSS), was speaking at the International Iftar Party organized in the honour of the Ambassadors of the Muslim Nations at Parliament Annexe Building here on Saturday evening.
Union Ministers Mukhtar Abbas Naqvi, Nihal Singh, BJP Spokesman M J Akbar, Shahnawaz Hussain, Ministers of BJP-ruled states, Vice-Chancellor of Aligarh Muslim University Jalil Shah, ambassadors Basher– al-Shah, Madam Fatima, Abdul Gani Koli and others were prominently present on the occasion.
Addressing a crowded gathering Indresh Kumar said that there are two kinds of waste or dirt—external and internal. External dirt could be cleansed by using detergent and soaps but how to clean the internal impurities was the moot question. Internal cleansing was necessary for cleaning the heart, mind, and soul.
"No detergent or cleansing agent is available to clean heart, mind, and soul", Indresh Kumar said adding, "this is achieved only by practising harmony and imbibing moral values and ethos". He said education sans values and professionalism without patriotism creates impurities in human beings. "If we want a beautiful world, then internal purification is most essential", the MRM patron said.
Stressing the need for understanding, Indresh Kumar said that dialogue is the only way to arrive at understanding. We must try to understand the Creator, who created us along with the entire world.
Warning to Pakistan: Issuing a stern warning to Pakistan Indresh Kumar said Pakistan should concentrate on the simmering unrest in its country and stop interfering in Kashmir. He clarified that the MRM had withdrawn the invitation to Pakistan for this iftar party in view of the Pampore terrorist attack in Kashmir in which eight CRPF men were killed.
He said before 1947 there was no Pakistan and witness of one woman was considered as equal to that of a man. But after partition Pakistan considered the witness of two women as equal to that of a man. He said Pakistan should not forget that seven freedom movements are going on in Pakistan.
Interacting with a group of Pakistani citizens who came to meet him Indresh Kumar said that Pakhtoon, Baloch, Sindh, Baltistan, Gilgit and Muzaffarabad regions want to free them from Pakistani rule.
During the same meeting, Indresh Kumar suggested to them having a dialogue with smaller countries and helping them. He also wanted to know what schemes they have for the uplift of the poor?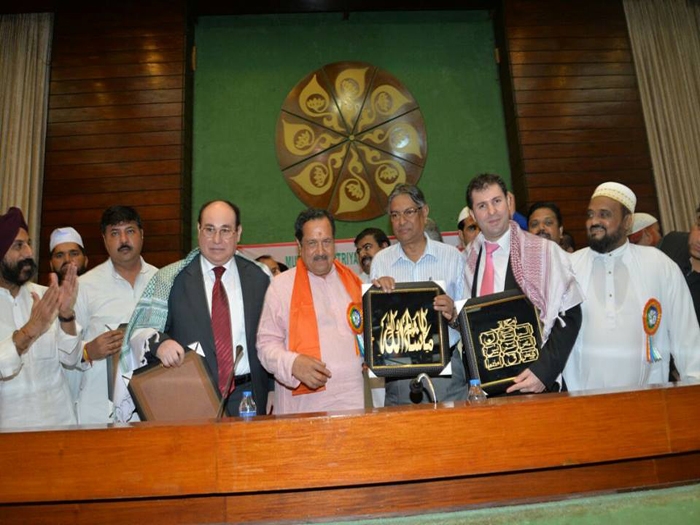 The RSS leader hoped that India never tried to deceive any country as Pakistan had done in the case of Kashmir. However, he hoped that Pakistan will give up violence and become a peaceful nation. He said that a day will come when the world will be free of violence and terrorism. An atmosphere of peace and brotherhood will prevail in the world.
Voice against triple talaq: Raising the issue of honouring womanhood in the light of Islamic light, Indresh Kumar said that triple talaq is considered as a crime not liked by the Almighty. We must immediately shun this 'inhuman' practice of talaq and honour the womanhood. He also underlined the need for a healthy debate on this issue.
Indresh Kumar also appealed to the audience to discard practices of female infanticide and stop the crimes like dishonouring the women. Islam considered that heaven lies at the feet of the mother. When the girl children are not saved wherefrom we get mothers, sisters, and wives, he asked.