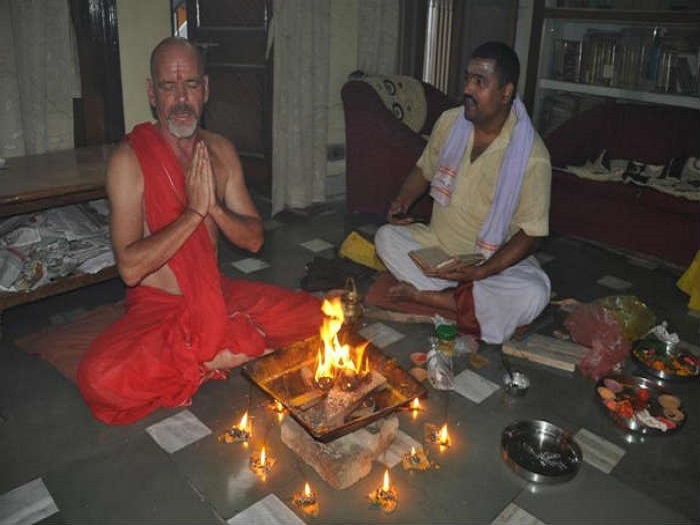 Varanasi, Oct 13: Per Kronborg Grevsen, a retired teacher from Denmark embraced Hindu Dharma at a religious function held in Varanasi on Tuesday.
According to Hindustan Times, he was initiated into the Hindu Dharma by Acharya Vagish Shastri, known in Varanasi for teaching the spiritual practice of Kundalini awakening to many foreign nationals. The initiation program was held at an ashram in this holy city of north India. Grevsen was given the mantra of Goddess Kali and a new name Parmanand Nath.
This Danish teacher was suffering for a mental illness for last three years and did not get the relief from modern medicine treatment. Then one of his friends told him about the Kundalini Awakening in Varanasi and that drew him to India.
"I came to know about Kundalini awakening from a friend and reached Varanasi," he said. Here, he found peace after doing spiritual exercises for 10 days.
"The practice of Kundalini awakening has given me peace of mind. I don't need to take any medicine now," he said.
His wife Crassandra was delighted during the ceremony held at Vagyoga Chetanapitham headed by Acharya Shashtri in Shivala area here.
"Under my guidance, he practised Kundalini awakening for 10 days. After that I gave him diksha (spiritual initiation) with a mantra of Maa Kali. He will chant the mantra and meditate," Shastri said. He clarified that Grevsen was initiated only after he expressed his desire for the same.
Shastri said it was mandatory to adopt the Sanatan Dharma for taking formal mantra diksha.
(With inputs from Hindustan Times)