Patna, October 26: On the occasion of auspicious Chhath Puja, the Hindu festival dedicated to the Sun, devotees in Bihar have gathered in various Sun temples in Aurangabad, Nalanda and Paliganj to observe the festival. President Ram Nath Kovind and Prime Minister Narendra Modi have conveyed their wish to the devotees. The festival is dedicated to Suryadev and thanks him for rewarding earth with life.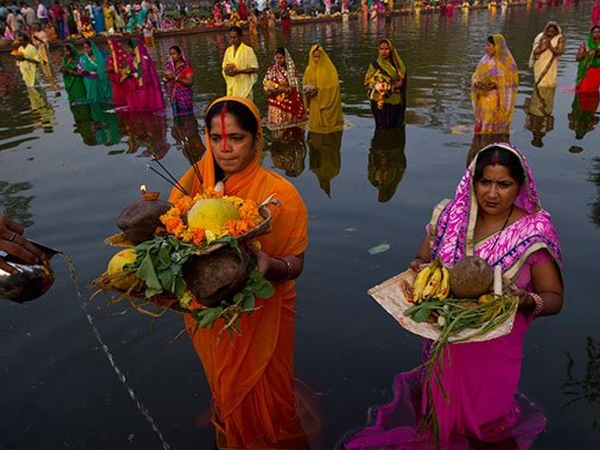 The celebration of this year's Chhath Puja started from 24th October. Though manly Bihar celebrates this ancient Hindu festival spectacularly, many other states like Jharkhand, Uttarapradesh and India capital Delhi also celebrate the festival. As a huge crowd gathers in several ghats of Bihar, sometimes unfortunate accidents take place. This time Bihar Government already assured better safety, security at ghats.
President Ram Nath Kovind said, "On the occasion of Chhath Pooja, a festival traditionally associated with faith and fasting, I extend my good wishes to all fellow citizens. The offering of 'Ardhya' to Surya, the Sun God, by millions of devotees is an embodiment of the spiritual consciousness of our people. May this festival, inspired by the energy of the sun, bless us with prosperity and happiness". The Prime Minister Narendra Modi has also greeted everyone on the occasion of Chhath Puja festival.
Social media platforms are also flooded with Chhath Puja wish. Devotees across India have expressed their happiness over the diverse and rich culture of India. This festival expresses the symbol of long –lasting tradition in India to keep faith in nature and worshiping it. Beautiful sketches, soothing melodies are also traceable everywhere.