Hyderabad, November 22: Everyone is gifted with some or the other talent. Some are good at writing, then some are good at dancing etc. likewise a person from Hyderabad is gifted with some unique talent. He paints but not on the canvas but on his own nails.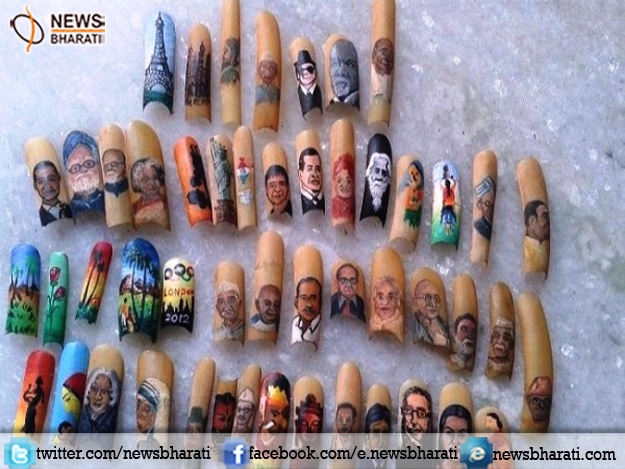 This is quite an interesting story that a person painting his own nails. Narahari Maheshwaram from Hyderabad is an artist from two decades. The idea behind his painting is that he grows his nails till they reach a certain length, then cuts them and paints them. And this has earned him recognition and admiration from far and wide over.
He is also a teacher in a private school. He got inspired from his father and brother as they both are artists. "When I was in college, I noticed my brother grow two of his finger nails as a fashion statement so I started growing my nails as well. And while I was pursuing my Bachelors in Fine Arts, I saw that people were painting on different surfaces, from canvases to egg shells," he told.
The first nail art that he made was in 1995 and it was a portrait of a freedom fighter. Since then he has made numerous other portraits of famous personalities such as Jawaharlal Nehru, APJ Abdul Kalam, and Amitabh Bachchan. He has also painted monuments and structures such as the Charminar and the Eiffel Tower.
According to the report, Narahari has collected over 100 nails, of which he has painted on 85 till now. "I refrain from hard work, too. Sometimes cracks do develop on nails, but I glue them up quickly. I take calcium tablets once or twice a month, so that the nails grow strong," he told.
Narahari, who has his name in the India Book Of Records, is also happy with the effect his art has on people.