Jerusalem, November 6: 'EX BLUE FLAG-17' kicked off on Sunday along with air forces from nine countries - the largest aerial exercise ever held by the Israel Defense Forces. For the first time, the Indian Air Force or IAF is participating in Blue Flag 2017. A 45 member contingent of the Indian Air Force touched down Uvda Air Force Base in southern Israel last week. on Tuesday for exercise 'Blue Flag-17'.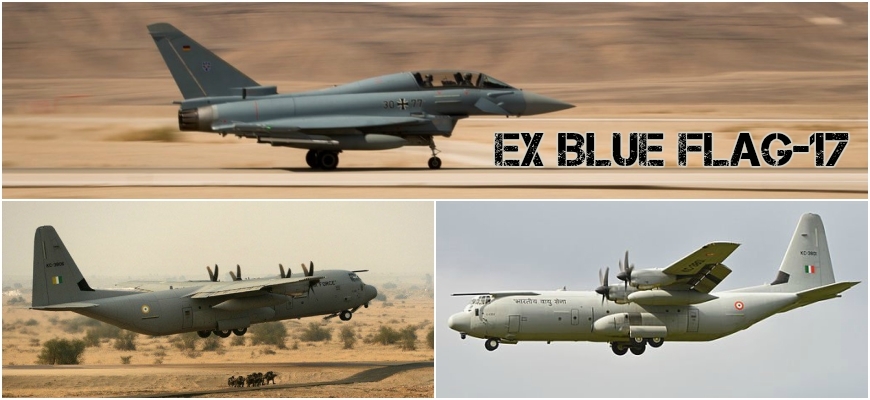 Teams from India, the United States, Greece, Poland, France, Italy and Germany are taking part in the exercise, along with Israel and an eighth country unidentified by the IDF. The Indian Air Force sent a C-130J transport plane. Other countries sent fighter jets, transport planes and refuelling aircraft.
According to the IDF, more than a thousand people including pilots, commanders and technical personnel are taking part in the 11-day exercise. The exercise is being held out of the Israeli Air Force's Uvda base, north of Eilat.
The participating countries will square off against the IDF's so-called Red Squadron, which acts as an enemy force in exercises.
According to the army, the goal of the exercise is to both improve technical ability and to strengthen the "diplomatic cooperation between the countries."
'EX BLUE FLAG-17' is a bi-annual multilateral exercise which aims to strengthen military cooperation amongst participating nations. Indian Air Force is participating with the C-130J special operations aircraft along with Garud commandos.
The exercise would provide a platform for sharing of knowledge, combat experience and in improving operational capability of the participating nations. Exercise Blue Flag gives the opportunity to the IAF to share and learn best practices with some of the best professionals from other Air Forces.
India is Israel's top destination for arms exports, buying 41% of export between 2012 and 2016. Israel is India's third-largest source of arms, with a 7.2% share of imports between 2012 and 2016, next to the US (14 percent) and Russia (68 percent). And while in 2017 when Prime Minister Narendra Modi visited Israel many more deals and MoUs got inked in the field of defence.