New Delhi, December 15: The Union Cabinet headed by Prime Minister Narendra Modi on Friday cleared a bill that makes a Triple Talaq a criminal offence. Also, the central government is expecting to get the bill that makes a Triple Talaq a criminal offence in the ongoing winter session of the Parliament which commenced today.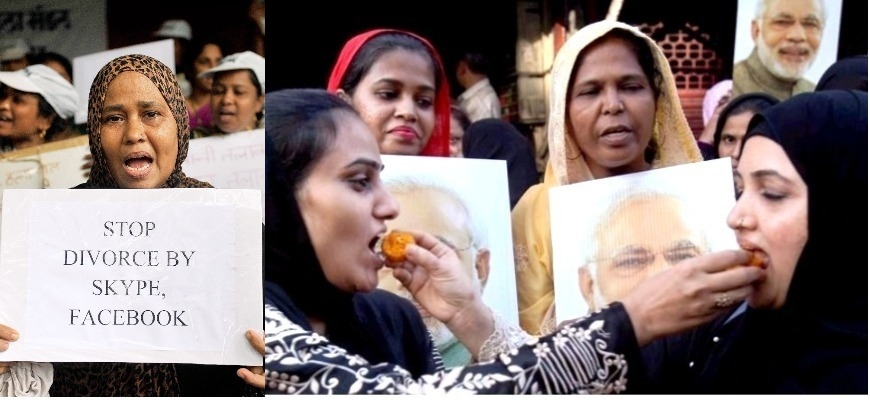 Notably, Triple talaq is an evil practice that ruins the whole life of a woman. But once the bill is passed in the Parliament it will be turned into a law. Once the bill turns into law, anyone who will utter Talaq for three times in one go will be imprisoned for three years with fine.
Earlier, aiming to empower all Muslim women in the country, the central government has framed a draft law to end the practice of instant triple talaq named Muslim Women Act. Under this act, practicing of triple talaq is a cognizable and non-bailable offence which is punishable with three years in jail and a fine.
According to the draft law, giving triple talaq will be illegal and void, and also attract a jail term of three years for the husband. It is also been made a cognizable and non-bailable offence. A woman who has been given instant triple talaq can move the court and seeks a subsistence allowance for herself and dependent children, as well as custody of minor children.
The committee of ministers including Home Minister Rajnath Singh, External Affairs Minister Sushma Swaraj, Finance Minister Arun Jaitley, Law Minister Ravi Shankar Prasad and Minority Affairs Minister Mukhtar Abbas Naqvi had made the draft which was passed to the states and asked them to send their views. Interestingly, Uttar Pradesh became the first state to endorse the draft bill that makes instant triple talaq a cognizable and non-bailable offence.
However, the move of making law on triple talaq comes after repeated reports about people practicing it despite government's advisories and the Supreme Court ban. The bill will not be applicable to the state of Jammu and Kashmir.
Importantly, the Supreme Court had on 22 August of this year declared instant triple talaq unconstitutional in a 3-2 majority verdict. The 395-page ruling held the practice to be "violative of the fundamental right under Article 14 (equality before law) of the Constitution of India". The verdict also added that provisions of the Muslim Personal Law (Sharia) Application Act, 1937, insofar as they seek to recognize and enforce triple talaq, must be struck down as being void.
Comments
NCW Chief Rekha Sharma said, "Happy that cabinet has approved this bill and many Muslim women who suffered because of Triple Talaq will be saved."
Spiritual Leader Sri Sri Ravi Shankar said, "Everywhere in the world there is gender equality."
All India Muslim Women Personal Law Board member Shaista Ambar said, "We welcome this, it was much needed. Unlike previous Governments, this Government cares for rights of Muslim women. Appeal to all parties to ensure passage of this bill in Parliament."
Jharkhand Chief Minister Raghubar Das took to a twitter and lauded the Central government's move against Triple Talaq.