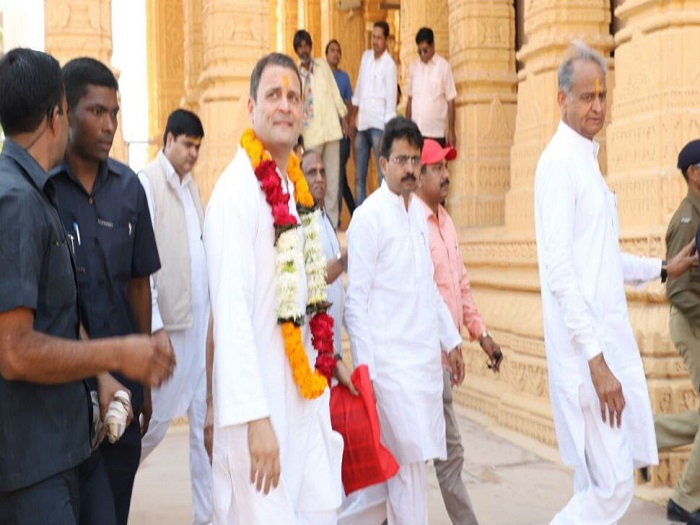 "Rahul Gandhi is not only a Hindu but he is a "Janeudhari Hindu", declared Randip Singh Surjewala, Spokesperson of the Congress party trying to defuse the heat generated over Rahul Gandhi's Somnath Temple visit and writing his name in the visitor's book meant for non-Hindus.
Congress is now a sinking ship. Its policy of divide and rule as regards Muslim voters has proved unsuccessful and ineffective in comparison with the 'Sab ka Saath Sab ka Vikas" slogan of Prime Minister Narendra Modi. The results of Uttar Pradesh local body elections are a testimony to this.
Two states are facing assembly elections – Himachal Pradesh and Gujarat. No one, not even the media is talking about Himachal Pradesh elections which were held a month ago. All have trained their guns on the Gujarat Assembly elections and most of them consider them as precursor to 2019 General Elections.
Congress has realised from its continuously falling electoral graph that it has lost its minority (read Muslim) vote bank in the country. Moreover, the Supreme Court judgement on sensitive issue like Triple Talaq has given a big blow to the Congress party's Muslim politics. It was responsible for pushing the hapless Muslim women into the vagaries of Triple Talaq by reversing the Supreme Court judgement in Shah Bano case in the eighties. Late Rajiv Gandhi was the Prime Minister then and just to secure their Muslim vote bank, the then government reversed the historical judgement.
Now the Narendra Modi government honoured the Supreme Court Judgement and given an assurance to the Muslim women that it was serious on bringing a law to prevent this atrocious and inhuman practice and restore the honour of the women.
Now Congress is compelled to seek refuge in Hindutva ideology to win over a section of Hindu voters. And here is the real hitch. If it accepts Hindutva philosophy it is sure to lose the remaining Muslim vote bank in addition to other smaller religious groups like Christians etc. There is a section in the Hindu society that does not fully support the BJP and endorse the policies of the Modi Government. Congress is trying to win over this section to its side. Rahul Gandhi's temple visits, and non-mention of Muslims in the election campaign speeches are indication of this change in the party's approach.
The party is playing cautiously though the 'Soft Hindutva' card this time. They are arguing that Hindu Dharma is great but Hindutva as practiced and propagated by the BJP is dangerous. Bharat is a country of Sanatana Dharma. We are Hindus but we are not Hindutvavadis, the Congress leaders argue in the election campaign.
It is clear that their minority and divide and rule card has proved ineffective hence they are trying this new trick of 'Soft vs Hard Hindutva'
But Congress leaders are living in fool's paradise that by projecting Rahul Gandhi as a 'Janeudhari Hindu' they would be able to score over BJP on the Hindutva issue and snatch the initiative from the BJP and Modi. It seems that Rahul Gandhi has finally come to realise the fact that if they want to rule the country they will have to speak for Hindu people and their welfare. That is why he feels that projecting his image as a 'janeudhaari Hindu would be more useful that sporting a 'namaji cap' and participating in an iftar party. Nobody knows the reality whether Rahul Gandhi is a genuine 'janeudhaari Hindu or not but the party is projecting him in its attempt to counter the BJP.
Looking back we come across the appeal made by famous Communist party leader the late A B Bardhan who had praised the Indian voters in a rally at Patna saying that they (people) know how to differ between Rama and those playing politics in his name. His target was of course the BJP and attempt was to keep it away from the seat of power. But that was another time.
Now the time belongs to Modi. He has got full majority and people are rock solid behind him in spite of demonetisation and GST. Had Bardhan been alive today how he would have reacted to this could be interesting to watch. But his ideological progeny is using the same tactics to differentiate between Dharma and Dharma. For example, look at their arguments: "Hindu Dharma is great but Hindutva is bad". "There is a difference between Hinduism and Hindutva", and "We are Hindus but not Hindutva-vadis".
Such wickedness has no meaning. It only shows their unease because the power has slipped out of their hands and their policy-makers are realising that their policy of divide and rule by raising the issue of minority-ism is simply not working. So, this is their new funda, to create division between soft and hard Hindutva.
But they must realise that their old style politics has now become history. The New India is witnessing the 'Modi Yuga' and this is just the beginning of the new era. The political discourse in the country has changed. Until yesterday, Muslims were looked as guarantee to win the elections. Today, they are looked down and kept at bay for the fear of losing the elections.
Look at Gujarat. Muslims form nine percent of the total population of the state. Yet the Congress could not field even nine Muslim candidates! It only gave party tickets to just six of them. Why this distance from them?
Muslims used to vote en block. Therefore, all the secular parties ran after them. But today a section of Hindu voters is organised and voting in a most organised way. So, the parties , including Congress are running after them and there is a competition among them to prove them more loyal than the king to the Hindu society.
Leaders like Rahul Gandhi should understand this changed discourse in India's political horizon. Those who understand this reality and mend their ways will survive others will be simply swept away with the tide – Hindutva or no Hindutva.
Finally, to divide Hindutva into soft and hard is absurd. There is only Hindutva no hard or soft. That is our national identity. You cannot compromise with national identity. People must see through the game of the Congress to divide Hindu society in the name of Hindutva and frustrate any such attempt to make India strong and vibrant.