Hyderabad, December 31: Hyderabad dedicates India's first 'Robocop' to the nation- who is capable of performing police duties, has been launched in Hyderabad. Hyderabad becomes the first city in the country to deploy a police robot for commercial operations.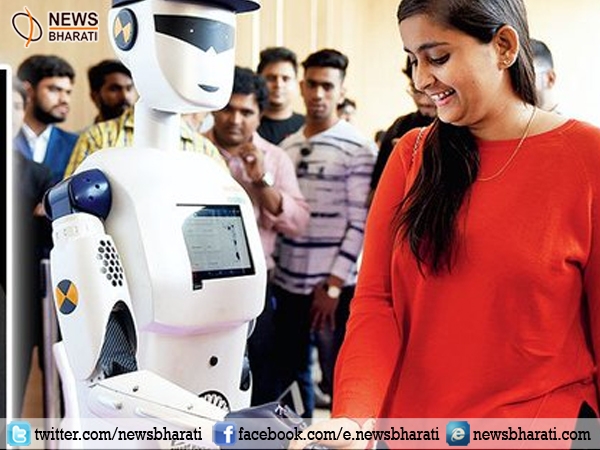 Developed by the city-based Artificial Intelligence and Machine Learning start-up H-Bots Robotics, this 5-foot-7-inch tall smart police robot, weighing 43 kg, can receive complaints, record audio and video clips, identify suspects, detect metals and monitor temperature.
The Robocop will be able to recognize objects stationed at a location for long hours and inform the Police Control Room. The life-sized robot has been named after 26/11 Martyr Hemant Karkare and all Smart Police Robots to be produced by H-Bot Robotics in future will be named after police martyrs.
The 'Robocop', launched by Telangana Information Technology secretary Jayesh Ranjan, can assist the police in handling law and order and traffic management. The robot would walk, recognise people, receive complaints and defuse bombs too, said PSV Kisshhan, the founder of H-Bots Robotics. It is the world's second humanoid robot after Dubai. The one in Dubai was made in France. "But, in this case, it will be totally an Indian-made humanoid robot," the company founder claimed.
The robot is equipped with cameras and an array of sensors like ultrasonic, proximity sensors and temperature sensors. It also contains 24/7 connectivity, ensuring that its whereabouts are known. The robot has the ability to communicate in six different languages. English is already inbuilt. H-Bots will be testing the product in the field over the next five to six months before its commercial deployment, Jayesh Ranjan said.