Patna, December 31: As Bihar Chief Minister Nitish Kumar has embarked on his Vikas Samiksha Yatra, the state gets great projects as new year gift. On Saturday, he laid foundation stones for more than 100 projects worth Rs 700 crore in Nalanda district.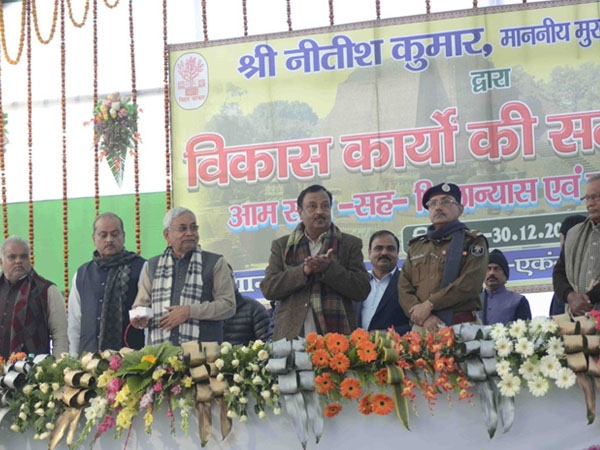 At Chamera village in Ekangarsarai block Nitish Kumar dedicated to the public 132 projects worth Rs 97.63 crore in addition to the 114, worth Rs 698.65 crore, for which foundation stones were laid. He also mentioned various social schemes his government is undertaking including alcohol ban, campaigns against dowry, child marriage. He asked common mass to help to remove these social problems.
"The public health engineering department will make the water drinkable and provide it to the people in areas where groundwater quality has been compromised owing to arsenic, fluoride or iron contamination. In other places, we will provide drinking water with the help of water towers that we are constructing," Nitish said.
Union Minister Giriraj Singh who shared stage with Bihar CM also praised him. He showered Nitish Kumar with praise for his persuasion of politics of development and uniting people through social reforms. Recently, Bihar has electrified all its census villages which is a big boost to development.