Guwahati, September 14: Durga Puja is everything for a Bengali. When the festival arrives, Bengalis' know exactly about how to celebrate it. Goddess Durga is worshipped with all might for 4 day long carnival, preparations for which begin months in advance. However, this time Guwahati is on the verge of creating a new world record. A 100-ft tall bamboo idol of Goddess Durga is set to enter the Guinness Book of World Records as tallest bamboo sculpture ever made.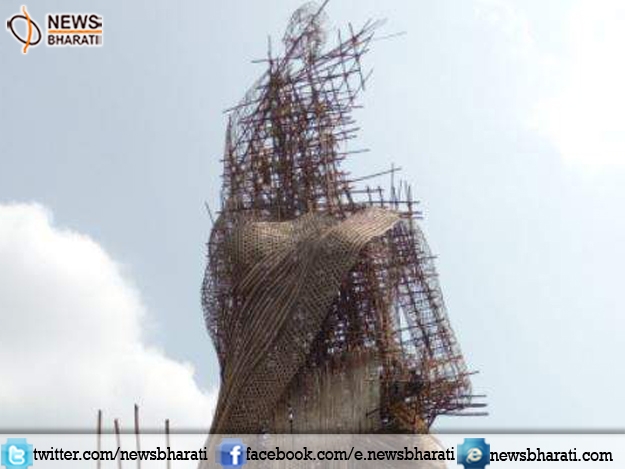 The massive structure is the brainchild of the Bishnupur Durga Puja Committee. The Committee is known for its innovative ideas for pandals and interior. Guwahati-based art director Nuruddin Ahmed is designing the structure with 40 of his artisans, the work for which began from August 1.
Ahmed said media about the structure, "We are hoping to finish the work by September 20. This will be the world's tallest bamboo sculpture. The previous Durga idol was erected last year which was measured 83 ft made of iron and fibre." The entire expenditure of the current idol is Rs 11 lakhs. A total of 4,000 bamboos poles of various kinds have been used. Another 1,000-2,000 will be required.
"We have already done the registration with the Guinness Book of World Records, which is sending a team to Guwahati after September 20 to examine the structure. We are confident that the team will declare it as the tallest bamboo structure in the world," said Ahmed.
Ahmed however has a great reputation in erecting tall structures and pandals. He has created 200 pandals over the last 42 years. His first pandal that he created was in the year of 1975 at North Lakhimpur in North Assam. "I love and respect all religions. I never had to face any criticism from any quarter for what I have been doing all these years. And why should there be any? I am sure the critics are not going to take care of the families of those who work with me and earn a living," said Ahmed, who has worked as art director of scores of Assamese films.