Darjeeling, September 17: Darjeeling area which is in limelight since June facing loss in several industries. But the most important thing is getting overlooked is education. The hill area boarding schools have always been famous even in abroad. Since the indefinite shutdown called by Morcha started more than 50 schools over there could not carry their works. The innocent students are getting deprived of their basic fundamental right. To give out a strong message through a peaceful rally, teachers and school owners in Kurseong organized a rally requesting politicians to keep educational institutions out of the ambit of the indefinite strike.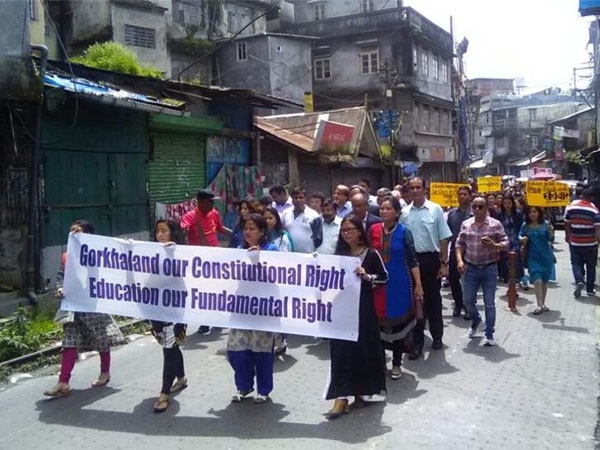 The hill residents who are disgusted with long-term misery tried to bring back normalcy in the vicinity. A group of Morcha leaders also wanted to lift the strike in Darjeeling but an attack on a school bus on Friday again made the residents, schools scared. "The main theme of our rally was that while Gorkhaland is a constitutional demand, education is a fundamental right," a teacher said to a local media.
The political struggle of power made the students suffer badly during this 94 day period. Especially, this is a bad hit for the students appearing for final board examinations next year. To every teacher, their students' interest and welfare are very much important. Hence for the students, teachers walked extra miles on Saturday.
The teachers sang "We shall overcome "and carried placards that said: "Gorkhaland is our constitutional right, education is our fundamental right." The rally was organized by heads of the ICSE schools and some government-run schools. The teachers earnestly requested to exempt schools.
For Kurseong there are also economic reasons behind the rally. The area has 40 schools almost and the economy revolves around the educational hub.