New Delhi, January 14: Makar Sankranti is being celebrated today and the festival is seen as a celebration of the end of the winter solstice month and also marks the end of the winter harvest.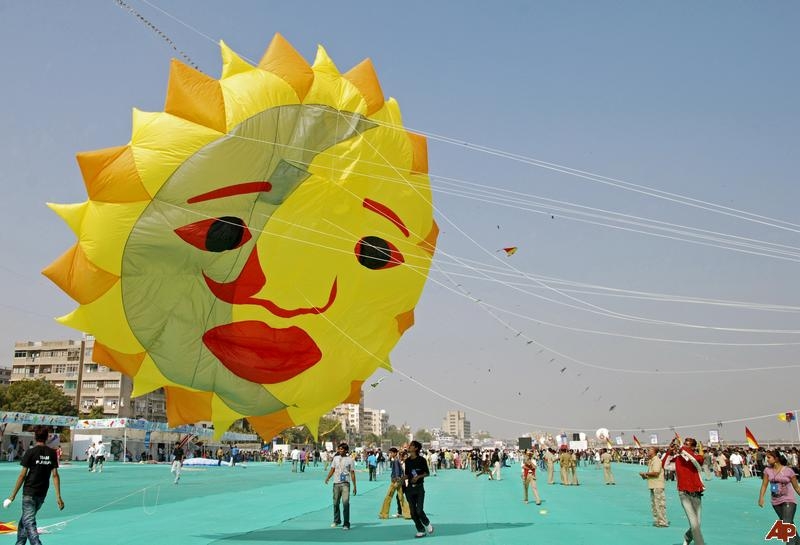 The festival is known by different names in different parts of the country. It is celebrated as Pongal in Tamil Nadu, Uttarayan in Gujarat, Bhogali Bihu in Assam and Poush Sankranti in West Bengal.
In Uttar Pradesh, people are celebrating Kicheri as the bathing festival on the banks of Sangam in Allahabad. Pilgrims take a holy dip at the Triveni Sangam, which is the confluence of rivers Ganga, Yamuna and Saraswati on the auspicious occasion of Makar Sankranti.
On Bhogali Bihu, people in Assam gather over the bonfire, play traditional games and make merry. Kite flying is also an important aspect of the festival. In Tamil Nadu, the festival is celebrated as Pongal where people worship the sun god and cattle. The most important delicacy cooked during Pongal is sweet rice.
In West Bengal, on Poush Sankranti, people perform puja after taking bath before sunrise. Different types of traditional Bengali sweets are also prepared on the occasion.
On an auspicious day, nearly 20 lakh devotees from different parts of the country as well countries like Nepal, Bhutan and Bangladesh are taking a holy dip at the Ganga Sagar Mela at the confluence of the Hooghly river and Bay of Bengal.
In Himachal Pradesh, thousands of devotees are taking a holy dip at Tatapani near Shimla and Manikarn and Vashisth in Kullu district on Makar Sankranti. Chief Minister Jai Ram Thakur will also visit Tatapani on the occasion.
At Alanganallur and Palamedu near Madurai and other parts of Tamil Nadu, preparations are on for conducting the Jallikattu bull taming sport as a sequel to the festival. Strict procedures have been laid down to avoid cruelty to bulls during the game.
In Gujarat, Uttarayan is being celebrated with religious fervour. Our correspondent reports that kite flying is also a part of the festival.
In Rajasthan, the festival of Makar Sankranti is being celebrated with traditional enthusiasm. People are donating food and other items and taking holy dip since morning.
President Ram Nath Kovind has greeted the people on the occasion. In his message, the President said, these festivals are associated with harvest and are a moment to celebrate the hard work and enterprise of millions of farmers.
Prime Minister Narendra Modi has greeted the people on the festivals. In a tweet, PM Modi hoped that the festivals bring immense happiness, harmony and good health in everyone's lives.