New Delhi, January 7: North India continues to reel under intense cold wave conditions with mercury plummeting to several notches below normal at many places. Dense fog in the northern parts of the country, including Uttar Pradesh, Punjab, Haryana, Delhi and Rajasthan, affected rail-road and air traffic heavily.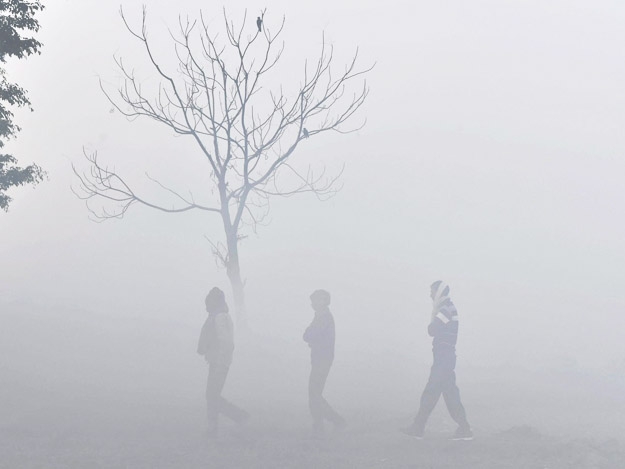 As National capital is experiencing a cold wave, the temperature has dropped out to the season's lowest at 4.2 degree Celsius on Saturday. As per meteorological department, the minimum temperature recorded was three times below the whole season's average and maximum temperature was recorded at 18 degrees Celsius.
The Railways had to cancel 28 trains, reschedule 9 while 36 trains were running late due to fog across the northern region. The MeT Department has predicted similar weather conditions for the next 24 hours.
As many parts of Uttar Pradesh , including Lucknow, continued to reel under impact of icy winds , the cold wave claimed 7 lives three in Lucknow and one in Azamgarh. Muzaffarnagar was the coldest in the state with minimum temperature dropping to 2.5 degrees Celsius at night.
Among other places in Punjab, Amritsar experienced biting cold at 3 degree Celsius while Ludhiana and Patiala recorded their respective minimum temperatures at 4.7 degree Celsius and 4.6 degree Celsius.
Chandigarh recorded the lowest minimum temperature of 1.8 degree Celsius, followed by Bathinda in Punjab which shivered at 1.9 degree Celsius, the MeT department said.
In Haryana, Ambala braved bone-chilling weather at 5.6 degree Celsius while Hisar registered a low of 2.6 degree Celsius, four notches below normal.
Karnal, Rohtak and Narnaul recorded minimum temperatures at 4 degree Celsius, 3.7 degree Celsius and 3 degree Celsius respectively.
In neighbouring Himachal Pradesh, tourist destinations Shimla and Manali on Saturday saw the season's lowest temperature. The minimum temperatures across the state remained two-three degrees below average.