Dr Govind Prasad, National President of Vidya Bharati delivering inaugural address
Shivpuri (MP), Nov 15: The 64th National School Field Archery competition began here from November 13 at Saraswati Vidyapeeth, residential school, Shivpuri. Players from Uttar Pradesh, Andhra Pradesh, Delhi, Odisha, Gujarat, Punjab, Telangana, Chhattisgarh, J & K and Madhya Pradesh are participating in this five-day event.
Speaking on the inauguration of the contest, Dr Govind Prasad, National President of Vidya Bharati underlined the importance of archery. He said that archery has been one of the ancient disciplines which required supreme concentration of mind and body.
Recalling the character of Arjuna in Mahabharata, he said the archer has to stabilise his mind by concentration. He advised all the participants to follow the ideal of Arjuna who concentrated only on his target.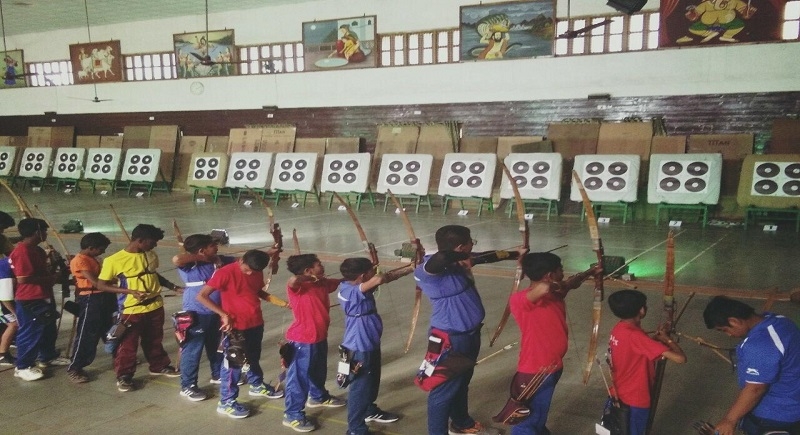 Dr Prakash C Bartunia, Vice Chancellor of Babasaheb BHimrao Ambedkar Vishwavidyalaya, Lucknow who chaired the inauguration program said that we must be committed to maintain national unity and integrity irrespective of our different fields of activity. The sports sector is most useful for this, he said. Participation in sports leads to fraternity and closeness.
The sportspersons must develop a big heart to welcome victory and defeat. He said that Prithviraj Chauhan was so expert in archery that he could shoot his targets accurately just by hearing the noise. This is the gift of India to the world, he added.
Explaining the background of the contest, SGFI Field Archery Observer Somdatta Dixit said that 70000 boys participate in this contest every year. Over 250 have bagged gold medal in the last three years.
Vidya Bharati Provincial Organising Secretart Hitanand Sharma, Coordinator Avadhesh Tyagi, Zonal In charge Manish Bajpai, Anand Dixit, Subhash Nair, Principal Pawan Sharma, citizens, guardians, teachers etc. were present on the occasion. The program was conducted by Shishu Vatica Pradhanacharya Shweta Shrivastava and vote of thanks was proposed by Shiromani Dubey, Vice President of Saraswati Vidya Pratishthan.