Bharath Gyan is conceptualized by D. K. Hari and D. K. Hema Hari with the objective to scientifically collate and disseminate the knowledge of India and its ties with other civilazations from ancient to modern times.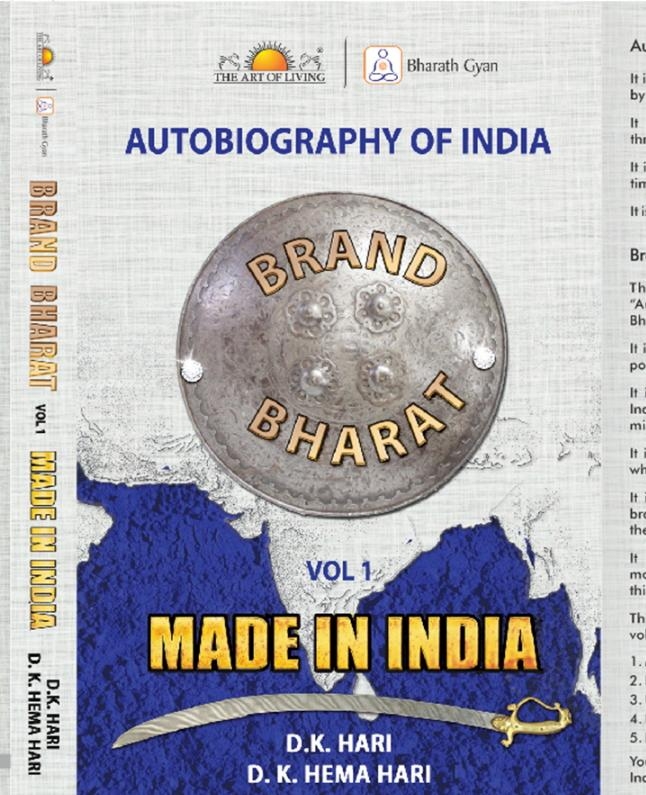 They have published many books in this endeavour. Here I am writing about the book"Brand Bharat."This is a five volume book in the"Autobiography of India"series from Bharat Gyan.
On calling the series on India as 'Autobiography'; authors says since, India is motherland; a book on it will be called autobiography.
Further, authors write, the book is not about the commercial brands that pop up and shine forth, every few decades. But, it is about the timeless brands, by which India had been known and looked up to, for millennia. It is about the products, ideas and ideals, which this brand stood for. It is about how India had nurtured these brands, which in turn had placed India in the limelight, with prosperity and glory. It is about the millennia old, successful model of knowledge based living, for which this brand can be known once again.
This multi volume book comprises of 5 volumes –
1. Made in India
2. Roots in India
3. Unique in India
4. Leads from India
5. Futures from India
Made in India, First volume (358 pages) covers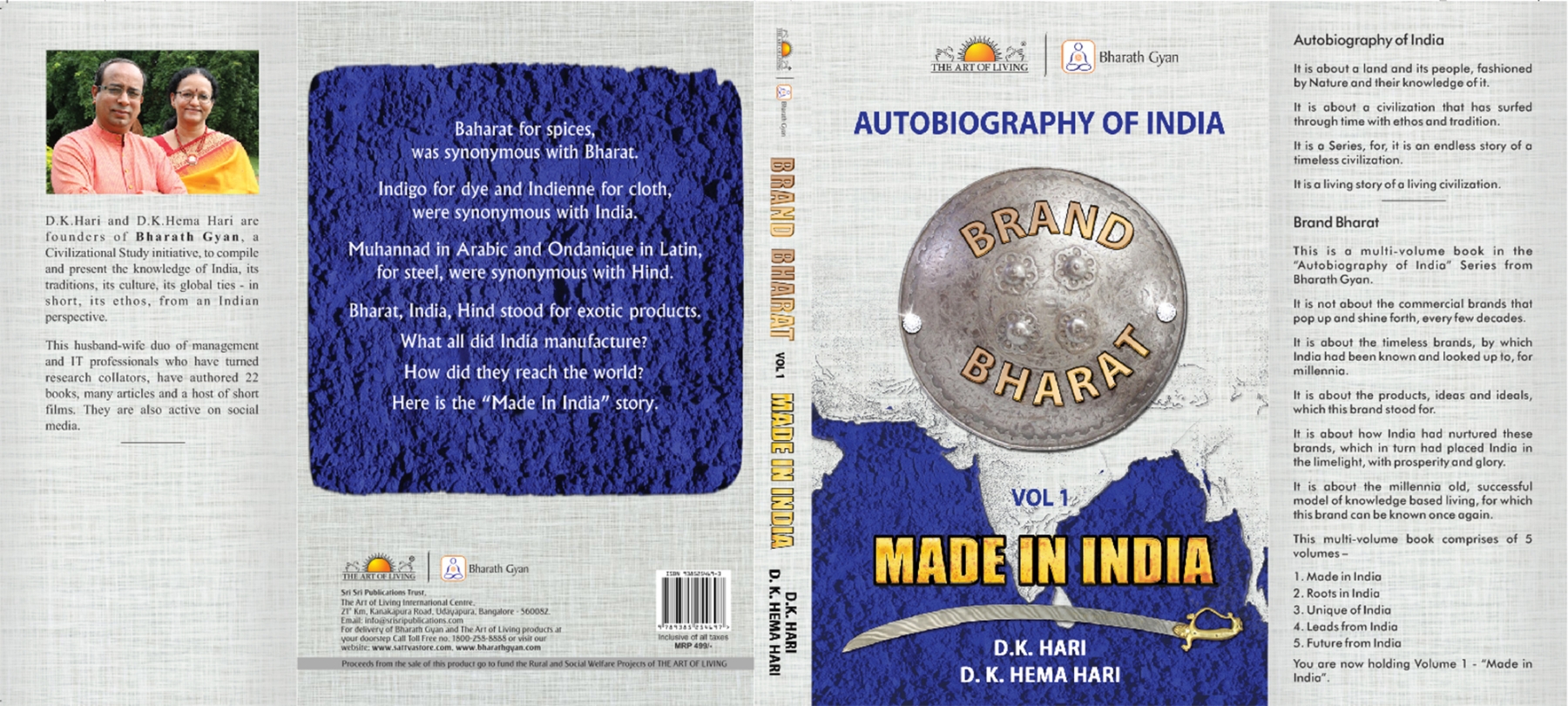 What were the products that were made in India?
The one thing that readily comes to mind is spice. But one will find that it was only one among the many.
Indigo for dye and Indienne for cloth, were synonymous with India. Muhannad in Arabic and Ondanique in Latin, for steel, were synonymous with Hind.
What influence did they have on the other lands? How did they generate the copious wealth from India, the land that produced them?
Bharat, India, Hind stood for exotic products. How did, India became a brand leader for exotic goods?
What all did India manufacture? How did they reach the world? All these are answered in the "Made In India".
Roots in India, Second Volume (346 pages) covers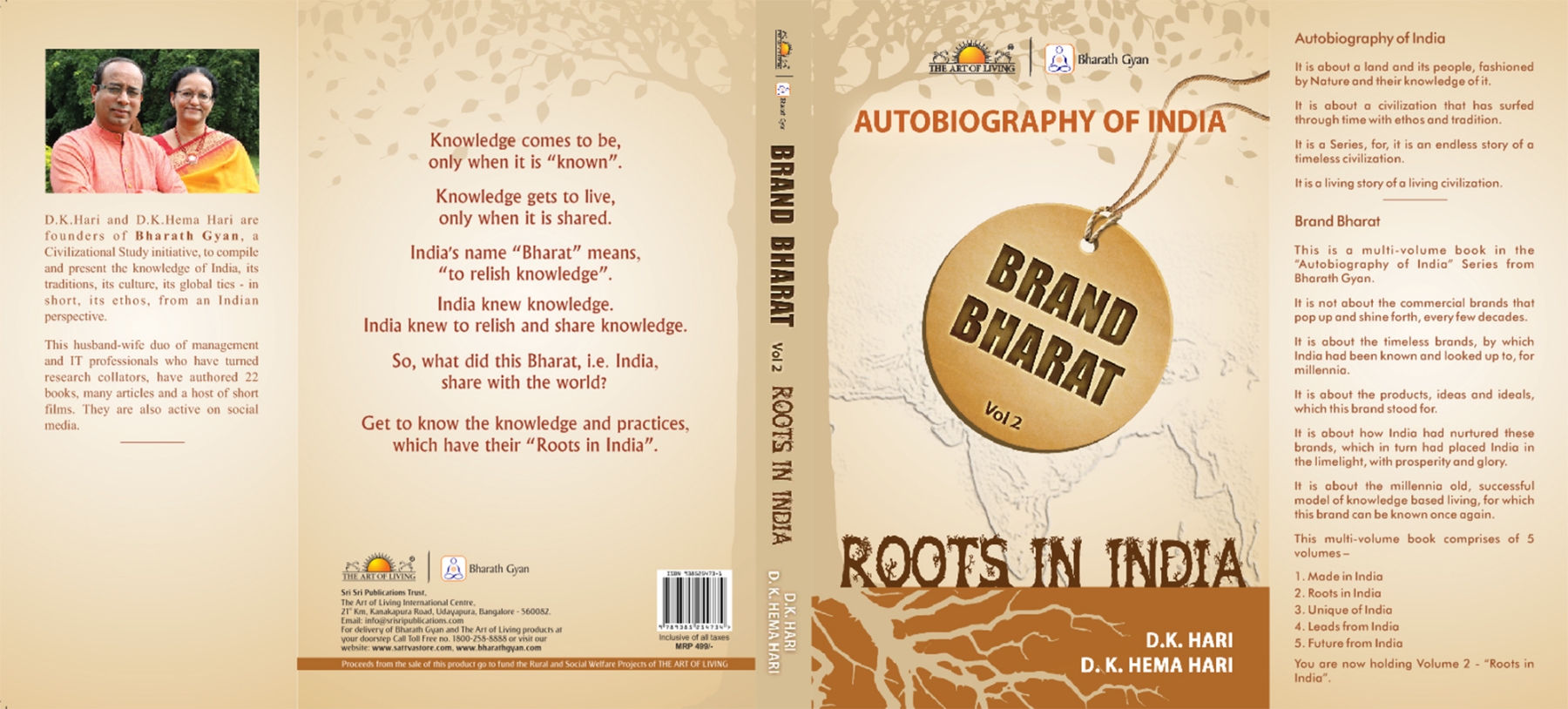 Some of the noteworthy, intangible assets that took root in India and which India, had shared happily with the world at large.
Authors make a valid and important point in this volume. They say, many of these assets over time, have also been misappropriated by other civilizations, given a different makeover and sent back to India as brand new. By then sadly, many generations and events had come to pass in India that India did not recognise these as her own.
India owes it to her roots, to her ancestors, to recall the assets that they had left behind for her to safeguard as knowledge which had come down to them from their predecessors in turn. Not to just recall and safeguard but to recollect these antique pieces of heirlooms and create newer offshoots, trends and brands, for generations to come, as their legacy.
This volume talks about the Indian origin of trigonometry, calculus, colours, cloth, games, weaponry etc.
Unique in India, Third volume (270 pages) covers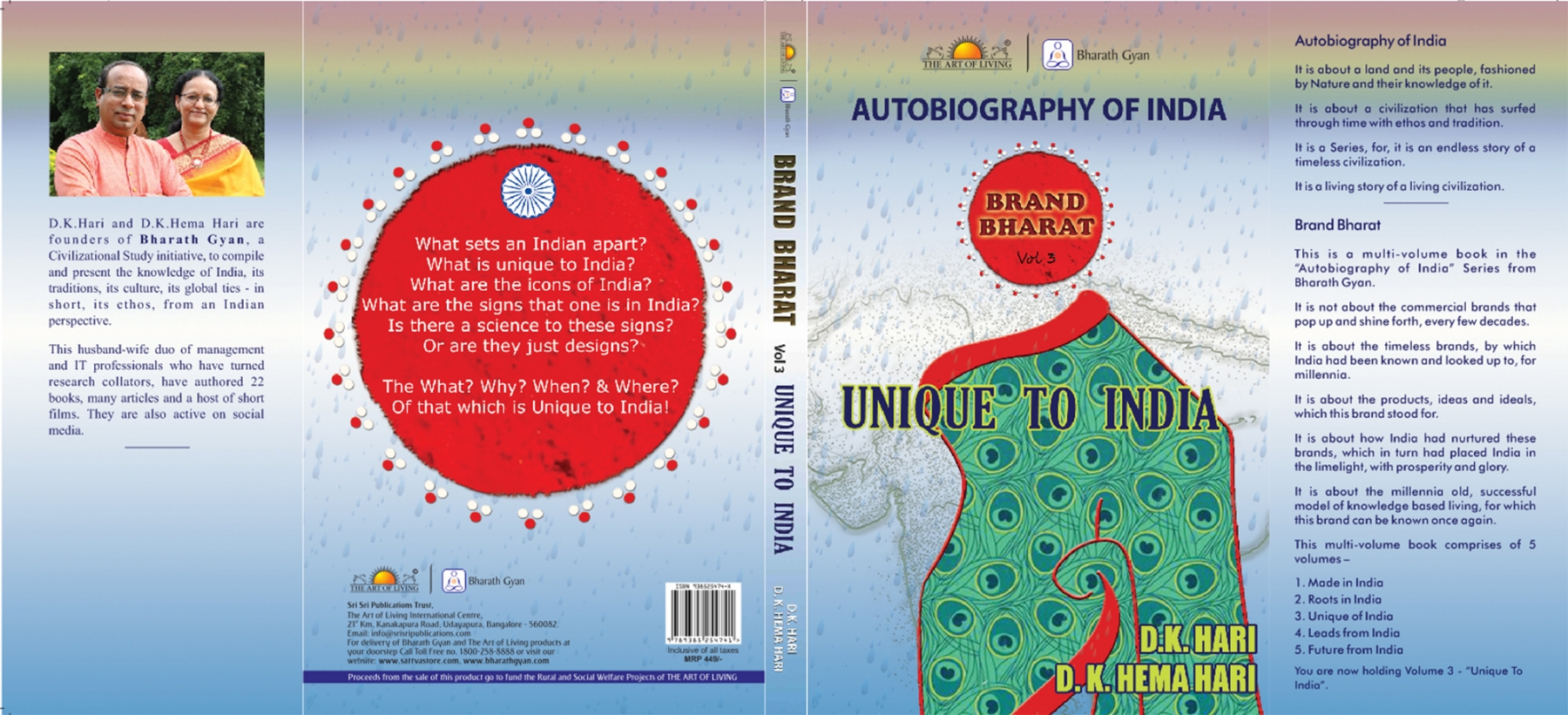 How was India seen by the world? What implied India to the world? What are the signs that one finds in India and is there a science to these signs or they are just designs?
These icons, these signs of India with a good brand recall, have given the India civilisation a unique identity and a distinguished brand value. Of these, the visible facets that set apart India from the rest of the world has been highlighted and showcased in this volume. Namaste, Swastika, temples, Saree, Bindi, Tanks etc. have been covered along with their scientific values.
Leads from India, Fourth Volume (255 pages) covers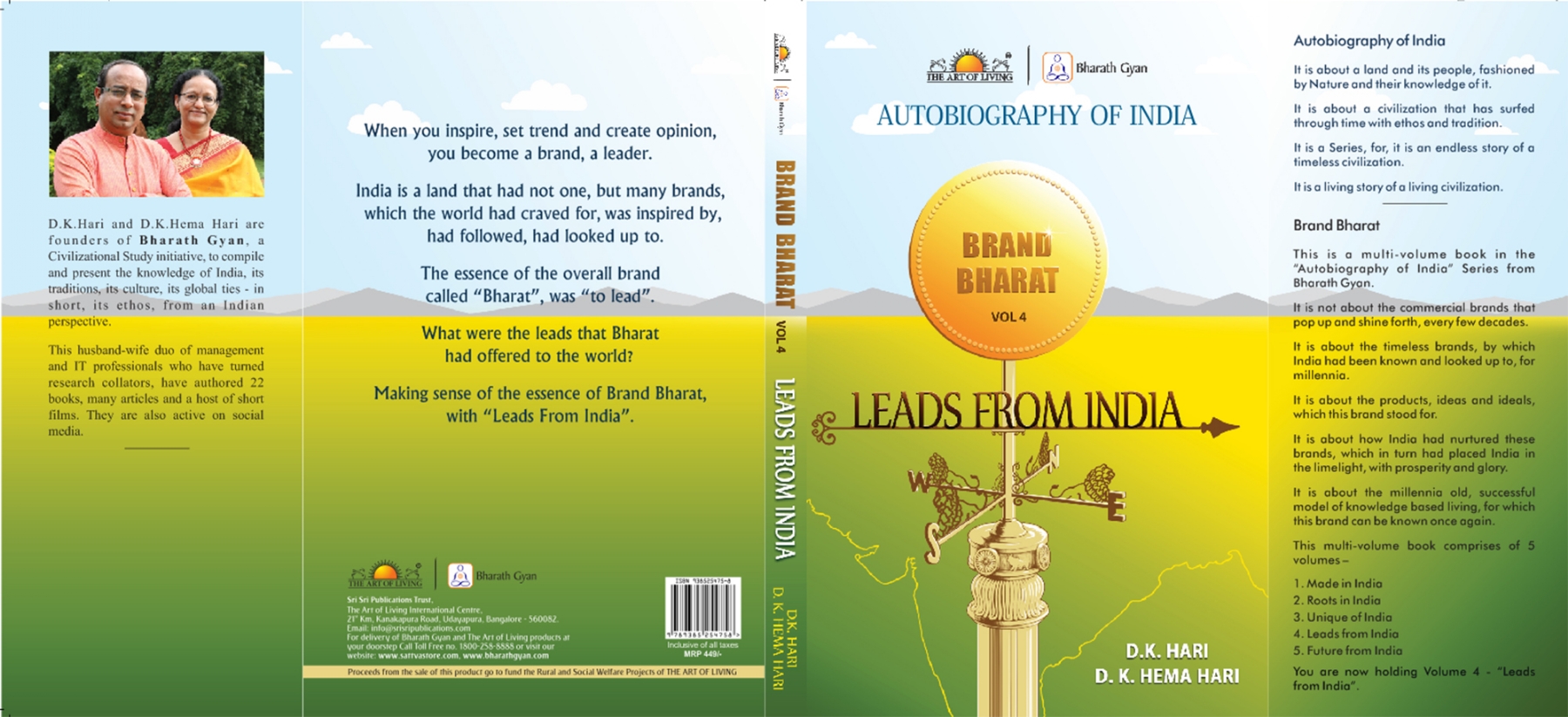 This volume says, when you inspire, set trend and crate opinion, you become a brand, a leader. India is a land that had not one, but many brands, which the world had craved for, was inspired by, had followed, had looked up to. The essence of the overall brand called "Bharat" was to "lead". So, what were the leads that Bharat had offered to the world?
In a nutshell this volume makes sense of the essence of Brand Bharat and covers Yoga, Ayurveda, Philosophy, Spirituality etc.
Futures from India, fifth volume (378 pages) covers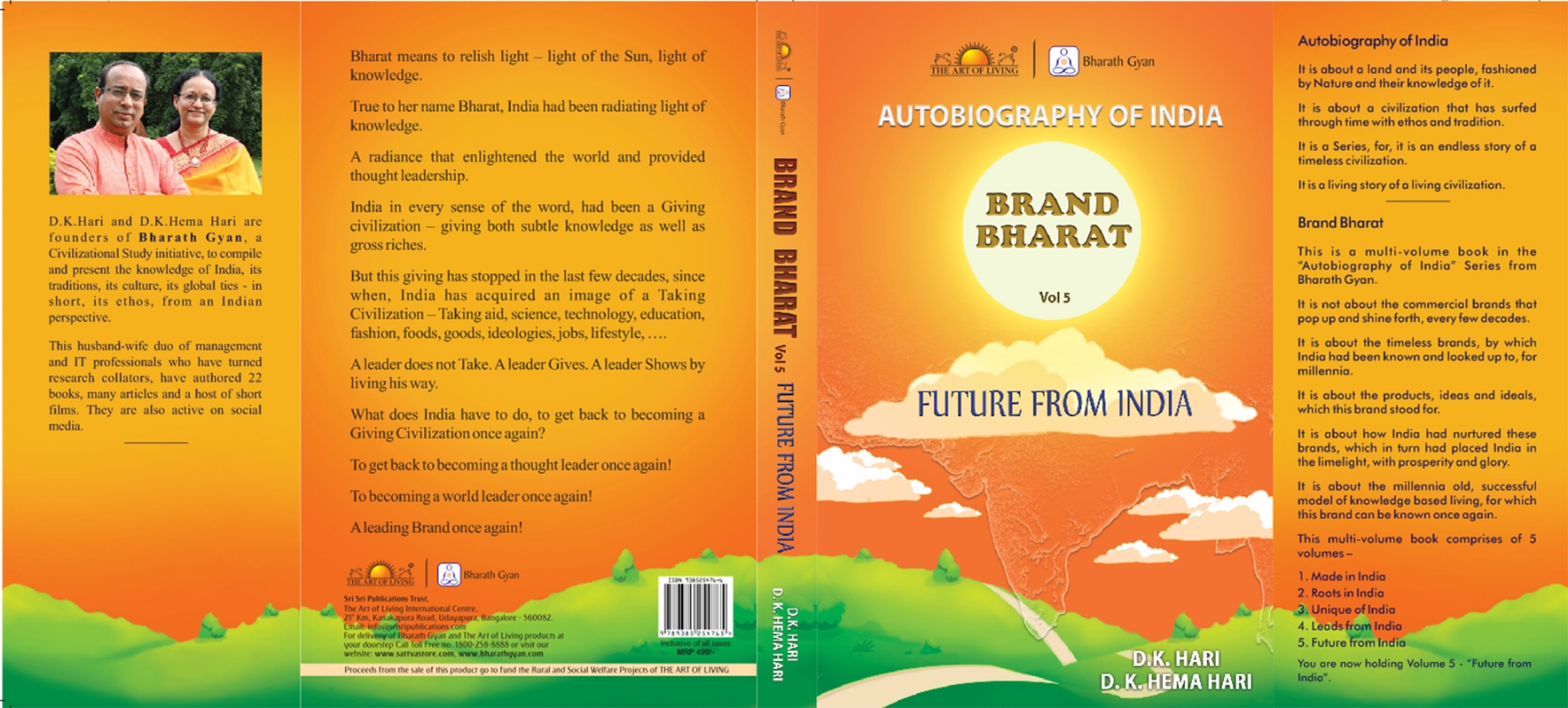 In the 5th and the last volume the author argues, a leader does not take. A leader gives. A leader shows by living his way. What does India have to do, to get back to becoming a Giving Civilisation once again? To get back to becoming a thought leader once again, a leading Brand once again.
In this volume journey of Bharat has been covered from ancient time to current time with all ups and downs and how India has withstood all of it. After this, the book talks about the future of India, where future world issues have been discussed and also discussed is how India will be in a position to provide those answers. A wide range of issues have been covered by the author and they are worth pondering over.
To sum it up, Autobiography of India, as a series, is an endless endeavour. Authors have narrated the story of how we have come to be what we are today going as far back in time as our collective knowledge will allow us to, in order to see what our ancestors had done, to see us safely into, thus far in the time – i.e. their future.
Authors note, but what is the value of this journey, if we cannot bring back leads from them, on how to live in our future so that, someday your progeny too will proudly travel down memory lane to reach upto us.
And I agree with them.
The five volumes have covered a wide gamut of subjects and authors deserve praise for structuring the book so well. Most are aware that indigo i.e. the blue colour cloth was an Indian invention but not many know that so was the colour Khaki. There are many such gems in the book. One volume leads to another volume naturally and the language is easy and smooth. References have been provided where ever needed which makes it easier for those who want to deep dive on any particular subject.
Authors have covered the Indian impact on world civilisation in details. They have traced the journey as to how the particular product/practice or thought travelled from India to the world. Authors have travelled to lot of places across the globe themselves and this adds to the authenticity of the book.
The fifth volume where the authors discuss the future role of India is very important for today's youth. It is today's youth that will shape the future of India and has the potential to make India, Viswaguru and lead the world. This is a volume which needs discussion in institutions, social organisations, seminars and conferences.
Though, one flaw stands out in the consistency in forward of the book. Some volume has the forward and some does not. Hope this will be taken care in subsequent editions of the book.
Each volume is priced at Rs 499/- , and it is priced very reasonably considering not only the number of pages but the quality of paper used. Now a day it is rare to find good quality paper in paperback editions. To top it the full book is printed in colour which makes reading fascinating. The pictures, diagram, graphs used in the book not only attractive but also make the book easier to understand.
This set of five books should be the ideal gift at the beginning of Gregorian calendar 2019. These five volumes are an ideal New Year gift for the kids, for the friends, for families, for educational institutions, for libraries and most importantly for self. The set of five book will be among one of the important investments made by any Indian in himself.