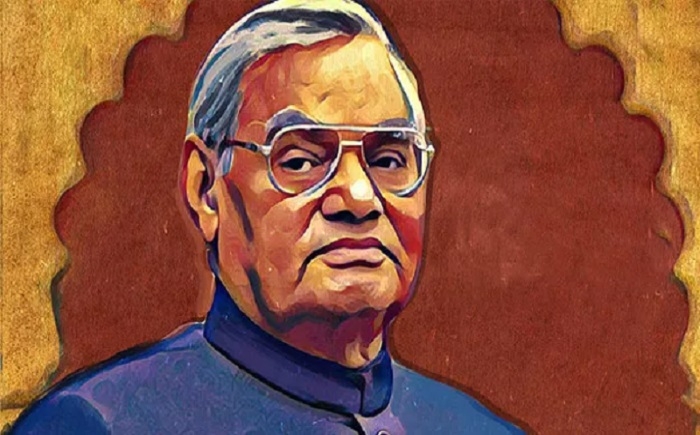 Very few people in public life have the privilege to become a legend in their lifetime and Atal Bihari Vajpayee was one amongst such rarest of rare personalities that not only influenced their era, but also cast their shadow on the future.
Vajpayee fondly called as 'Atalji' began his public life when he joined the Rashtriya Swayamsevak Sangh (RSS) during his teens in Gwalior. Since then, he lived a life sans any slightest of blemish that would eclipse his sterling character, commitment to the cause, dedication to the ideals of life and uncompromising patriotism.
Though he was branded by his friends in the Opposition as a 'right person in the wrong company' for his association with RSS and Jan Sangh, Atalji remained a true friend, a great humanist and a visionary leader throughout his life.
Atalji was born on December 25, 1924, when the world has celebrated the coming of the 'Son of Man' on this earth to spread the message of love and compassion; fraternity and peace; service to the poor and respect for the womenfolk. Like Jesus, Atalji too was the epitome of love, compassion, brotherhood, and peace. After a long inning of 93 years in public life, he left this mortal world on Aug 16, 2018, creating a void in our social, political and literary life that could never be compensated for.
A poet of passion:
Born as a son of parents of the same name – father Krishna Bihari and mother Krishna Devi – Atalji acquired the traits of a poet from his father who was a teacher in Gwalior and also a poet of acclaim. As a high school student, he composed his famous poem "Hindu Tan Man Hindu Jivan Rag Rag Hindu Mera Parichay" which was very well received by the people, mostly youth then and which still holds good for the present and the future generations.
His other poems "Haar Nahi Manunaga, Rar Nahi Thanunga, Kal Ke Kapal Par Likhta Mitata Hun, Geet Naya Gata Hun", "Aao Phir Se Diya Jalayen", "Unchayi", "Jeevan Beet Chala","Maut Se Than Gayi", "Swatantrata Divas Ki Pukar", "Aaye Jis-Jis Ki Himmat Ho", and many others speak out for his philosophy of life and the mission he persuaded relentlessly throughout his life. An ace wordsmith, Vajpayee's poems distinguish him from all his contemporary politicians. He left back a treasure of soul-stirring poems for the posterity.
An orator par excellence:
Atalji was a great orator. He knew how to play with words and win the hearts. Right from his college days, he rose like a shining star in the field of public speaking and oratory. Once he had to participate in a national level debate contest at Allahabad (Now Praygaraj), and unfortunately the train he took was late. When he reached the venue, the competition was almost over. He requested the organizers to allow him to speak as he was late for no fault of his. Considerate as they were, he got the permission to speak. With his diction, style, poise and trenchant arguments he won the audience and impacted the judges to win the first prize of the contest. The seeds of a great orator were sown in this small incident. His speeches in the parliament, the public meetings he addressed made Vajpayee a legend in the oratory. Even Pt. Jawahar Lal Nehru, the first Prime Minister identified the virtues of Atal Bihari Vajpayee and predicted that he would shine in politics. Vajpayee too was an admirer of Nehru though he was on the 'other side of the political fence'. Nehru died on May 27, 1964. In his condolence speech in Rajya Sabha Vajpayee paid him glowing tributes to Nehru. His speech, delivered in pure Hindi, reflected all the qualities of erudition and flowed like poetry. Vajpayee's Hindi speech in the UN General Assembly also drew world attention and proved instrumental in giving Hindi its due place in the UN. He was such an orator that there was no match to his magnificent oration.
Atalji completed his education from Gwalior and Kanpur. During his college days, he came in active contact of RSS leaders Deen Dayal Upadhyaya and Bhaurao Devras, younger brother of third RSS Sarsanghchalak Balasaheb Devras and at his instance took up journalism by editing a monthly journal called Rashtra Dharma. Atalji's close contact with Deen Dayalji helped him further hone his qualities and gain a lot of wisdom and knowledge. It also helped his meteoric rise in the Bharatiya Jan Sangh and on the Indian political horizon.
Journalist Atalji:
Atalji became an editor of Rashtra Dharma but journalism then was not an easy cake walk or a lucrative profession full of glamour as it appears to be at present. The glitter and sheen of present-day journalism were totally absent then and the editors and journalists were held in high esteem and respect for their writing. Following the success of Rashtra Dharma, Deen Dayal Upadhyaya launched another weekly called 'Panchajanya' which sounded the clarion call of duty besides awakening people about their responsibility and commitment to the nation. Today, Panchajanya is the major Hindi weekly in India with a large circulation. But at the root of this success, there lie the painstaking efforts of people like Atal Bihari Vajpayee who literally burnt the proverbial midnight oil.
The country attained independence in 1947, accepted the constitution in 1949 November and the first general elections were held in 1952. But before all this happened, the Nehru Government banned the RSS by falsely implicating it in the murder of Mahatma Gandhi. The fallacy of this conspiracy was soon exposed and the ill-intentions of the government were bared. But unfortunately, no political leader worth of his salt ever rose and opposed this high-handedness and anti-democratic attitude of the Nehru Government. Leaders like Dr. Shyama Prasad Mookerjee also fell apart from Nehru Cabinet and decided to launch a new political alternative to the Congress. Atal Bihari Vajpayee, Deen Dayal Upadhyaya, Nanaji Deshmukh, and some others joined him and thus the Bharatiya Jan Sangh (BJS) was formed in 1951. Atalji entered the public domain with the formation of Jan Sangh and remained there till his last breathe.
In the Lok Sabha:
He first contested the 1957 general elections and got elected to the Lok Sabha from Balrampur in Uttar Pradesh. He made in debut speech in the Lok Sabha on May 15, 1957, exhibiting his oratory skills and far-sightedness and statesmanship. Deliberating on Kashmir issue and Article 370, he cautioned the Nehru government that its policy on J & K would lead to further complicate the issue. Nehru did not agree with this submission but hailed his oratory skills and presentation style prophesying Atalji's bright future as a political leader. Atalji's gradual rise in politics and governance proved how correct Nehru was! He remained a member of Lok Sabha for 11 terms and Rajya Sabha for two terms spanning the political career of 65 years!
The Janata Party experiment:
During the emergency, he was jailed as hundreds of thousands were arrested during those days on the slightest of doubt of hatching conspiracy against the then Prime Minister Indira Gandhi. After the emergency and defeat of the Congress party and Indira Gandhi herself, he became the Minister of Foreign Affairs in the Morarji Desai Cabinet. And that was the best period when the bilateral relations of two neighbors who remained cantankerous from day one, were most cordial. Atalji would say, "You can change your friend but not your neighbor". And the most interesting part of it was the people and leaders of Pakistan were happy and assured about Vajpayee who was portrayed as a 'die-hard' Hindu nationalist.
The BJP era begins:
Founding the Bharatiya Janata Party (BJP) in 1980 proved the political masterstroke of Atal Bihari Vajpayee. The Janata Party experiment failed miserably mostly due to the cantankerous socialist leaders like Madhu Limaye and Raj Narain who raised the bogey of dual membership for the RSS associated leaders in the Janata Party.
The differences were stretched to such a level that they led to breakage of the Janata Party and the comeback of the Congress party at the helm of the affairs. In order to expand the base and political scope of the truly and genuinely nationalist elements in the contemporary Indian political scenario, Vajpayee announced the formation of BJP on April 6, 1980 in Mumbai, adopted 'Gandhian Socialism' seeking divorce from the 'Hindutva' ideology (though for a temporary period) and went to contest the 1984 elections only to get trounced as the elections were held against the background of killing of Indira Gandhi by her Sikh bodyguards. BJP could get only two seats in Lok Sabha then. But like the legendary phoenix, it rose from the ashes and captured power in 1996 when Vajpayee was sworn in as first genuine non-Congress Prime Minister of India, though just for 13 days. The third RSS Chief Balasaheb Devras was on the bed then. But when this news was told to him and he saw it on the television, he was happy beyond limits.
As Prime Minister of India:
Vajpayee's second brief stint as PM began in 1998 and continued for 13 months during which he achieved the distinction of making India a nuclear-capable country by conducting atomic explosion in Pokhran in Rajasthan. The code word was 'Buddha laughed again" and the man behind this mission was late Dr. APJ Abdul Kalam, the former President of India. Vajpayee said, "Our nuclear weapons are meant purely as a deterrent against nuclear adventure by an adversary". As The Guardian (Aug 17, 2018) said, Vajpayee presented a fresh vision of India in the world. This new self-image was at odds with Nehruvian idealism of the past and emphasized economic and nuclear strength".
The successful nuclear tests angered most the US that imposed sanctions against India. It wanted the Vajpayee government to "cap, roll back and eliminate" India's nuclear program. Prime Minister Atal Bihari Vajpayee true to his name "Atal" stood like a solid rock and resisted the US pressure successfully. He even succeeded in convincing the US leadership that Indian nuclear program was for self-defense and peaceful deterrent.
During his tenure as Prime Minister, Pak-sponsored terrorists had attacked the Indian Parliament in December 2001. Tensions ran high and the situation became the most explosive and volatile with Indian security forces deployed on the borders. No country in the world would have cursed India for attacking Pakistan in retaliation. But Vajpayee showed great restraint and only with the show of strength and diplomacy pacified the situation. That was his statesmanship.
Friendly relations with neighbors:
The most talked subject was India's relations with its western neighbor during the Vajpayee era for two reasons – one, that Vajpayee represented the right-wing nationalism (according to the global commentators) that adhered to Hindutva ideology considered at crossroads with Pakistan's Islamic theocracy; and second, the internal pressures on the Indian security system following the terrorist attacks mostly clandestinely sponsored by Pakistan.
But the most important aspect of Vajpayee's foreign policy was its outreach to Pakistan. Even during his tenure as Foreign Minister in 1978-80, the relations with Pakistan were most cordial. It was Vajpayee who initiated the Delhi-Lahore Bus service and traveled to Lahore along with prominent Indian citizens crossing the borders in February 1999. This was seen as the major effort to strike peace with Pakistan. Vajpayee visited the Minar-e-Pakistan during his two-day stay there. It was this landmark in Lahore from where the Muslim League had given a call for Pakistan in 1940.
But Pakistan did not respond positively. In May 1999, it sent Pakistani army regulars in the guise of militants to capture commanding posts in Kargil region. The Indian Army and the Air Force, after their efforts for two months, flushed out all of the intruders and defeated the Pakistani designs to cut off Srinagar-Leh highway.
Another bad act by Pakistan was attacked on India's parliament on December 13, 2001. The terrorists of Lasker-e-Toiba and Jaish-e-Mohammad launched the attack on the Indian Parliament bringing the two neighbors at war once again. However, with restraint and diplomatic tactics, the war could be avoided. But these two acts of bad faith by Pakistan did not deter Vajpayee to extend the hand of friendship to the western neighbor. Prime Minister Narendra Modi's efforts to outreach Pakistan should be seen in the background of Vajpayee's legacy.
Vajpayee visited Islamabad in 2004 after extending a hand of friendship to Pakistan during his visit to Jammu and Kashmir in 2003 throwing a surprise. In 2004 he signed a bilateral agreement that said that Pakistan would not allow any of its territory to be used as Launchpad against India. That Pakistan did not adhere to that agreement in later years is a different story altogether.
Vajpayee was the first to extend an invitation to his Pakistani counterpart Pervez Musharraf in 2001 to Agra for talks but the talks did not yield success. Nevertheless, it was seen as a strong attempt by Vajpayee to bring peace in the sub-continent.
The global acclaim:
Vajpayee's tenure as Prime Minister will also be remembered for his friendly relations with India's neighbors. All the neighbors of the country were once the part of the great Indian cultural landscape. He was acclaimed worldwide and also by the leaders of the neighboring nations for his statesmanship and helping nature as a true friend. Glowing tributes were paid to him by the leaders of these countries including Pakistan, Bangladesh, Nepal, Afghanistan, Sri Lanka, and also distant neighbors like Japan, the USA, the UK, and the United Nations. All of them described Vajpayee as a global leader, a statesman and a true friend and well-wisher.
The global newspapers also eulogized his role in world politics and as a world leader. The New York Times described Vajpayee as a face of the world's most populous democracy, a nation of one billion people and a resolute politician and who, as 'India's prime minister from 1998 to 2004, 'stunned the world by ending a decades-old moratorium on nuclear weapons tests'.
The Washington Post in its obituary reference credited Vajpayee for establishing India as a nuclear-weapon state but also mentioned how India's decision to test nuclear weapons strained its relations with the US.
Atal Bihari Vajpayee attained the status of a towering but gentle colossus in the political arena. Over the years he came to symbolize the remarkable qualities of a wan and caring human being displaying virtues such as courtesy, compassion, dignity, tolerance, and magnanimity. The Government of India honored Atal Bihari Vajpayee by bestowing the highest civilian award of "Bharat Ratna" on him on March 27, 2015, and by renaming four Himalayan peaks near Gangotri after him in October 2018. The Government also declared that the birthday of this great son of Mother Bharat would be observed as "Good Governance Day".