Srinagar, December 26: Making the journey feasible, the pilgrims visiting Vaishnav Devi shrine in Jammu and Kashmir will now be able to take blessings from the Bhairav Nath temple as well in no time. Yes, you heard it right! The pilgrims routing Vaishno Devi shrine in Jammu and Kashmir will now be able to visit Bhairon Nath mandir with ease with the help a ropeway that was inaugurated on Monday. This ropeway connectivity will help the devotees reach the temple in just 5 minutes.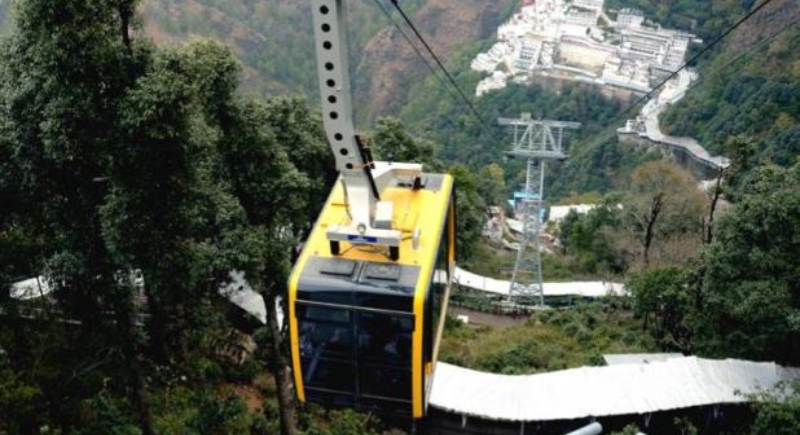 The Bhairav Nath Temple is situated at a distance of 1.5 kilometres from the Bhawan, and the climb is extremely steep making it tough for pilgrims to visit the Bhairon Nath temple. Jammu and Kashmir Governor Satya Pal Malik on Monday inaugurated a high-tech ropeway project at Mata Vaishno Devi Shrine. A ride on the ropeway will reportedly cost Rs 100 per person.
The ropeway project is undertaken under a joint venture of Garaventa AG, Switzerland and Damodar Ropeways Construction Co (P) Ltd, Kolkata, under the supervision of RITES. The equipment and cabins of the ropeway have been imported from Switzerland. The ropeway has a carrying capacity of 800 persons per hour. With the help of this service, the steep climb of an altitude of 6,600 feet will be completed in minutes.
The trial and testing of the project had began in the month of November along with mock rescue and evacuation drills were conducted. Staffers of the shrine board have also been trained for emergency services.
The disaster management task force (DMTF) of the shrine board had organised rescue and evacuation drills.
On a similar note, Maharashtra had also opened its gates to seek blessings of Aai (mother) at the Saptashrungi Gad in Nasik in July. Maharashtra Chief Minister Devendra Fadnavis inaugurated the first funicular trolley in Saptashringi Gad for the benefit of the devotees.