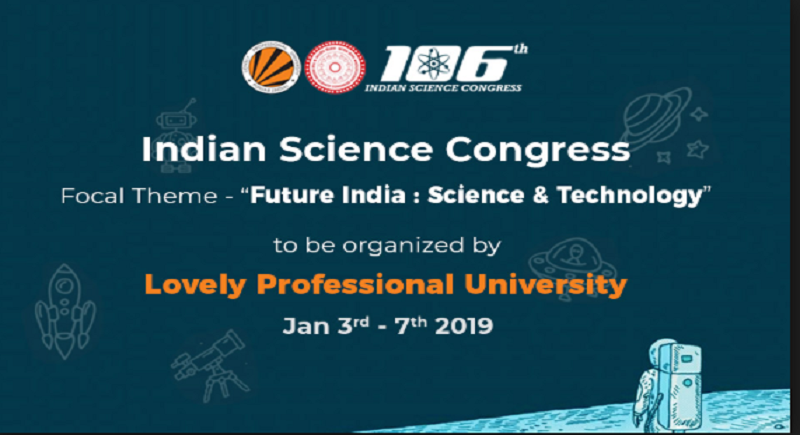 Kolkata, Dec 31:
World's largest science meet 'Indian Science Congress (#ISC)-2019' is going to be held from 3rd to 7th January 2019, in Jalandhar, #Punjab.
Prime Minister Narendra Modi will inaugurate 106th Indian Science Congress (#ISC)-2019 on 3rd January in Jalandhar, Punjab.


The 106th Indian Science Congress perceives the theme of FUTURE INDIA – Science and Technology in order to provide platform to researchers, academicians and industry champions to share their findings with the scholars zealous to excavate scientific findings and also to instigate budding science and technology enthusiasts to do meaningful extradition for ever-growing industry need and sustainable socio-economic system.

Lovely Professional University said in the tweet that, "We are proud to announce that Driverless Solar Bus designed by our students, will welcome PM Narendra Modi to the Indian Science Congress. Stay tuned for more interesting updates about the 106th Indian Science Congress."
What is an Indian Science Congress?
Indian Science Congress Association (ISCA) is a premier scientific organisation. With headquarters at Kolkata, West Bengal. The association started in the year 1914 in Kolkata and it meets annually in the first week of January.
The first meeting of the congress was held from 15–17 January 1914 at the premises of the Asiatic Society, Calcutta. Justice Ashutosh Mukherjee, the then Vice-Chancellor of the University of Calcutta presided over the Congress.
The objectives of the association are, to advance and promote the cause of science in India. In other objectives to publish such proceedings, journals, transactions and other publications as may be considered desirable. It also manages funds for the association and management of other assets.