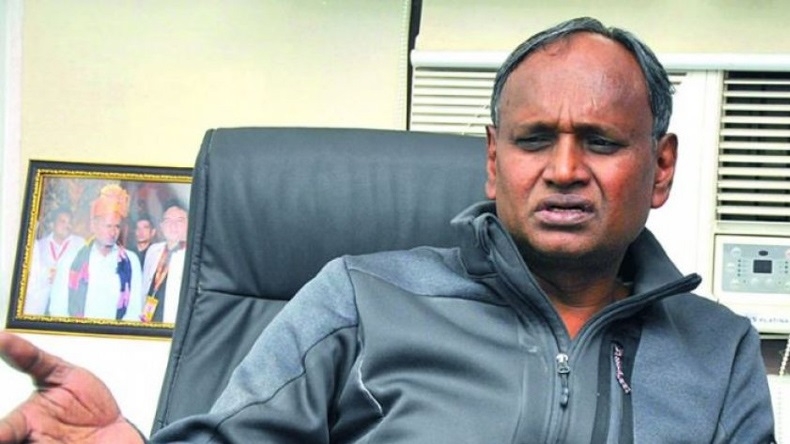 New Delhi, Dec 5: BJP MP Udit Raj, who comes from a Dalit background, has voiced apprehension about the diminishing reservation for SC and ST as assured by the Constitution. He said that he tried to bring this to the notice of his party leaders but they did not pay any heed to him. Recently talking with BBC Udit Raj said that with the rise of Contract system in jobs and increased outsourcing the reservation for SC and ST has come under a threat with almost 80-90 percent of reservation has been ended, he added.
Udit Raj was asked whether he, being a Member of Parliament of the ruling party, has raised this concern in the party forum. In reply to this question he said that there is no greater parliament or Supreme Court or any institution than the people. That is why he has come to them. Had the party listened to him he would not have taken this step. We raised this issue on a number of occasions, he added.
Udit Raj organised a Dalit congregation at Ram Lila Maidan in New Delhi on Monday. Members from Dalit, backward, and Minority community gathered under the banner of 'Dalit Pichhada, Alpsankhya Parisangh' with their 13 demands. The demands included reservation in higher courts and private sectors. The crowd shouted slogans against the Supreme Court and demanded to stop atrocities on Dalit community members.
However, a group was also heard as saying "we are not happy with Modi Government; we will throw it in 2019". National Secretary of Udit Raj's organization Rajendra Prasad, who came from Rohtak in Haryana, said that the court had heard the SC/ST Atrocity Act and made changes to it. That was not in the interest of the Dalits. Now again it is going to hear a PIL in this regard. The Supreme Court in its March 20 judgement had made certain changes in the Atrocity Act.
Under the changes, proper and prior investigation was made mandatory before arresting anyone against whom the complaint under this Act was lodged. There was a nation-wide hue and cry raised by the Dalit organisation all over the country on April 2. Eleven people had died during that agitation. Dalit activists say that the April 2 agitation was instantaneous and spontaneous. This agitation had made the political leaders who indulge in Dalit politics wary.
Sometime ago BJP MP from UP Savitri Fule has also spoken against the party openly. A few days ago Ram Vilas Paswan too had whispered the words in opposition. Udit Raj also took exception to Yogi Adityanath's take on Hanuman as a 'Dalit'. Hanuman is shown as a Monkey form God. Do the Dalits look like a monkey, Udit Raj asked Yogi.
At present BJP is the only party to have maximum number of Dalit and Tribal leaders many of whom are ministers in the Modi cabinet. In spite of this the BJP could not instil faith in the members of this community nor remove their fears. They could not convince the Dalits that the party and the government was not stripping them of their rights but they are strengthening them. The way Ambedkar is revered and honoured in the time of Modi Government, no government of the yesteryears had done it.
BJP Government has done much work in emancipation of Dalits. Whether it is giving the Indu Mill Land for Dr Ambedkar memorial or purchasing the London House where he stayed and studied or to declare Nov 26 as 'Constitution Day'. In spite of this the Dalit community is still keeping it at bay from BJP and RSS.
During the 125th birth anniversary year of Dr Babasaheb Ambedkar has accomplished so many works leaving all those 'Ambedkar lovers' far behind in the race. The most important in this was declaring November 26 as Constitution Day. Speaking in the Parliament on this issue Prime Minister Modi said: "Had Ambedkar not given this reservation system and strengthened it what would have happened to my Dalit, exploited and depressed community? The God has given him all that He gave to me and you, but not the opportunity and that has made his condition pitiable. It is our responsibility and duty to give them opportunity".
So far as RSS is concerned it has made it clear time and again that it is not anti-Dalit or anti-Backward and not opposed to reservation. The RSS has accepted Dr Ambedkar as torch-bearer of the fifth phase of Indian renaissance. After the Church, the RSS is the only social organisation that conducts a variety of activities and programs among the tribals and Dalits. RSS has said on public platforms many a times that the reservations would continue so long as social-economic-educational inequalities remain in the society.
But a handful of leaders who indulge in politics in the name of Dalits are today trying to put the RSS and BJP in the box over Dalit issues. The acts of BJP's own leaders like Udit Raj or Savitri Fule or NDA members like Ram Vilas Paswan carried the anti-BJP-RSS message among the Dalits.