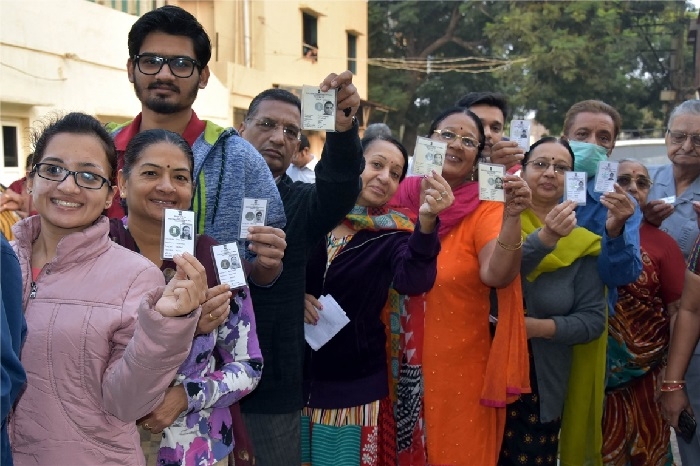 All alike suffer from voting day blues, particularly on the voting and counting days. As one succinctly highlighted that it is the "price of liberty" one faces in democracy.
The 'twists and turns' during the final 48-hours before the voting day are most crucial.
For actors – political parties, leaders and candidates - it goes without saying that the stakes are very high for their futures and prosperity in the profession of politics.
Furthermore, at stake are the reputations of many media houses, poll survey pundits and psephologists, mostly partisan, and intellectuals claiming to possess very high order capabilities to determine electoral outcomes.
For examples, Prannoy Roy (NDTV), Rajdeep Sardesai (India Today) and a horde of other media professionals are going around the countryside to determine the "pulse or moods" of the voter to forecast possible outcomes.
Be that as it may, the highlights of pre-voting day campaigning was incendiary what with loud and reckless innuendoes hurled against each other, stooping to the mean and the lowest in political discourse of what is drubbed as the semi-final before the final, that is, 2019 Lok Sabha elections.
Political rhetoric was full of vengeance. Political heavyweights of all political parties have flung vitriol, spread fear, made false claims and invoked slanderous rhetoric, in the full knowledge that their divisive style could ultimately cost democracy and the nation very dearly in posterity.
Slanderous and brazen targeting against each other, some more direct and others indirect, descending into almost like "fish market noise or street brawl, is detrimental forging conciliation so vital for forging consensus in democracy. Already, political parties are complaining EVM tampering to justify loss of face.
Consequently, voter has been denied to gain clarity and insight into what they may have to face in times to come. On usual lines, the roll-back follows familiar lines – polarization on narrow sectarian lines of vested interest groups.
A key departure from the past is the role of money and muscle power in determining outcomes. Rural voters' awareness is quite significant. They accept money from all those who give them and exercise their franchise as per their desire. What they openly highlight is that candidates are only giving money from what they have earned by dubious means with a view to enhance their earnings after the polls. So, there is nothing wrong in taking from all candidates.
Also, the voter is familiar and sensitive to the media exposure due to digitalization, social media networks, and other aspects of the cyber-world.
In reality, hardly there has been balanced political discourse on economy. More emphasis was on unachievable populistic 'sops' and rhetoric beyond the enduring economic sustainability.
The only solace is that Indian domestic politics is no different from the domestic politics of the oldest democracy – the USA. For example, Obama had lamented in the past "much of our politics, our public life, our public discourse, can seem small and mean and petty, trafficking in bombast and insult, in phony controversies and manufactured outrage. It's a politics that pretends to be brave, but in fact is born of fear.
In sum, majority suffer from deep
scepticism
about the efficacy of democracy. And, the political parties and their leaders are squarely responsible for the decay of real democracy in India if it continues to
roll-on
like the present murky practices in play.