Mumbai, February 21: Moment of joy and contentment for all the Khadi lovers in the city. Khadi lovers can now buy Khadi products from the newly opened 'Khadi Korner' at Apna Bazaar at Charkop, Mumbai Suburban. An agreement was signed between the Khadi and Village Industries Commission (KVIC) and Apna Bazar. The objective was to promote Khadi and make it available to everyone and Apna Bazaar was the best option was this decision.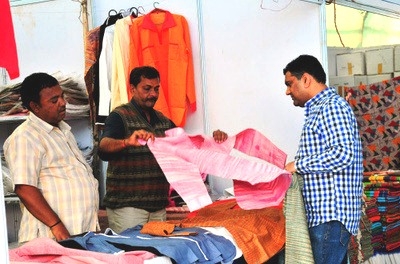 Anil Ganger, Chairman of KVIC, said that KVIC is exploring all possible methods to bring Khadi to the door steps of customers. He said that the plan is to establish Khadi Korners in major retail showrooms and malls such as Shoppers' Stop, Star Bazar, Infinity Mall, Pantaloon and Big Bazaar.
Further he elaborated that the tie-up with Apna Bazar will not only make Khadi available to more people but will also increase its production which will in turn help increase income of artisans. KVIC is very cost-effective and price-competitive and does not compromise on product quality.
Briefing on this tie-up Apna Bazar Chairman Anil Gangar also said that if Khadi products are sold in all outlets of Apna Bazar, it will have tremendous impact in increasing Khadi sales. Citing increase in sales figures, he said that one could clearly see that youth, elderly and women of every age group are taking to Khadi today.
In the upcoming years we would encompass Khadi for Fashion, and now the country is moving towards 'Khadi for transformation'.