Panaji, February 28: Shigmotsav is a spring festival celebrated in the Indian state of Goa, where it is one of the major festivals of the Hindu community but what exactly the Shigmotsav is? Do we know the exact aim of this festival? From the desk of Goa's cultural expert Prof Datta Naik we get deep and out of the box knowledge about this festival.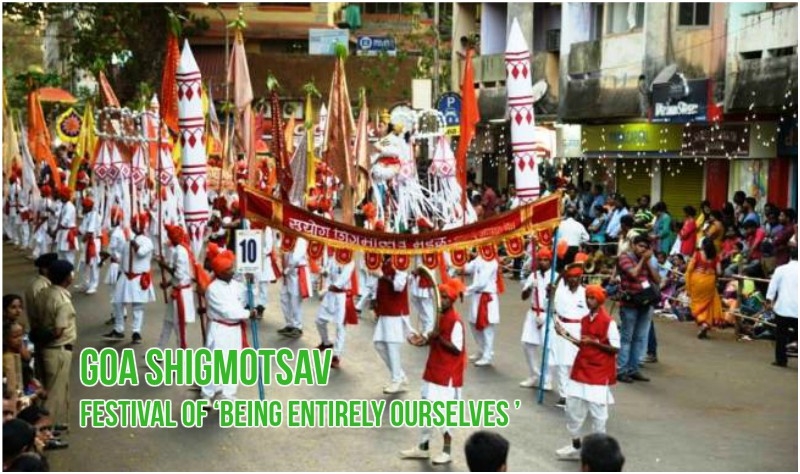 Shigmotsav is something which helps the people to express their joy, their happiness; it is a path to forget and step out of the sorrow. Everywhere there is the only breeze of happiness in Goa. Irrespective of their attire, people get on the roads to carry put the processions.
Shigmotsav is mainly a social festival which aims to bring the people who have left their own villages in search of jobs and employment, so it is a kind of social gathering and a medium to bring back those migrants for some days to their homes and meet their villagers, relatives, and friends.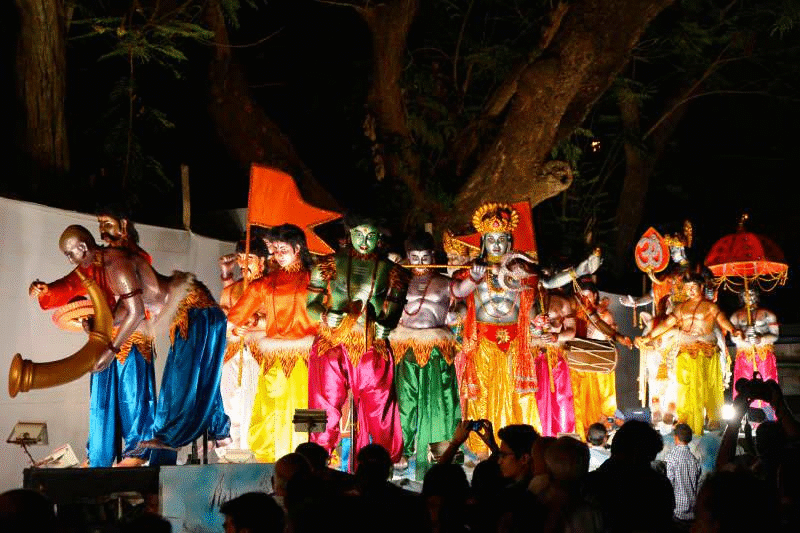 Prof Naik tells that "Celebrating this festival does not require any formalities like formal languages or formal good clothes, any person with any attire can join this festival of joy and relish. People even dress in opposite gender clothes which are considered as a scared concept." They don't feel ashamed to dress like this because rather than external joy inner joy matters a lot. And even if you use a bit slang language then also it won't hurt anyone as it is a moment when one forgets sorrows and accept happiness, says Naik.
There are two variants of Shigmo festival: Dhakto Shigmo ("small Shigmo") and Vhadlo Shigmo ("big Shigmo"). Dhakto Shigmo is generally celebrated by farmers, the labour class, and the rural population, while Vhadlo Shigmo is of greater consequence and is celebrated by everyone together. Each village or place has its own way of celebrating the festivals like the common rituals are the same but some rituals may differ.
Nowadays there is a bit urbanization in this festival like people have started using floats in the processions based on different themes like religious themes of Ramayana or Mahabharata etc, themes are also based on social messages.
This year Shigmotsav will be kicked off from March 3 which will last for 14 days.
The parades in all of the towns will commence at 17:00 hours.
The Shigmo parade schedule for 2018 is as follows:
3rd March in Ponda (South Goa)
4th March in Margao (South Goa)
5th March in Vasco (South Goa)
6th March in Sanguem ( South Goa)
7th March in Sanquelim (North Goa)
8th March in Valpoi (North Goa)
9th March in Bicholim (North Goa)
10th March in Panjim (Central Goa)
11th March in Mapusa (North Goa)
12th March in Pernem (North Goa)
13th March in Canacona (South Goa)
14th March in Quepem (South Goa)
15th March in Curchorem (South Goa)
16th March in Cuncolim (South Goa)
17th March in Dharbandora (South Goa)