Caesarea, February 9: Excavations always have had a niche in studying the ancestors and the lifestyle they lived. A unique mosaic was discovered in the ancient Israeli city named as Caesarea National Park.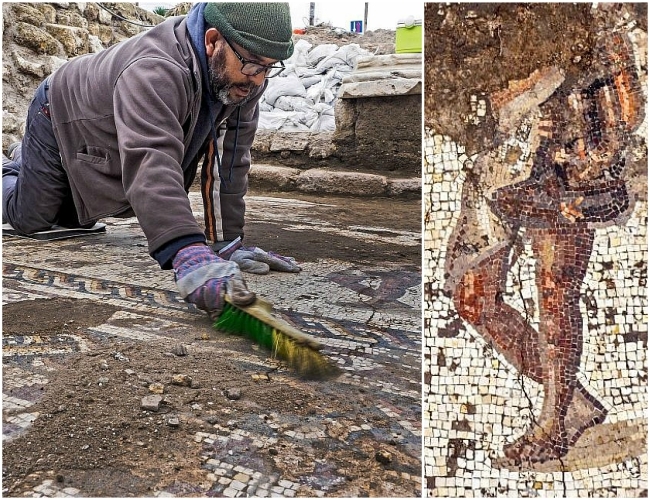 The mosaic which was discovered roots to Byzantine period - some 300 years younger than the mosaic; the Byzantine Empire, also referred to as the Eastern Roman Empire, was the continuation of the Roman Empire in the East during Late Antiquity and the Middle Ages, when its capital city was Constantinople (modern-day Istanbul, which had been founded as Byzantium). During most of its existence, the empire was the most powerful economic, cultural, and military force in Europe.
According to archaeologists Dr. Peter Gendelman and Dr. Uzi 'Ad, Directors of the excavation for the Israel Antiquities Authority, the mosaic predates the shopping structure by some 300 years and was once part of an even earlier building from approximately 1,800 years ago.
According to the archaeologists, the mosaic measures 3.5 x 8 meters and is "of a rare high quality" comparable to that of Israel's finest examples from Lod or Tzippori's Mona Lisa.
Mosaic consists 3 figures as well as typical multicolored geometric patterns, which were formed using small tesserae (mosaic pieces) placed densely at about 12,000 stones per square meter. "The figures, all males, wear togas and apparently belonged to the upper class. The central figure is frontal and the two other face him on either side," said the archaeologists.
The mosaic which was uncovered was unfortunately damaged by the Byzantine building constructed on top of it, but is being studied now by epigrapher Dr. Leah Di Segni from the Hebrew University's Institute of Archaeology.
"Old Caesarea never stops surprising, fascinating and thrilling us, time after time revealing slices of history of worldwide significance. This amazing mosaic is a unique find in Israel," said Guy Swersky, Vice Chairman of the Edmond de Rothschild Foundation.