Srinagar, March 1: The registration of pilgrims for this year's Amarnath Yatra began on Thursday through the notified bank branches. Notably, the 60-day long annual yatra to the holy cave shrine of Amarnath in South Kashmir Himalayas will commence on June 28 via both Baltal and Pahalgam routes and will last till August 26 of this year. This year's yatra will be longer by 20 days against last year's 40 days which has brought a joy to the devotees.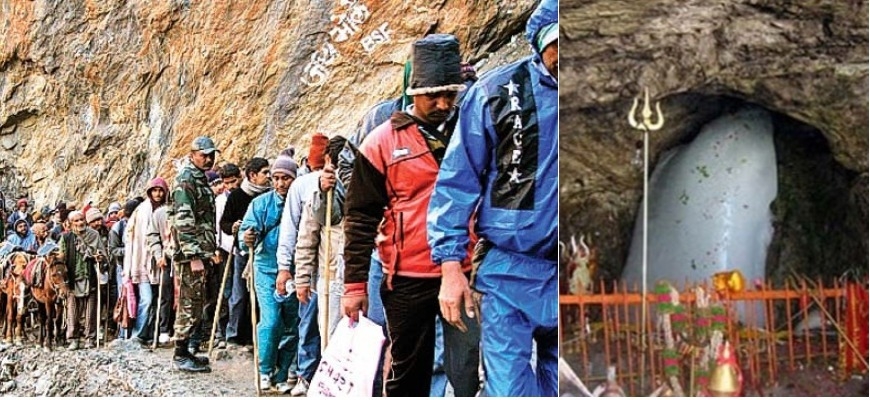 An official spokesperson of Shri Amarnath Shrine Board (SASB) that the registration will take place through 440 branches of Punjab National Bank, Jammu and Kashmir Bank and YES Bank across the country. "Any person below the age of 13 years or above 75 years, pregnant women and medically unfit people are barred for taking a pilgrimage in south Kashmir," the spokesperson added.
The Shri Amarnath Shrine Board (SASB) has also issued advisory relating to health and do's and don'ts for the Yatris. Governor N N Vohra, who is also the Chairman of the Amarnathji Shrine Board reviewed the arrangements being made for the yatra.
Importantly, the special arrangements are being made in the Yatra area along both the Pahalgam and Baltal routes which, inter-alia, include facilities for providing water supply, electricity, overnight stay accommodation, temporary latrines and baths for the Yatris and sanitation arrangements.
This year Amarnath shrine board will be incurring an expenditure of nearly Rs 1.50 crore for procuring 629 new pre-fabricated latrines and baths which include 243 European type and 286 Indian type latrines and 100 baths to replace the damaged units as also to augment the overall number of toilets and baths. A total of 2750 latrines, of which 499 are English type, will be installed during the ensuing Yatra, which is 157 more than in the previous year.
BACKGROUND:
Over 7 lakh pilgrims visited the shrine last year. The cave shrine is situated at a height of 3,888 metres above sea level and has two routes leading to it, one from Pahalgam, about 100 km from Srinagar, and another from Baltal, 110 km from Srinagar.
The pilgrimage routes pass through high mountains and glaciers, involving a steep climb, and most of the track, despite clearance of snow, is slippery and full of slush, making it difficult for the pilgrims to negotiate the tortuous terrain.
A naturally made stalagmite of snow considered to be an ice "lingam" or icon of Lord Shiva is the main attraction of the cave shrine. It is believed that Lord Shiva had narrated the tale of immortality to his consort, the Goddess Parvati at the cave. Thus, it is known as "Amarnath", which when translated means "Lord of immortality".