New York, March 24: "Unfortunately, people consider Economy as today's & Ecology as tomorrow's issue. But time to understand that ecology is today's issue. The enormity and urgency of environmental issues cannot be ignored" says Spiritual Leader and Founder of Isha Foundation, Sadhguru at the Launch event – International Decade for Action – "Water for Sustainable Development" 2018 – 2028 at United Nations Headquarters.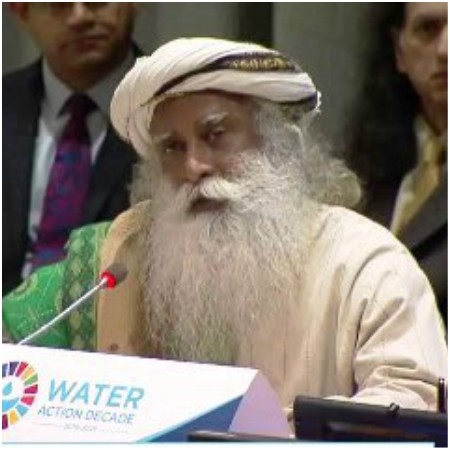 Sadhguru was invited by the President of the General Assembly of the United Nations – Miroslav Lajcak to participate in a panel on "Contribution of the Water Decade to the implementation of water-related Sustainable Development Goals (SDGs): addressing challenges and seizing opportunities through strengthening cooperation and partnerships."
While speaking at UN, Sadhguru said "Mass involvement of people will happen only if we marry Ecology with Economy. Eco-related activity needs to be structured into the lucrative process."
Talking about the good ways agriculture and water conservation he said, "Shifting from conventional systems of irrigation to micro-irrigation can bring the water usage for agriculture down by 40%. Micro-irrigation will also enhance the role of women in the agricultural & food processing industries." "Aggregating irrigation processes & encouraging micro irrigation could be a landmark step in revolutionizing agriculture & optimizing water resources" he added.
Sadhguru said, "Ecology knows no boundaries. Regional cooperation & a common, implementable policy are must for the revitalization of rivers in the world."
He has also urged to have some firm plan that can conserve water as it has been predicted that India could face severe water stress by 2050. So to prove these predictions wrong, the spiritual leader has talked about a firm action plan in the UN.