Chennai, April 6: Framing to come together in order to hold a joint exercise off, Korean Coast Guard ship BADARO took part in Indo-Korean joint anti-piracy, search and rescue exercise SAHYOG-HYEOBLYEOG 2018 off the Chennai coast yesterday.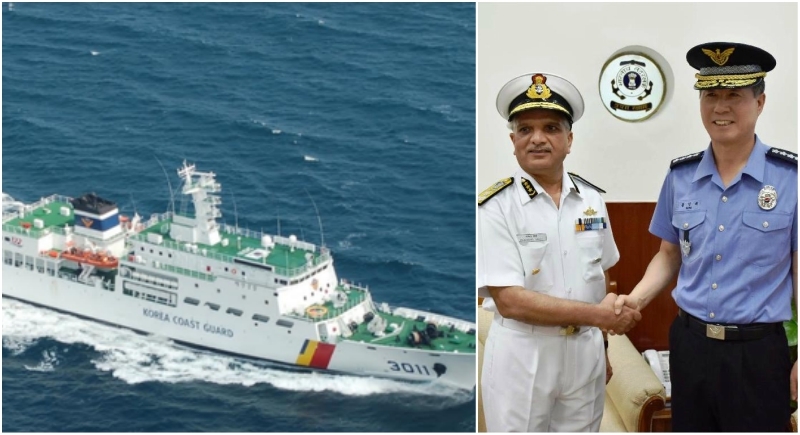 The joint exercise, named Sahyog - Hyeoblyeog 2018 is part of a proposed establishment of a MoU between the two Coast Guards to improve maritime security in the Indian Ocean Region.
The MoU, which is currently in the draft stage, will be deliberated on by the two sides over the course of the next three days and a final agreement will be signed on board one of the Coast Guard ships after the completion of the joint exercise on April 5, Coast Guard Commander (Eastern Region), Inspector General Rajan Bagrotra
As part of the exercise, ships of the Indian Coast Guard and the Korean vessel undertook tactical manoeuvre and "drills" to counter piracy and carry out maritime law enforcement tasks off Chennai coast.
Along with the Korean ship, Indian Coast Guard ships and an aircraft took part in the exercise.
It said, the exercise demonstrated a scenario in which RECAAP which is a focal point in Korea however reported loss of communication with cargo vessel South Korean flag MV Hyun Tau and it was indicated that the vessel has been hijacked by pirates.
Subsequently Korean Coast Guard ship Badaro in Bay of Bengal was alerted.
Indian Coast Guard deployed a Dornier aircraft to carry out sea-air coordinated search along with ICG Shaurya, Rani Abbakka, C-423, C-431. Director General of Indian Coast Guard Rajendra Singh and Commissioner of Korean Coast Guard General Park Kyung reviewed the exercise.
With the conduct of the exercise, Coast Guard has reaffirmed its dependability for maritime security.