New Delhi, June 12: Home Minister Rajnath Singh on Monday held a high-level meeting to review the Prime Minister Narendra Modi's security arrangements. Notably, the meeting comes days after Pune Police unearthed a Maoist plot to assassinate PM Narendra Modi.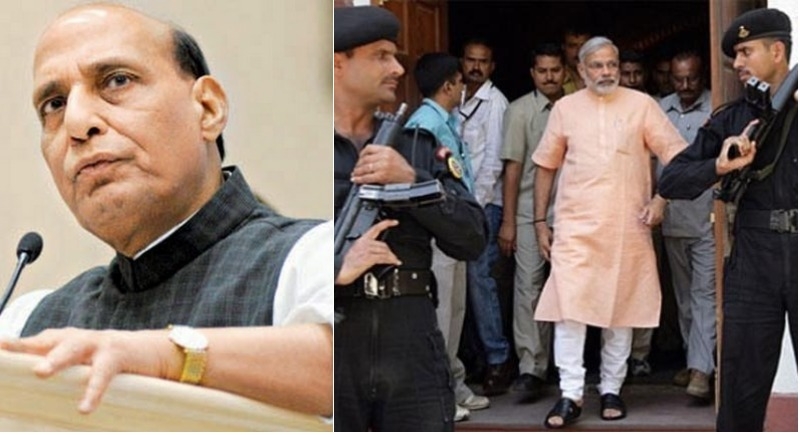 The meeting was attended by National Security Advisor Ajit Doval, Home Secretary Rajiv Gauba and Intelligence Bureau Director Rajiv Jain to review the Prime Minister's security in the wake of inputs about threat to the PM's life. On this occasion, Rajnath Singh firstly reviewed the security arrangements of PM Modi and then directed all the agencies to strengthen the Prime Minister's security cover.
Importantly, the high-level meeting came after Maharashtra police submitted a report to the ministry on letters between individuals having links to Maoist organizations that contained references to targeting the Prime Minister.
In a letter submitted in court by the Pune police last Thursday addressed to one "comrade Prakash", a another person identified only by the letter R raises concerns about the Modi-led BJP winning 15 states in quick succession. "If this pace continues, it would mean immense trouble on all fronts... Com Kisan and a few other senior comrades have proposed concrete steps to end the Modi raj," it read.
The letter goes on to suggest a strategy to assassinate the Prime Minister. "We are thinking along the lines of another Rajiv Gandhi-type incident. It sounds suicidal and there is a good chance that we might fail, but we feel that the party PB/CC must deliberate over our proposal. Targeting his road shows could be an effective strategy. We collectively believe that survival of the party is supreme to all sacrifices."