New Delhi, June 15: For all the newly married couples here is some news for you, especially all NRI marriage solemnized in India need to be registered within 7 days as directed by the Ministry of Women and Child Development. If the NRI marriages are not registered within seven days, the passports and visas would not be issued.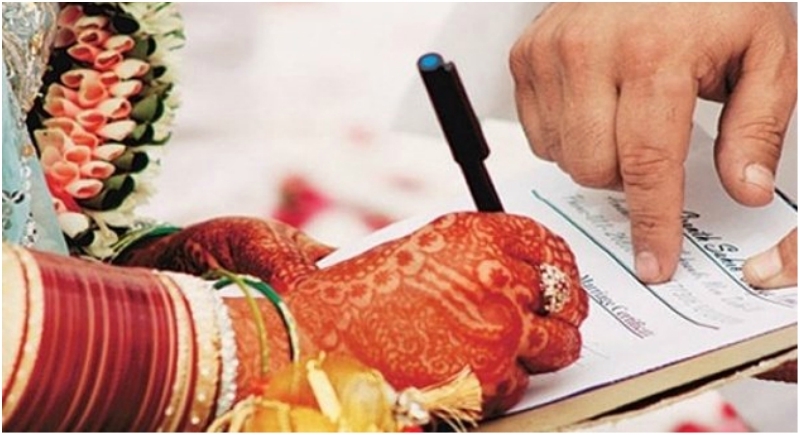 The decision for mandatory registration of marriages within seven days was taken on Wednesday after a group of ministers: WCD Minister Maneka Gandhi, Home Minister Rajnath Singh, External Affairs Minister Sushma Swaraj and Law Minister Ravi Shankar Prasad, met to map out legal solutions for redressing the issues faced by women in NRI marriages.
The panel decided to make it mandatory for NRIs to register their marriages with registrars. "The law ministry has agreed to incorporate the necessary clause by amending the Registration of Births and Deaths Act, 1969,"
Currently, only a handful of states, including Punjab, which was the first to formulate such guidelines, make registration of NRI marriages compulsory.
After Wednesday's meeting, the law, home and external affairs ministries were asked to come up with draft legal amendments to give effect to decisions taken at the meeting. "The amendments will then go to the cabinet for approval." The panel could not arrive at a consent on a proposal to attach the property of NRIs who desert their wives and fail to respond to a repeated summons.
The panel also decided to allow the ministry of external affairs to put up summons issued to NRI men who have not responded to the earlier summons on its website. Such notices are to be "deemed to have been served". The union home ministry has already agreed to amend the Code of Criminal Procedure that will allow notification of summons put up on the website of the ministry of external affairs to be "deemed to have been served".
The current practice is that once a woman lodges a complaint, the police write to embassies, which send a summons notice. But such summons hardly gets served as the NRI usually moves to a new place or provides an incorrect address.
The panel was set up after a sharp increase in the number of NRI men deserting their wives after marrying them in India. In comparison, the National Commission for Women, an autonomous body under the WCD ministry, recorded 346 complaints from women married to NRIs in 2014 (the latest year for which figures are available). However, WCD ministry officials conceded that this figure does not reflect the real situation because few women come forward to lodge complaints.