Jammu, June 30: Frequent disruptions caused by heavy rains have caused to suspend the Amarnath Yatra from Jammu. While the over 2,000 pilgrims who were stranded in Udhampur, left for the Pahalgam base camp this morning, a police officer said.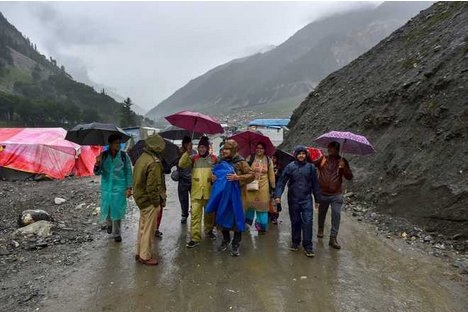 "The yatra from the Bhagwati Nagar base camp here has been suspended. No pilgrim was allowed from here but the stranded convoy, carrying 2,032 pilgrims, including 315 women, left for Pahalgam base camp in south Kashmir this morning," he said.
According to the officer, the decision to suspend the yatra from here was taken in view of inclement weather.
Media agencies say that a majority of the pilgrims in the third batch who left the Bhagwati Nagar base camp yesterday were stranded in Udhampur district due to frequent disruption in the flow of traffic on the Jammu-Srinagar national highway.
While 844 pilgrims, including 229 women, who opted for the 12-km Baltal route managed to reach their destination late last night, 2,032 pilgrims who chose the traditional 36-km Pahalgam track were stopped by the authorities at Tikri and other places in Udhampur as a precautionary measure.
"After getting the road clearance, the pilgrims were allowed to start their journey towards their destination this morning," the police officer said.
There was an incident of shooting stones at Battery Chashma in Ramban district. Later, the highway was cleared for traffic.
A flood alert was sounded in south and central Kashmir after many parts of the state were lashed by monsoon rains intermittently since June 27, leaving thousands of pilgrims who have reached the twin base camps of Baltal in Ganderbal district and Pahalgam in Anantnag district stranded.