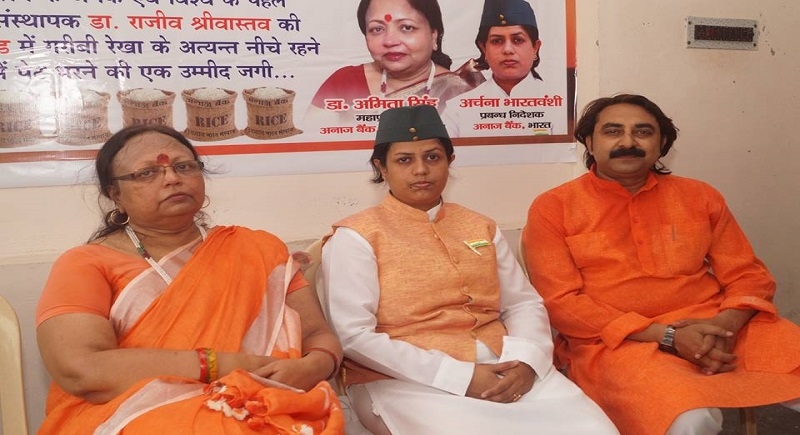 Varanasi, July 13: To provide food to the poor and needy persons, the Vishal Bharat Sansthan of Varanasi has launched ambitious service project called 'Anaj Bank'. The latest branch of this Anaj Bank is made functional at Urai in Bundelkhand area of Uttar Pradesh.
Ananj Bank founder and Sewa Prakoshth Pramukh of Muskim Rashtriya Manch Dr Rajiv Shrivastava is a professor in the Banaras Hindu University (BHU) and devotes his time, energy and earnings to serve the poor and the needy. He has briefed Prime Minister Narendra Modi about the experiment and functioning of Anaj Bank.
It is commendable for the Anaj Bank that the Food and Agricultural Organisation (FAO) of the United Nations has taken cognizance of the Anaj Bank and praised its working method and mission.
The Anaj Bank team will soon be meeting Uttar Pradesh Chief Minister Yogi Adityanath and brief him about their project to help poor people to have sufficient meals.
Dr Amita Singh, member of the national executive of Vishal Bharat Sansthan is the General Manager of Anaj Bank at Urai. She has been instrumental in setting up the first zonal office of Anaj Bank in Urai. She has also been given responsibility of incharge of Bundelkhand region.
On the occasion of Eid, the Anaj Bank distributed food items, sugar, sewai and oil to Muslim families living below poverty line in Varanasi and other areas. Mahant Balakdas Maharaj distributed the items to Muslim women on this occasion. UP Madarsa Board member Najneed Ansari presided over the program.