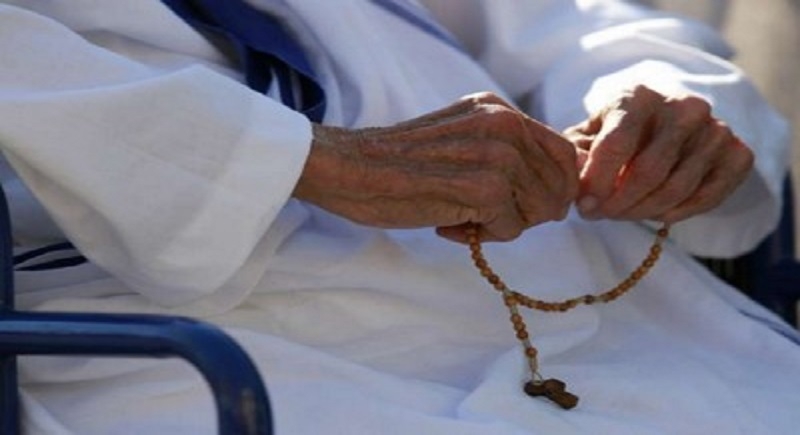 Nagpur, July 14: With the exposure of child trafficking activities following arrest of a nun from Missionaries of Charity, founded by Mother Teresa, the investigating cops and tax officials have sought to freeze the bank funds of the nuns associated with Missionaries of Charity.
According to a Ctholic website ucanews.com police officer has written to Union Home Secretary on July 11 requesting to freeze their accounts to facilitate investigation into whether there were any violations of regulations under the FERA.
Police are investigating wider activities of the Missionaries of Charity Home for Unwed Mothers against the background of arrest of a nun and a staff member in child trafficking case. A childless couple had filed a complaint regarding cash payment they made to adopt a baby.
Police are also now working with tax officials to check income sources and spending of the charity home, according to newspaper reports.
However, the Missionaries of Charity spokesperson Sunita Kumar saw in this broadening of investigations a deliberate attempt to malign the work and image of the Home for the Unwed Mothers.
She alleged that the real intention was to "harass and financially trouble" the congregation that Mother Teresa founded in 1950 when their activities and sources of funding are known to the government, she added.
National President of Ecumenical Christian Forum Rashtriya Isai Mahasangh also described the government move as 'witch hunt' to tarnish the entire Christian community and their charity works.
Father Peter Martin, who is a lawyer as well as a priest, said foreign donations came into a single Missionaries of Charity account and that funds were distributed for use in various charitable undertakings.
The police chief's letter to government officials said that, from 2006 to 2017, congregation nuns, brothers and priests received Rs 9.272 billion (US$142 million).
"Their books are audited annually as per the law and the details filed with the government," Father Martin said. "If there was any anomaly or misleading transaction, the revenue department should have raised concern. But nothing of sort has happened. This move is absurd."
Missionaries of Charity nuns run over 770 houses around the world, including 243 in India, to serve the destitute, dying, unwed mothers and orphans as well as the mentally and physically challenged.