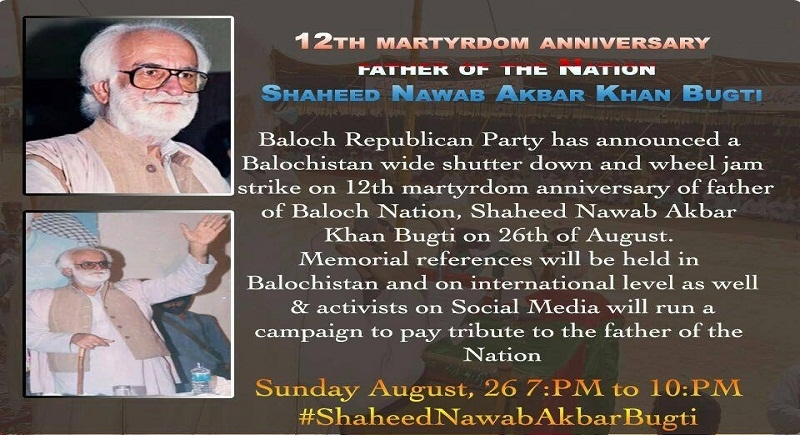 Nawab Akbar Khan Bugti the charismatic Baloch political leader from Balochistan was popular not only among his Bugti tribe but whole Balochistan as well. He served as federal minister as well as governor of Balochistan as well as chief minister of Balochistan and remained influential for whole of his life. Irrespective of his political position he remained most acceptable, revered and influential political figure in Balochistan. His stature has created many enemies among Punjabi military and political circles of Rawalpindi and Islamabad.
Nowadays Pakistani army and political circle condemns Baloch leaders and freedom fighters for trying to break up Pakistan and for their adamant stand on sovereignty of Baloch nation; but Shaheed Nawab Akbar Bugti's life proves that Pakistani military and political establishment is at fault for triggering demand for freedom of Balochistan and not Baloch freedom fighters. Balochistan's leaders and common people have always tried their best to mend the fences with Pakistani authorities; but heavily biased, arrogant Punjabi dominated leadership never acknowledged that Baloch, Sindhi, Pashtuns and Baltis as original citizens of Pakistan.
Shaheed Nawab Bugti's biggest and most "heinous" crime was to demand fair share for Baloch people of economic and developmental benefits. His assertive behavior caused eye sore to then military dictator General Musharraf. Widening rift between rulers and Nawab Bugti, forced him to take up arms and he declared war against oppressive Punjabi rulers of Pakistan headed by General Musharraf.
Resentment was growing among Baloch people, as Pakistan continued loot and plunders of rich mineral resources of Balochistan by kepping the region impoverished. As a result in the year 2005, Nawab Bugti drafted a 15-point agenda to the Pakistani government which consists of greater control of the provincial resources and a carpet ban on the construction of military bases in Balochistan. Skirmishes were growing between Baloch greedom fighters and Pakistani Army.
As Gen Musharraf sensed that by every passing day Nawab Akbar Bugti is gaining more and more popularity and support from Baloch people, he decided to eliminate him in manner for which Pakistani military is notoriously known for. On the other hand, at the age of 80, Nawab Saab took up the arms, when he was convinced enough that there is no place, esteem and equal status for Baloch, Sindhis, Pashtuns and Baltis in Pakistan's Punjabi ruling elites and leaders in battle fatigue. He amassed his loyal supporters and took positions in remote hilly tracks of Balochistan to fight for freedom of Balochistan.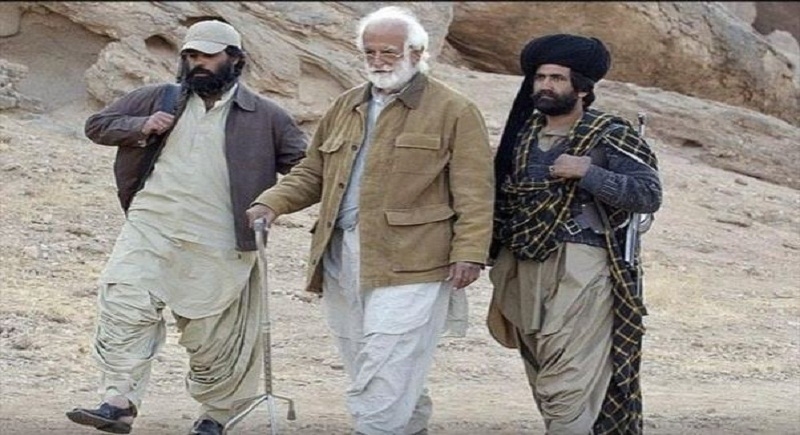 General Musharraf sent heavy military detachments to capture or kill Nawab Akbar Bugti. On August 2006, army bombarded Kohlu, the area where Nawab Saab and his fellow supporters were present. At the end Gen Musharraf could get him killed.
The popular Baloch uprising which started in the year 2004 spread to entire Balochistan after the assassination of Nawab Akbar Khan Bugti.
Though Pakistan's Punjabi military eliminated Nawab Bugti Saab, they couldn't suppress their thirst for freedom and Pakistan still faces tough resistance from Baloch freedom fighters.
Nawab Bugti Saab's grandson Nawab Brahumdagh Bugti, who founded Bloch Republican Party- BRP is taking Nawab Saab's legacy ahead from Europe where he is living in exile.
Salute to the memory of Nawab Bugti Saab and thousands of common Baloch people and Baloch freedom fighters whose precious lives has been perished by brutal oppression by Pakistani Military.
May Martyrdom of Nawab Akbar Khan Bugti Saab bring the freedom to land of Baloch people that is Balochistan!