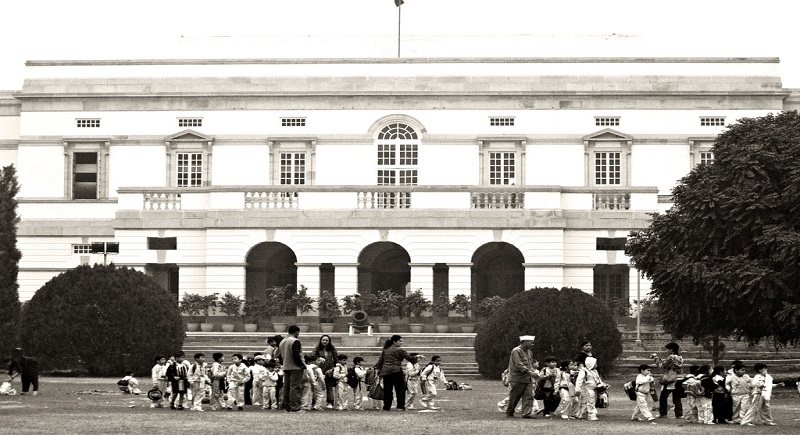 Manmohan Singh, former Prime Minister, has written a letter to Narendra Modi, the incumbent Prime Minister, to retain exclusivity of "Teen Murti Bhavan" as first Prime Minister Jawaharlal Nehru's memorial.
It may be mentioned that the Teen Murti Bhavan located in Delhi's posh area and is known as 'The Nehru Memorial Museum and Library' which houses the memories of the first premier of Independent India – Jawaharlal Nehru.
The building known as 'Teen Murti Bhavan' was constructed as a memorial of help extended to the then British government by the princely states of Jodhpur, Hyderabad and Mysore during the World War I. Built in 1930, this robust building was used as residence of the British officers. After independence this building was made the residence of the first prime minister Jawaharlal Nehru and after his death in 1964, this building was converted into Nehru Memorial and Library.
Now the incumbent government of Prime Minister Narendra Modi has thought and rightly so that this Teen Murti Bhavan and the 45 acre vast area surrounding it should be converted into a memorial and museum to all the prime ministers of independent India. Per se there is nothing objectionable in this move. But the Congress people and their secular, leftists, intellectuals and self-styled historians like Romila Thapar and Ranchandra Guha started raising their voices against this move of the Modi government. They accused the Modi government of hatching a conspiracy to erase the contribution of Nehru and Gandhi family to rebuilding India after independence. This led former Prime Minister Manmohan Singh to write a letter to Narendra Modi expressing his apprehensions about the government's move.
The Congress and its 'caged parrots' intellectuals and historians fear that this move of the Modi Government to set up museum of all the prime ministers would shorten the length of Nehru's contribution to India before and post-independence. This fear has compelled them to raise their voices against this move.
Extracts pertaining to Teen Murti Marg published in an article (Eviction of Unauthorized Persons from Official Bungalows) on 30 May, 2018, are reproduced below:
"Next, the list of bungalows turned into Museums includes: Teen Murti Bhavan, originally known as 'Flagstaff House' and the residence of the Commander-in-Chief of the British Forces in India spread over a 30-acre estate and taken over as the residence of the Nehru, First Prime Minister, was converted in 1964 into a national memorial comprising a library and a museum; No 5 Tees January Marg is "Gandhi Smriti" Memorial. Indira Gandhi Memorial Museum – No 1 Safdar Jung Road is also spread over a vast acreage. Even Ajit Singh, son of former Prime Minister Charan Singh, attempted to convert the bungalow into a Museum in which he was staying whilst a MP and Minister.
Why 30 acres of prime land that may cost more than Rs.3,000/- crore for perpetuating one man's pseudo legacy when poor people are sleeping on the footpaths and railway platforms in bitter winters?"
Shocking and absurd it is also that the UPA government under Manmohan Singh had allowed Bahujan Samajwadi Party (BSP) chief Mayawati to retain five sprawling bungalows in the Lutyen's zone in New Delhi.
Three out of five sprawling Bungalows on the Gurudwara Rakabgunj Road have been merged into one for the Bahujan Samaj Prerna Trust and was allowed two more bungalows one on the same road and the other at the Thyagraj Marg. These bungalows are among the largest government quarters in Delhi, each featuring eight bedrooms, four servant quarters and front and back lawns. The merged property covers an area six times bigger than the main chamber of the Lok Sabha in Parliament House.
Sooner than later, Manmohan Singh may also write to Modi for converting all the said Bungalows as "Museums" in the honour of Mayawati to be maintained at the tax payers cost.
Who pays for the annual maintenance of these "White Elephants"? Naturally, the CPWD pays tax payers money allotted to it from various departments of the Government. What profligacy in a poor country going around with a "begging bowl" to attract investments from foreign sources and agencies?
If the precedents set in the past to convert residences into "Museums, Foundations and Memorials", then almost all the 'prime properties' would get misappropriated for others uses at a very huge cost to the exchequer/tax payers money. Even in death, they remain a financial burden on the tax payers.
Yet another noteworthy highlight to reiterate concerns the profligacy of allotment of prime land used for "Memorials/Samadhis), which are easily accessible in public domain to include: Mahatma Gandhi (Raj Ghat) - 44.35; Jawaharlal Nehru (Shantivan) - 52.6; Indira Gandhi (Shakti Sthal) – 45; Lal Bahadur Shastri (Vijay Ghat) – 40; Rajiv Gandhi (Veer Bhumi) – 15; Choudhary Charan Singh (Kisan Ghat) -19; Giani Zail Singh (Ekta Sthal) - 22.56; Jagjivan Ram (Samta Sthal) - 12.5; and others like Chandra Shekhar (Jannayak Sthal), Devi Lal (Sangharsh Sthal), I. K. Gujral (Smiriti Sthal), P. V. Narasimha Rao (P.V. Ghat), Shankar Dayal Sharma (Karma Bhumi) etc.
Instead, many leaders of insignificant contributions find 'iconic' stature. Even the Samadhi of Sanjay Gandhi, the deceased son of Indira Gandhi, is also built next to Shanti Van.
Similarly, there is a need for the public to know the profligacy of the government to maintain the "Ghats or Samadhis". Why create them in the first instance? And, then justify expenditure on them annually?
How can the neo-Maharajahs demand as their right to allotment of large tract of prime bungalows as museums and lands for their cremation to be sanctified later as memorials? In particular, when their iconic stature is quite controversial? After all, each one is responsible and accountable for India's failures to realize full potential as a power coterminous with China.
In 2000, the Vajpayee government had decreed that government residences would not be allowed to be converted into memorials. Even Union Finance Minister Arun Jaitley announced that no official bungalow in Lutyen's Delhi will any longer be made available for conversion into a memorial to a person.
So, the latest decision to provide built-up space within the precincts of Teen Murti Marg 30-acre complex at extravagant cost of Rs.270 crores is real profligacy of the most heinous order. What about running and maintenance costs? Poor tax payers must bear the burden! What profligacy of recurring annual expenditure on maintaining the museums and memorials of decrepit leaders of bygone decades?
Wake up Indians! Next, Manmohan Singh will write a letter to whoever may become the Prime Minister of India to even maintain the exclusivity of 10 Janpath as "Sonia Gandhi - Italian born uncrowned empress of India" – as memorial.
What a shame being thrust on modern India by pseudo intellectuals or 'caged parrots' of the Congress Party and others claiming to be iconic figures of yester years?
Wake up Indians before it is too late and throw all the vestiges of pseudo secular-cum-socialists into the Indian Ocean just as the good riddance of British statues in the mega cities of India.