New Delhi, September 12: Continuing its high voltage investigation in PNB scam, the Enforcement Directorate has found that absconding jeweller Mehul Choksi diverted over Rs 3,250 crore funds to foreign countries.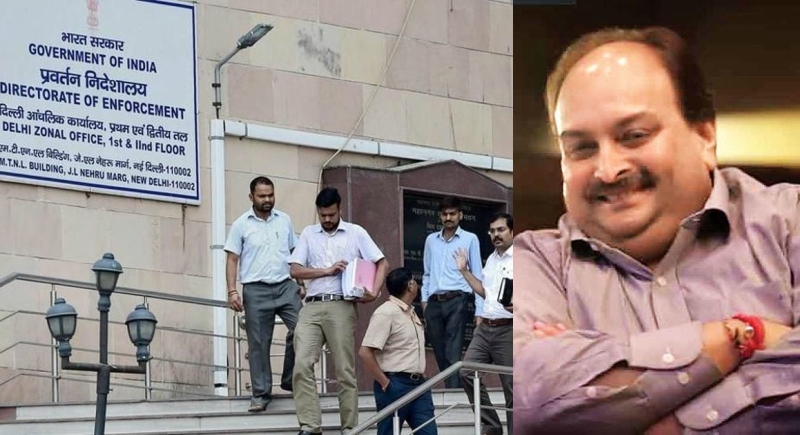 Notably, in its charge sheet, ED said that Mehul Choksi diverted over 3,250 crore rupees, amassed by defrauding Punjab National Bank, to the foreign countries including Thailand, the US, Belgium, UAE, Italy, Japan and Hong Kong.
"These funds were fraudulently obtained by Choksi and his firms from the PNB by way of Letters of Undertaking (LoUs) and Foreign Letters of Credit (FLCs). Choksi diverted about 400 crore rupees of loan funds to his nephew Nirav Modi and about 360 crore rupees to Nirav's father Deepak Modi," ED added in charge sheet.
The ED also said that Choksi used several dummy companies to rotate funds and to divert money for his personal use. The ED's investigations found that Choksi was in the business of highly inflating prices of precious metals sold from his outlets. He has been doing this to project inflated turnover to avail higher banking facility.
Meanwhile, Choksi talking to some media organizations in Antigua and Barbuda has termed ED's allegations as "false and baseless".
This comes days after Interpol announced to take decision on Red Corner Notice against Mehul Choksi in October this year. Law enforcement agencies of India including Enforcement Directorate (ED) and CBI have sought Red Corner Notice from the Interpol against Mehul Choksi due to his involvement in Rs 13,000 crore Punjab National Bank (PNB) scam.
Earlier on September 1, fastening the process of securing Mehul Choksi's custody, India submitted a second extradition request to Antigua and Barbuda government. The move came nearly a month after authorities of Antigua confirmed about the presence of fugitive Punjab National Bank scam accused Mehul Choksi.
Taking a cognizance in the media reports, CBI asked Antigua and Barbuda authorities for confirmation on whereabouts of Mehul Choksi. In reply, authorities of Antigua and Barbuda confirmed about the presence of fugitive Punjab National Bank scam accused Mehul Choksi.
However, on July 29 this year, as soon as reports in the media about Choksi's presence in Antigua were flashed the government officials alerted the Antigua and Barbuda government in writing and verbally and asked the country's authorities to arrest him. The government officials had also conveyed to the Antiguan authorities to prevent Choksi's movement from land, air or sea.
Interestingly, the development comes nearly eight months after the biggest fraudulent case hit Mumbai in the month of February where Punjab National Bank reported that it has detected fraudulent and unauthorized transactions in one of its branches in Mumbai. The cumulative fraud amounts stand to Rs 13000 crores. Both Nirav Modi and Mehul Choksi are being investigated by Enforcement Directorate and CBI in the Punjab National bank mega scam.
However, Nirav Modi and his brother Nishal Modi left the country on 1st of January this year. Nirav Modi's wife, an American citizen, left India on 6 January while Mehul Choksi left the country on 4 January. CBI received a complaint from PNB on 29th Jan 2018 and registered the case on 31st January. Choksi had taken the citizenship of Antigua in November 2017, and oath of allegiance on January 15 this year.