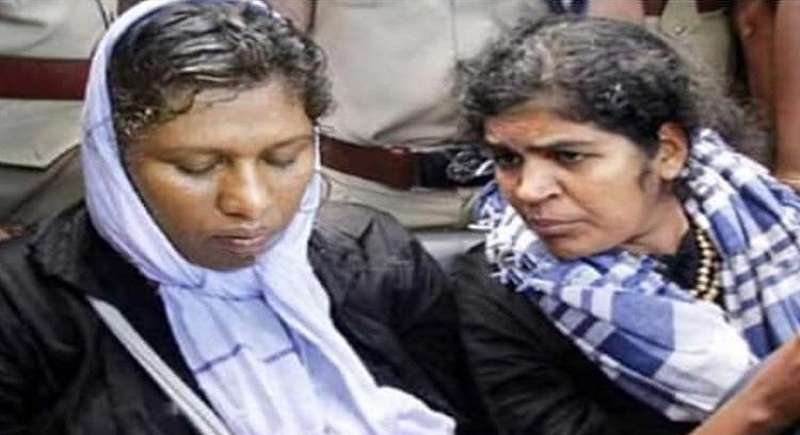 Bindu and Kanakdurga the two women who entered Sabarimala temple
Women activists are in the forefront of agitations demanding women's equality and equity on various issues like "lifting Sabarimala restrictions", "Triple Talaq", "front line combat roles like infantry, armour and artillery" and so on.
Two women — Bindu (42), a CPI(ML) activist from Koyilandy in Kozhikode district, and Kanakadurga (44), a civil supplies employee from Angadipuram in Malappuram — became the first female pilgrims of menstruating age to have achieved the feat after the Supreme Court overturned a traditional ban on women's entry last year.
Spearheading the women's activists group were Trupti Desai from Maharashtra, Kavita Jakkala from Telangana, Rehana Fathima, Mary Sweety, Balamma, Vasanthi and Adhisheshi (all from Andhra Pradesh).
The Kerala Muslim Jama-ath-Council has expelled Rehana Fathima from the community. The council has also decided to cancel membership of her family members from Mahall Committee. Why is there no hue and cry on the above count from women's activists?
Why should Christian and Muslim women be in the frontline of their agitation in Sabarimala? In retrospect, they should have been in the frontline of rapes against nuns in the church and "Triple Talak".
Episodes describing gruesome rapes of even minors and sexual harassment, demeaning treatment, as well as rural and urban casual labour wage disparities remain unaddressed to logical ends or backburners even by the most aggressive women's activists and organizations.
Thus, even women's activists have not collectively identified and prioritized issues, and evolved strategies to pursue them to logical ends. So, their credentials or bona fides due to partisanship dilutes their efforts. Never too late for women's activists groups to rally under a common umbrella to synergize their efforts!
In hindsight, politics is obfuscating the women's gender equality issue. It is the worst fraud. For the sake of votes, political leaders can stoop to any levels to 'divide and rule' the women's activists groups and the society.
In reality, pontificating on 'women's equity', few women's activists in order to fulfil their own personal agendas allow political leaders and parties to take them for a free ride.
Be that as it may, my question to the mothers, sisters and daughters of Kerala is simple. Accept all of you must that you dismally failed to protect your gender interests when your male chauvinistic political leaders banned the matrilineal/matrilocal family structure through the Joint Family System (Abolition) Act, 1975. Ipso facto, women had a privileged position due to inherited culture of a matrilineal society. And, it continues to be so in Khasi and Garo societies in Meghalaya.
Instead of taking to the streets to throw the atheist or Godless Communist parties from the "God's Own Country", you have been guided to trample the traditionally inherited culture unique to your society. After all, leftist parties generally follow the footsteps of their mentors – Russia and China.
Most important, "Is the Supreme Court internally just on women's equity within their own institution?" Judges holding the highest positions and most respected have failed to pass directions to the legislature and executive to address women's issues.
"Practice what you Preach" must be the guiding principle of just and fair law! By such criteria even the Supreme Court is also to be faulted. For example, out of 26 judges presently serving as judges (out of 31) of the Supreme Court, only Bhanumathi is the women judge. By gender equity principle, at least 50% of the judges' appointments must be the fair and just for women. Why? And, the male hierarchy is fiercely on the front foot to guards its autonomous stature.
As per the norms, the Supreme Court collegiums recommend the names to be appointed as judges to the President for the Supreme Court. And, one of the minimum qualifying criteria is 10 years of Bar experience for direct appointment.
Surely, there are a large number of senior and equally well qualified women members in the Bar to be recommended and appointed as judges. Many deserving women members of the Bar with 10 year experience in the Supreme Court are available for consideration. Similarly, the Judges of a High Court are appointed by the President with the consultation of the Governor and the Chief Justice of the High Court.
Why are the reputed women's activists lawyers like Indira Jaising, Meenakshi Arora, Leila Seth, Flavia Agnes among many others not raising the issue of women's equity in the Supreme Court judges appointments?
It raises another interesting issue in particular for Kerala women's activists to pursue aggressively. Demand the present government to appoint 50% of judges not only in the High Court but also at the lower levels of judiciary in the State based on the higher levels educational qualifications of women in the State.
In reality, Kerala women, particularly young children, are being sent to other states to live in pecuniary and work as nurses in Corporate Hospitals. Surely, Women activists must take up such issues instead of wasting their efforts on cultural issues.
Next, who is responsible for the lapse of the Women's Reservation Bill or The Constitution (108th Amendment) Bill, 2008, which was proposed to reserve 33% of all seats in the Lower House of the Parliament, and in all state legislative assemblies for women. The Rajya Sabha passed the bill on 9 March 2010. However, the Lok Sabha never voted on the bill. The bill lapsed after the dissolution of the 15th Lok Sabha in 2014.
The seats were proposed to be reserved in rotation and would have been determined by draw of lots in such a way that a seat would be reserved only once in three consecutive general elections.
Why? Reasons are quite obvious. Laloo Prasad Yadav, male chauvinist, Congress Party alliance partner, stridently opposed the passage of the Bill. In reality, male chauvinism was at its height during the debate then and continues even till date. Men do not want to concede their positions of power to women. What about cabinet minister posts to women? They are only by exception.
As of 2014, women make up only 11.8 percent of the Indian Lok Sabha and 11.4 percent of Indian Rajya Sabha, according to the Inter-Parliamentary Union: ranks 148th position in women's representation in government; and, nine out of 10 legislators are men. Few of the well-known names like Indira Gandhi and Sushma Swaraj are anomalies only.
Even in the advanced countries of the West particularly USA which pontificates on democracy and equal rights, till date not a single woman has been elected as its resident.
Of course, complete male domination is the record of Russia and China. For example, at the end of the Chinese Communist Party's 19th Congress, all seven members of the Politburo Standing Committee were only men. Never had been a female member of the Politburo Standing Committee. After the last Congress in 2012, only 33 women sat on the Central Committee which elects the powerful Politburo - that's 9%. Only two of the 25 members of that Politburo were women - 8%.
Except for a few countries like Rawanda (women sit in 61% of the seats in Chamber of Deputies), Cuba (49% of the Asamblea Nacional), Germany (26% of Angela Merkel's CDU party), UK (around 30% of Theresa May's Conservatives), and 33% of party members in Vietnam and Cuba are party members.
Whilst the political and judiciary are not prepared to give women equity in their establishments, the hue and cry over the Indian Army Chief's recent statement against women in frontline combat roles in units of infantry, armour, artillery and engineers needs pragmatic consideration. No need for anyone to politicize the issue.
In retrospect, political and judicial hypocrisy should be glaringly obvious.
In sum, women not only in India but elsewhere still have a long way to go in their fights for equal representation. Gender equality and equity is only namesake even though more women are well qualified. Women are still viewed as home caretakers. To break through the men's political glass ceiling is a Herculean challenge and just the first step.
So, women's activist groups must focus their attention and energies to synergize their efforts to fight for more critical issues instead of getting carried away by cultural issues for the sake of photo opportunities. So, first unite women must first in their fight against men on the political, judicial and institutional fronts if they are earnest to achieve parity and equity.