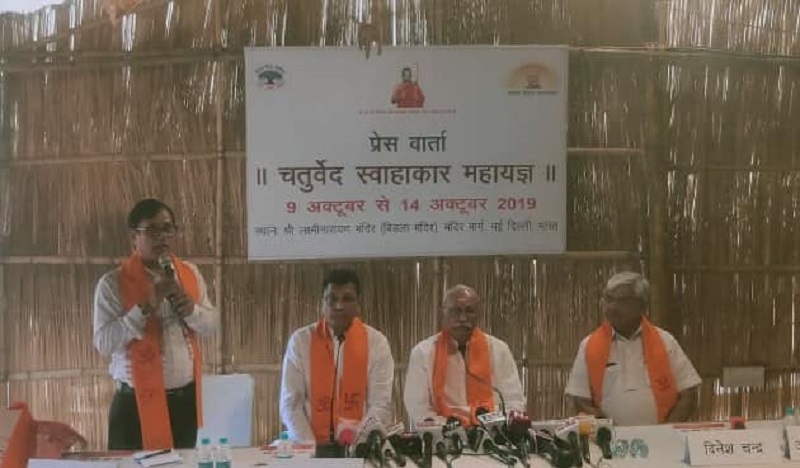 New Delhi, Oct 7: In oder to facilitate promotion of Vedic knowledge and science among the populace a 'Chaturveda Swahakar Mahayagya is being organized jointly by the Vishwa Hindu Parishad (VHP), Ashok Singhal Foundation and Jhandewalan Devi Mandir in New Delhi from October 9 to 14, 2019.
This information was given by Dinesh Chandra, Member of VHP Central Committee, Alok Kumar, VHP Working President and Mahesh Bhagchandka, Trustee of Ashok Singhal Foundation today at a press conference.
They said that as desired by the late Ashok Singhal, who was president of VHP, this yagya is being organised to promote the science and knowledge contained in the four Vedas among the people. This yagya will be held at Laxmi Narayana Temple popularly known as Birla Mandir. During the six day yagya 'ahutis' (oblations) will be put with chanting of 29000 Vedic Mantras from all the four Vedas – Rig, Yajur, Sama and Atharva Veda - from 9 am to 12 noon and 5 pm to 8 pm on all the six days.
The yagya will be performed under the guidance and leadership of Sri Sri Ramanujacharya Chinn Jiyar Swamihi of Hyderabad by a team of 50 plus Veda Pandits. There will be religious discourses by the Swamiji daily. To facilitate maximum participation of people, eight 'rathyatras' are being organised in the National Capital Region (NCR) to generate public awareness.
The Yagya will see participation of prominent sants, mahants, social, religious, spiritual and political leaders including Juna Peethadhishwar Mahamandaleshwar Sri Avadheshanand Giri, Swami Chidanand Muni from Hardwar, Karshani Guru Sharananda Maharaj from Mathura, RSS Sarsanghchalak Dr Mohanrao Bhagwat. Sarkaryawah Bhayyaji Joshi, Sah-Sarkaryawah Krishna Gopal, Speaker of the Lok Sabha Om Birla, Union Home Minister Amit Shah, Defence Minister Rajnath Singh and others.
It may be mentioned that late Ashok Singhal had planned to hold such a religious event in 2015 at the same venue but it had to be advanced due to his falling health. This was his futuristic vision and this event is now being organised in fulfilment of that vision, the organizers said. The late Ashok Singhal envisioned that this treasure of science and knowledge contained in the Vedas can be and should be disseminated among the people through the competent 'acharyas'.
The knowledge of the Vedas is useful for the entire universe and to make it easily accessible this event is being organised in National Capital, the organizers said. The intention is to clear the doubts, confusions about the Vedas deliberately spread by the vested interests, they said adding that the knowledge is for all and there is no discrimination on the basis of case, 'Varna' or colour. Men and women both can have access to the Vedic knowledge and science.
"It is not just about imparting the Vedic knowledge, but inspiring people to imbibe that knowledge in their daily life. Vedas are symbol of our ancient traditions, culture and civilization. Vedas contain not only the mundane knowledge but also spiritual knowledge", the organisers said.