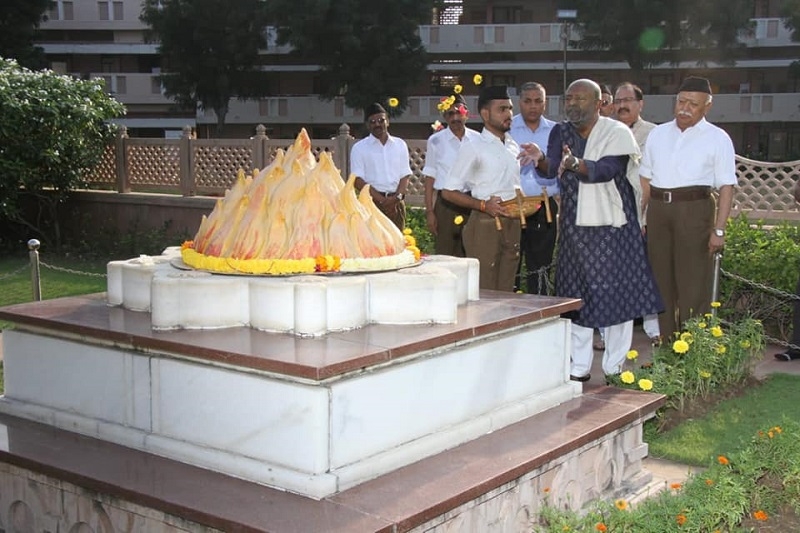 HCL Technologies Founder Chairman Shiv Nadar paying tributes at the Samadhi of Golwalkar Guruji at Reshambag, Nagpur on Vijayadashami Day.
Nagpur, Oct. 8: Education system is the most important and crucial for the development of the country. India with its demographic dividend has the potential to become a game changer in the country with 'right education, training and skill sets, observed HCL Technologies Pvt Ltd founder chairman Shiv Nadar.
He was speaking as chief guest at the annual Vijayadashami celebrations of Rashtriya Swayamsaevak Sangh (RSS) at the Reshambag Grounds here on Tuesday. Sarsanghchalak Dr Mohanrao Bhagwat, Vidarbha Prant Sanghchalak Sri Ram Harkare, Sah-Sanghchalak Shridhar Gadge and Nagpur Mahanagar Sanghchalak Rajesh Loya shared the dais on this occasion.
This was probably the first time the RSS has invited a personality from the corporate world to be the chief guest for its Foundation Day celebrations. Earlier, notable personalities from religion, social work, academia, defence etc. were hosted by the Sangh as chief guests for its annual celebrations watched over closely by the admirers and critics of the RSS alike mostly for the address of the Sarsanghchalak.
In his nearly an hour-long address in English, Nadar lamented the pathetic state of education in our country presenting the stark realities supported by statistical data. He said that 266 million people in India can't read or write. This lack of education is the root cause of several severe problems in the country like malnutrition and infant mortality.
Hailing the Right to Education Act as a first step to achieving 100 percent literacy he quoted from ASER Survey conducted by an organization called 'Pratham' led by Maddhav Chavan and Rukmini Banerji to highlight the sorry state of education. According to this survey only 44% of our total number of children in standard 5 can read the standard 2 level of text and 23% of children in grade 5 can do simple arithmetic like division.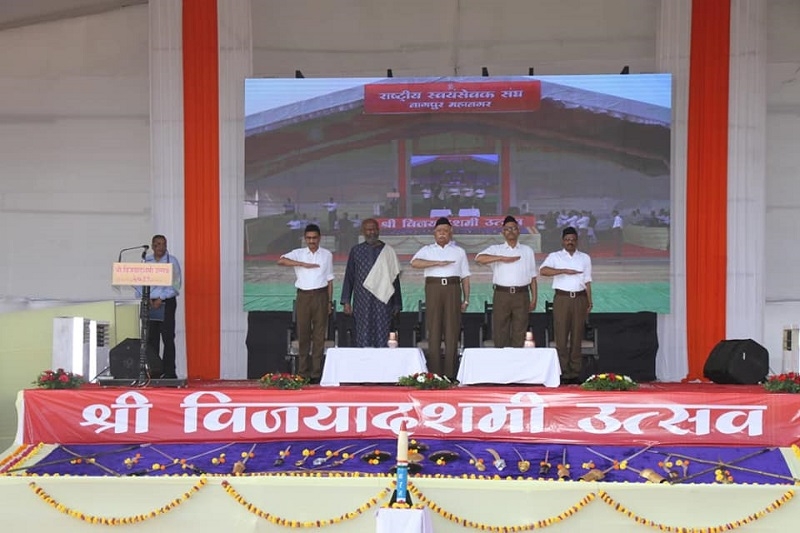 The situation in north Indian states of UP, MP, Bihar, and Rajasthan is even worse according to this survey. In these state the percentage of grade 5 student being able to read grade 2 text is just 36% and for the arithmetic acumen it is only 18%.
Concerned over this pathetic state of affairs in as vital as education sector, the HCL launched an initiative called "SHIKSHA" to address the problem of illiteracy by making learning the central focus, Nadar said. They have selected the state of UP for launching this initiative because it is a largest state with a population of over 200 million and if it were a country it would have been greater in size and population over many countries in Africa, Europe and South America. If Shiksha Initiative worked in UP, it would definitely work in every state of India, he added explaining the logic in selecting UP for this project.
Another initiative launched by the HCL is "HCL Samuday", Nadar said adding that this was started with the objective of achieving social uplift and transformation. The project is aimed at driving integrated village development across six parameters – Agriculture, Education, Health, Infrastructure, Livelihood and WASH i.e. water, sanitation and Hygiene. It is currently launched in three blocks of UP covering 765 villages.
The HCL Chairman said that the 500 strong HCL Samuday team of energetic and focused individuals are working towards transforming the lives of 600,000 individuals and it has inspired great trust in the village community.
Underlining the success of HCL Samuday model, Shiv Nadar urged the RSS given its massive outreach and strong roots across the country to "take the Samuday model and we can embark upon the implementation journey together."
Calling upon the RSS cadre the HCL Chairman said: "As members of RSS you have already taken the first step in this direction by joining the organization that puts the nation before the individual and instils a deep sense of pride and ownership towards the country….For the nation is only as strong as the people in that inhabit it. I would urge you to play your role in making sure our country continues to make its mark on the world stage".
Presence of dignitaries:
The annual RSS function saw presence of prominent personalities from political, religious and social fields. Union Ministers Nitin Gadkari and Gen V K Singh, Maharashtra Chief Minister Devendra Fadnavis were conspicuous by their presence in RSS uniform. Former Maharashtra Energy Minister Chandrashekhar Bawankule and other BJP leaders were also present.
Mahant Devendra Das Maharaj, Jagadguru Shyamcharan Devacharya of Nimbark Peeth, Ajmer, Baba Kalyani, Chairman of Bharat Forge Limited, G D Gopalji from Coimbatore, Sanjeev Khemka, Chairman of KCL Company, Lt. Col (Retd) Ashish Mangrulkar, E Palaniswami from Tirupur, Tamil Nadu, Virendra Singh from Uttar Pradesh, Bhargavi Devi, mother of RSS Sah-Sarkaryawah Mukund, and representatives of Arunachal Pradesh people who visited the RSS HQ under 'Bharat Mera Ghar' initiative.
Pramukh Sanchalika of Rashtra Sevika Samiti Shantakka, her predecessor Pramilatai Medhe, RSS All India Prachar Pramukh Arun Kumar and members of Rashtriya Sikh Sangat, Muslim Rashtriya Manch etc. were also present at this function.
A host of journalists descended to Nagpur to cover this event as it was the first public address by the RSS Sarsanghchalak after the spectacular victory of the Bharatiya Janata Party (BJP) at the Centre under the leadership of Prime Minister Narendra Modi. They included a German journalist and also a Japanese correspondent. The entire program was wired live from the ground through internet, and cable television channels. The 24 x 7 radio channel "Nirantar" was also launched on this occasion.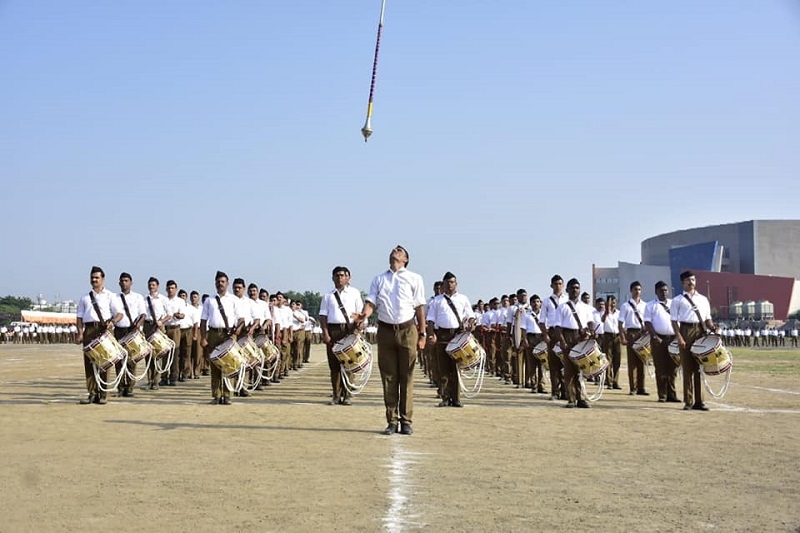 Spectacular performance:
The RSS swayamsevakas presented a spectacular performance of various physical drills, yogasanas, stick drill, unarmed combat techniques etc. The performance of band (Ghosh in RSS parlance) was excellent. When the band platoon played 'Kashyap' a new composition, so well that even the Sarsanghchalak Dr Mohanrao Bhagwat acknowledged their performance showing 'Thumps Up' from the dais.
Earlier, the swayamsevaks took out a route march at 6.15 am which culminated at Reshambag ground at around 7 am. Sarsanghchalak and the Chief Guest watched the route march and later paid tributes to the 'Samadhi' of Dr Hedgewar and Sri Golwalkar Guruji before joining the main program.