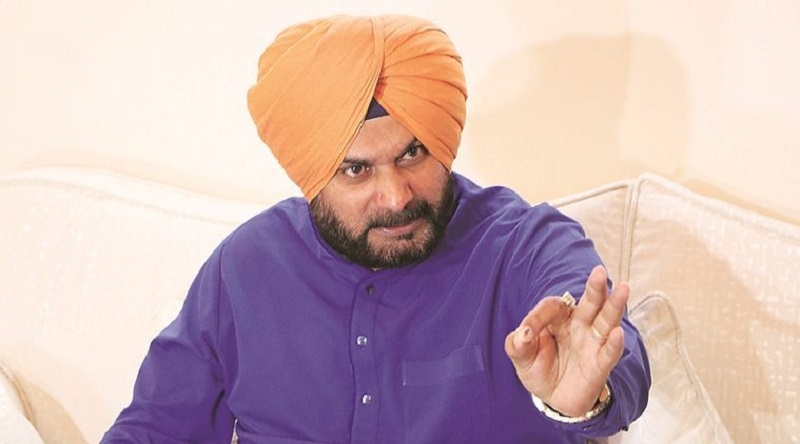 Navjyot Singh Sidhu, former cricketer turned TV personality and political leader, appears to be emerging as yet another neo revolutionary leader in pursuit of politico-religious power by 'hook or crook".
Quite ironic and paradoxical it is that the opening of the "Kartarpur Corridor" is being hailed as a great statesman-like initiative by all alike on both sides, but none have highlighted the closure of all other transit and trade facilities like the Delhi-Lahore road and rail facility and the "Thar Express" besides ban on "over flight" facility by Pakistan.
Sidhu, arrogance personified, an aggressive speaker acclaimed for "one liner Sidhuisms", can stir the emotions and sentiments of people. Sidhu's recent forays into Pakistan – September 2018 and 12 November 2019 – have attracted controversy.
A snapshot of Sidhu's political career, sans political ideology and shifting political end objectives, clearly reflects his ambition that lay ahead. It includes: BJP Lok Sabha MP in 2004 and 2009 from Amritsar; Rajya Sabha MP nomination to prevent him from joining the Aam Admi Party which he resigned very shortly in 2016; formed a new political front - Aawaaz-e-Punjab claiming to fight against those working against Punjab; joined the Congress Party in 2017, elected MLA and became Minister of Tourism and Local Bodies; and resigned from Punjab Cabinet in June/July 2019. His shifting loyalties clearly reflect his hunger for power.
During the inauguration ceremony of Kartarpur Corridor, Imran Khan hailed "Sidhu is Hamara Sidhu". Sidhu in his characteristic bravado/rhetoric read "love ballads" for Imran Khan. On behalf of 14 crore Sikhs, he profusely thanked Imran Khan for giving access to Guru Nanak Gurudwara. He loaded his speech with couplets and sayings of Baba Guru Nanak. "It is the first time since partition that the boundaries have been dismantled. No one can deny my friend Imran Khan's contribution. I thank Modi Ji also for it."
During his visit in 2018, as an invitee, to attend the oath taking ceremony of Imran Khan as the Prime Minister of Pakistan, Sidhu made emotional speech. He hugged, the Chief of Army Staff of the Pakistan Army, General Bajwa, and claimed that Bajwa had assured him of opening the corridor before the 550th birth anniversary of Guru Nanak.
Add to it, Sidhu with a photo of Khalistan separatist leader Gopal Singh Chawla, a controversial Khalistan separatist leader accused of having close ties with Hafiz Saeed. He rebutted his rivals by claiming "Thousands of people meet me every day in Pakistan and clicked photographs with me. How would I know who Chawla or Cheema is?"
Is Navjyot Singh Sidhu set to emerge as a neo revolutionary leader of Sikhs in the name of promoting, consolidating and advancing Sikhs interests in posterity sponsored by Rahul Ghandy - a La Master Tara Singh or Sant Fateh Singh or Tohra or Longowal or Dr. Jagjit Singh Chauhan or Bhindernwale?
Will the "Sidhu Phenomena", still in embryo state, plunge Punjab yet again into a chaotic state abetted and aided by Imran Khan, Pak Army and the ISI to emerge as a major national security threat?
If one wants to understand the evolving course being charted by Sidhu, one must have full insight into the historical growth processes of Punjab – 30-year old post 1990 generation.
Viewed in the above historic course of developments and events, and conjointly reviewed from the "Modern Mahabharata" during the past 72-years, far more viciously and venomously churning than ever before in the past, in the name of liberalism, freedom of speech and human rights, democracy, the situation can rapidly spin out of control by disgruntled political leadership in ruthless pursuit of power.
Is Sidhu pursuing such a course aided and abetted by Rahul Ghandy and Imran Khan – his 'Yar"? As one commentator remarked "Political debate right now is a blood sport." His acerbic wit can easily polarise Sikh community on war path. After all, tribalism is part of evolutionary DNA. Ipso facto, ours is a fractured and factitious society. And, Sidhu has the capability to all over again to exploit the fault lines in the society to reconsolidate and polarise religious fundamentalists in the name of the higher politico-religious cause ordained by the Gurus.
Finally, the latest Pakistani factor is to use the Kartarpur corridor to promote Khalistan militancy, narcotic drugs and infiltration of Islamist radical terrorists. "Pakistan has a hidden agenda behind the opening of the Kartarpur corridor", Punjab Chief Minister Amarinder Singh stated, adding that India "will have to be careful" – conspiracy of Pak Army and the ISI.
In retrospect, too much of democracy is bad for democracy. Partisan visual media 24x365 hype is most stressful and frustrating. Exercise of freedom, sans responsibility and discipline and mostly partisan can pave the course of disunity and societal divide that would ultimately result in chaos and anarchy – self destruction of democracy.
Wake-up and Watch out Sikh moderates and liberals before it is too late! (To be continued)