Dr Priyanka Reddy, whose sad story has not only shaken the nation;
but the newly found chronology of events raises some questions
about how easy was for the culprits
could do such a ghastly crime in the busiest city!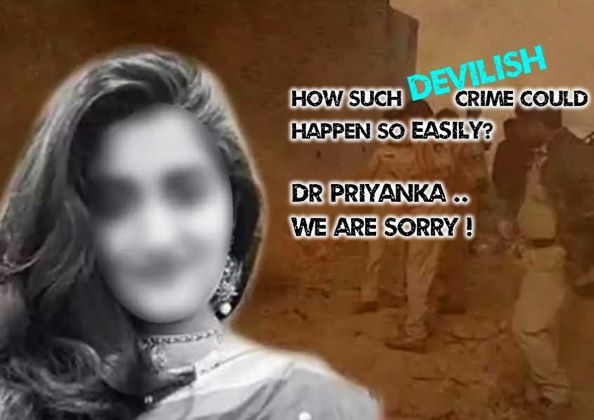 The infernal crime which can be called as a disgrace to the society that a young girl who is a Veterinary doctor was raped and brutally murdered is the most advanced city of Hyderabad. Dr Priyanka Reddy, whose sad story has not only shaken the nation; but the newly found chronology of events raise some questions about how easy the culprits could do such a ghastly crime in the busiest city!
Dr Priyanka Reddy, a veterinary doctor from Shamshabad in Hyderabad was found dead under Chatanpalli bridge in Shadnagar on Thursday morning. Heer body partially burnt and was identified with a Ganesha neckless. She had worked as a doctor in Kolluru village. The chilling incident happened on Wednesday night. Dr Reddy was raped, smothered and then burnt by four men who are said to be hailing from Narayanpet.
The accused have been identified as Mohammad Areef, Jollu Shiva, Jollu Naveen, and Chintakunta Chennakeshavulu. Mohammad Areef (25), who works as a driver, is the prime accused in the rape-murder case. Areef studied till Class 10 in 2019. He worked as an auto driver in Kukatpally area of Cyberabad from 2012 to 2015. He had been working as a lorry driver since 2017.

The accused- identified as Mohammad Areef (in yellow T-shirt), Jollu Shiva (in white shirt), Jollu Naveen (in blue shirt), and Chintakunta Chennakeshavulu (in orange shirt).
Most important is the chronology of events which arises so many questions in the mind of an alert citizen that how so easily such a crime with cruelty and inhuman was carried. This is easily replicable anywhere in Indian where the Police stations are being transformed into the Corporate offices and Policing being executed on Twitter and social media that the ground. Before discussing further, Let's see the Timeline of events Those details are from the latest official report filed by the police and reported in local media. Let's see how the fateful events generated a repulsive crime on the night of November 27 (Wednesday) and the morning of November 28 (Thursday), when the vet's body was found.
November 27, Wednesday:
5.30 pm: The main accused and the lorry driver Areef purchased several bottles of liquor on Wednesday evening.
The four workers were drinking while sitting in the lorry's cabin near Shamshabad toll plaza.
6 pm: The four culprits noticed a young woman parking her scooter next to the lorry, who then left to go to a clinic.
The four then conspired to rape her.
Naveen punctured the back tyre of the victim's two-wheeler.
9 pm: Areef and the other three accused parked their lorry around 5 kilometres ahead of her scooter at Thondapalli Junction.
9.18 pm: The victim came back to take her scooter and realised that one of the tyres had a puncture.
9.30 pm: Shiva offered to help her and took her scooter, on the pretext of getting it repaired. He came back after some time and told her that all the repair shops were closed.
They grabbed the victim and dragged her to an isolated compound beside the truck.
The main accused Naveen switched off her mobile phone.
Naveen forcefully administered alcohol to the woman to stop her from screaming.
The victim was then brutally gang-raped by the four culprits.
Afterwards, she became unconscious.
After she gained consciousness and started screaming again, the accused decided to kill her.
Areef covered her mouth and nose, which caused her to suffocate to death.
Naveen took the victim's phone, watch and power bank.
The four workers then dumped her body in the truck and fled from the spot.
Shiva and Naveen drove away from her two-wheeler from the spot.
Shiva purchased a bottle of petrol on the way.
Under a culvert in Chatanpally on the National Highway 44 bridge, they burnt the body after pouring petrol over it.
November 28, Thursday:
4 am: The four accused reached at Aramgarh on Thursday morning.
Shiva, Naveen, Chennakeshavulu then left for their respective homes.
The details of this frightful story tell us that this can happen anywhere. Think about your city. Your car or vehicle has got punctured or broke down; you are in some of the developing area which is outside of main city life and no one easily accessible to you. You looking for someone to come to help.. someone comes and assures or guide you. You trust him... But you are unsure of whats the motive of that person to help you.. is it just a human gesture or for the want of money of any other intention?
The chronology of the heinous crime tells us some lessons. and it can be summarised in a single sentence that: Such crime is so easy to perform and replicable in any city whether it is small or big or developed or growing. No wonder if we could hear or read such more crimes in days ahead.
After this incident, the Cyberabad Police has appealed citizens especially Women and senior citizens to seek the assistance of the police in case of vehicle breakdown or tire puncture during odd hours. They had also released a Whatsapp number WhatsApp no 9490617111 of Rachakonda police. This is an assuring move, but this should not be an excuse to the ground level policing. The active presence of Police officers on the ground is the most assuring thing for a citizen which will help in reducing the number of initiation of such crime.
Dr Priyanka's story must be taken as an eye-opener in many forms... It's a crime story that showcases a degrading social fabric.. which raises questions about the growing of vicious and hateful sentiments in the common man. As a vigilant society and a watchful citizen, we must not allow happening such appalling crime so easily!
Dr Priyanka .. we are sorry!