New Delhi, December 19: Creating chaos over the Citizenship Amendment Act with people hitting streets protesting and filing petition in the Supreme Court, India is somewhat diverging from understanding the real issues with opposition misleading the masses. While earlier, the apex court directed the petition on Jamia, AMU protest to be handed over to high court, in a latest, the Supreme Court of India decided to examine the constitutional validity of the citizenship amendment act (CAA) on December 18, 2019 but refused to order a stay on its operation.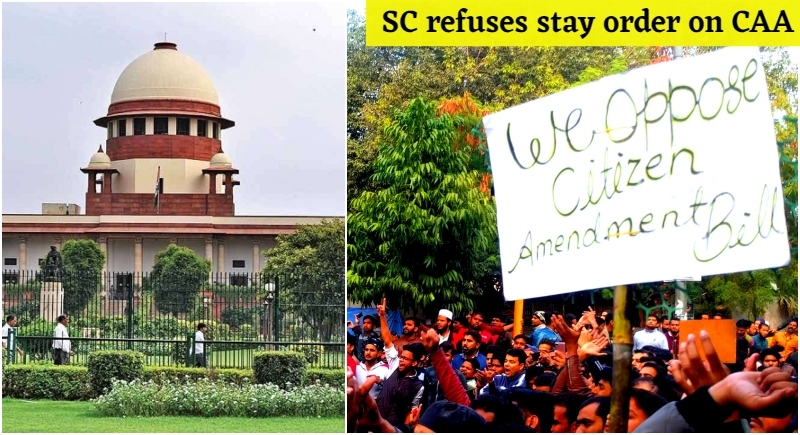 The apex court issued a notice to the centre on the petitions filed against the citizenship amendment act and sought its response on the matter by the second week of January 2020. The next hearing on CAA is likely to take place on January 22.
Supreme Court on CAA
Taking up the petitions, the SC refused to order a stay on the law and also issued a notice to centre asking it to submit its response on the CAA plea by second week of January.
The apex court bench was headed by CJI S A Bobde and comprised Justices B R Gavai and Surya Kant. The bench fixed all 59 petitions for hearing on January 22, 2020.
The petitions against the citizenship amendment act also include those filed by the Indian Union Muslim League and Congress leader Jairam Ramesh.
The apex court bench agreed to the submission of the lawyers appearing for the petitioners that the common people should be made aware with the contents of the CAA and its objective and aim.
The court asked Attorney General K K Venugopal, who was representing the centre to consider using the audio-visual medium to make citizens aware of the law. The Attorney General agreed to the suggestion and said that the government would be doing the needful.
The court, however, refused to order a stay on the act as sought by the petitioners and said that the arguments on granting a stay on the act can be taken up during the next hearing in January.
The amended citizenship act aims to grant Indian citizenship to the non-Muslim minorities who faced religious persecution in Pakistan, Bangladesh and Afghanistan. The law will enable all Hindu, Sikh, Jain, Buddhist, Parsi and Christian minority communities who fled to India fearing religious persecution from the three countries on or before December 31, 2014 to become legal Indian citizens.