Mumbai, December 02: After two months of negative growth, the GST revenue has witnessed an impressive recovery with a growth of 6 per cent in November 2019 over the November 2018 collections. GST revenue collection crossed the Rs 1 lakh crore mark after a gap of three months in November with the revenue growing by 6 per cent to Rs 1.03 lakh crore in the month.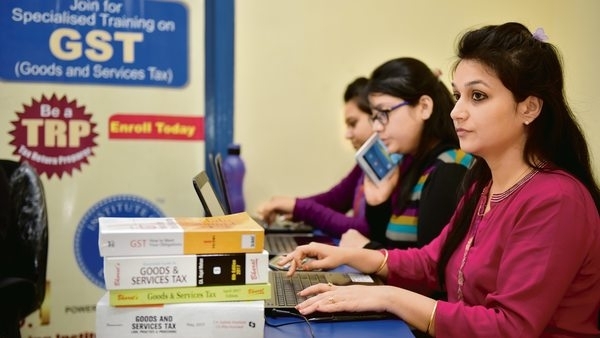 While, the GST collection was Rs 95,380 crore in October while it was Rs 97,637 crore November 2018, of gross Rs 1,03,492 crore in November, CGST is Rs 19,592 crore, SGST is Rs 27,144 crore, IGST is Rs 49,028 crore (including Rs 20,948 crore collected on imports) and Cess is Rs 7,727 crore (including Rs 869 crore collected on imports) as noted by the statement.
"During the month, the GST collection on domestic transactions witnessed a growth of 12 per cent, the highest during the year", it added. GST, which subsumed 17 local taxes, was rolled out on July 1, 2017. The GST currently has four slabs, being 5, 12, 18 and 28 per cent. On top of the 28 per cent slab, a cess is levied on automobiles, luxury, demerit and sin goods.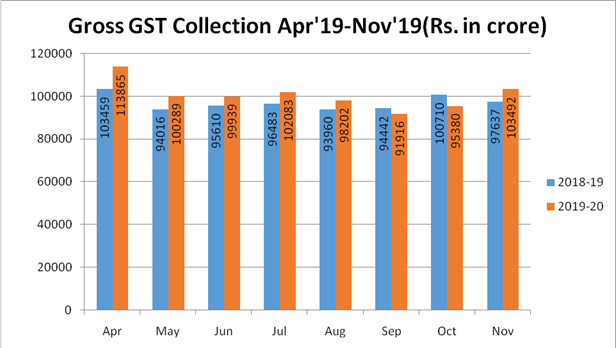 The introduction of GST has proved to be a game changer for Indian economy as it replaced multi-layered, complex indirect tax structure with a simple, transparent and technology–driven tax regime. It integrated India into a single, common market by breaking barriers to inter-State trade and commerce.
It merged seventeen different laws and created single taxation, with this new system the days of filing multiple returns, entertaining multiple inspectors and additionally facing the inefficiency - trucks being stranded at the State boundaries for days altogether, vanished. In the pre-GST regime, the rich and the poor, on various commodities, paid the same tax. The multiple slab system not only checked inflation, it also ensured that the Aam Aadmi products are not exorbitantly taxed.