Jaipur, Feb 11: Gujjar agitation for 5% reservation in Jobs and Educational institutions reached to its 4th day today.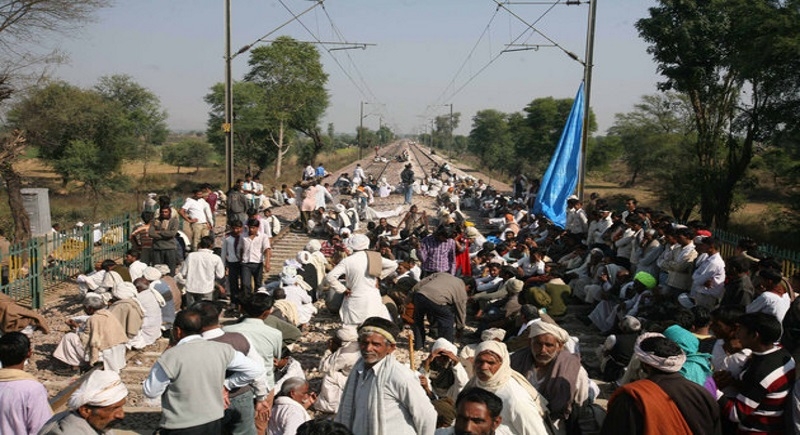 Several trains had been canceled from 8th February due to this agitation, till February 13, almost 65 trains been canceled due to this andolan. 18 trains canceled on Feb 10 in Kota division. 10 trains canceled on 11 Feb and on 12 Feb, 12 trains been canceled. 15 trains are scheduled to cancel on 13 Feb.
On 10 Feb, the agitation turned fierce in Rajasthan's Dholpur district as some protestors pelted stones at police and burn down their vehicles.
As per the statement of Dholpur Superintendent of police, Ajay Singh, unidentified protesters pelted stones at police in the air during the Agra-Morena Highway blockade. In this incident, Four policemen have injured due to stone pelting.
Agitators set afire three vehicles, according to the police report, the police used tear gas shells in order to scatter the crowd. The situation in Dholpur is tense from yesterday.
This agitation started on 8 February by Gujjar Arakhan Sangarsh Samiti's chief Kirori Singh Baisla and his supporters.
On Feb 9, the government delegation met Bainsla to discuss the issue, but this meeting did not reach a conclusion, so the agitation continued.
After this meeting, Bainsla stated, "the community will continue their protest demanding 5 % reservation in jobs and education to the Gujjars, Raika-Rebari, Gadia Luhar, Banjara and the Gadaria communities as was promised by the state government".