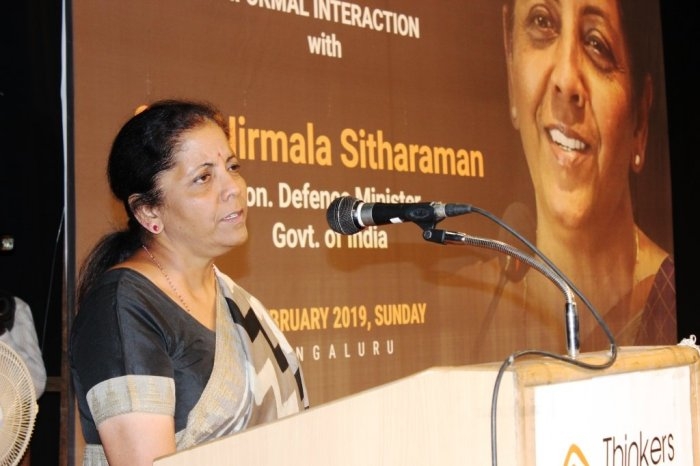 Bengaluru, Feb 25:
Defence Minister Nirmala Sitharaman on Sunday
urged BJP worker to gear up to ensure the re-election of Prime Minister Narendra Modi.
Addressing
the gathering
of Thinker's Forum,
Sitharaman
said that forthcoming
2019 Lok Sabha elections
are totally different from 2014
where various
forces
are joining hands to obstruct BJP and Prime Minister Narendra Modi.
Referring to
the activities of
Mahagathbandhan, the
Defence Minister
stated that coalition
politics
will stall the ongoing development process of the country. She further added that deliberate attempts by anti-Modi forces are being made to stop BJP.
Talking about the 2019 general election,
Sitharaman
asked BJP worker to invest more time and efforts in improving the strike rate of the party.
"BJP will win more than 272 seats under the leadership of Prime Minister Narendra Modi but one should not take it lightly", she mentioned.
Terming Prime Minister Narendra Modi a visionary leader, the Rajya Sabha MP said that policies envisioned by PM Modi have transformed the lives of the common citizen. Underlining the importance Prime Minister Narendra Modi's presence in New Delhi, Sitharaman stated that nation will suffer in a big way if BJP is not voted back to power. On this occasion, Sitharaman urged senior Citizens, Youngsters especially first-time voter to turn up in larger number to participate in the festival of democracy.