New Delhi, February 26: After the massive and pre-emptive action by the Indian Air Force against Pakistan in response to the Pulwama Terror attack in India, China have stepped up urging India and Pakistan to exercise restraint and asked New Delhi to carry out its fight against terrorism through international cooperation.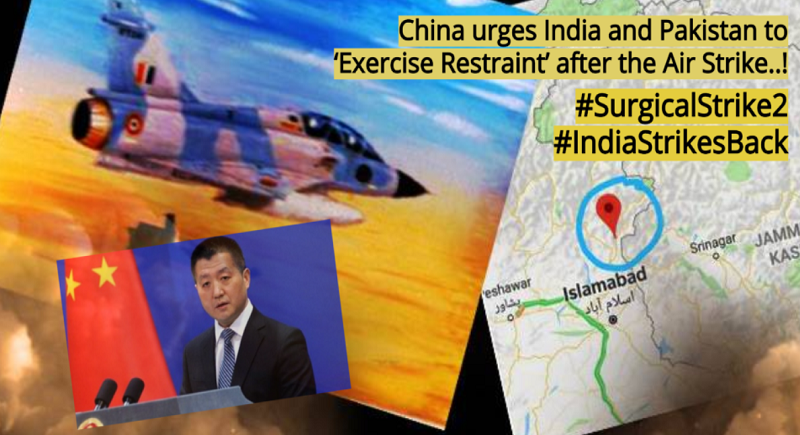 When asked for China's response in relation, Chinese Foreign Ministry spokesman Lu Kang told the media that they have taken note of the relevant reports. "I want to say that India and Pakistan are both important countries in South Asia. A sound relationship and cooperation between the two serves the interests of both the countries and peace and stability in South Asia," he reiterated hoping that both India and Pakistan can exercise restraint and do more to improve their bilateral relations.
On India's assertion that it was a non-military pre-emptive strikes directed against training camps of the terrorist groups who are carrying out violent acts in India, Lu said, "As for India's claim on taking action against terrorism, well fighting terrorism is a global practice. It needs necessary international cooperation. India needs to create favourable condition internationally for the same," he said.
Earlier, when India had appealed the international communities, hinting China, to support the proposal to list terrorists, including JeM Chief Masood Azhar, as a designated terrorist under the 1267 Sanctions Committee of the UN Security Council and to ban terrorist organisations operating from territories controlled by Pakistan, China had condemned the attack but refused the appeal.
The UNSC, setting aside China's stand in relation, named JeM's Azhar, a global terrorist. And now, it is China tactfully trying to balance both the nations calling them important and hoping a soft landing of the India Pakistan swinging plot.