New Delhi, March 10: And here are the dates for the General Elections 2019. Election Commission of India (ECI) today announced the schedule for the 17th Lok Sabha election, which will be held in seven phases beginning from 11 April to 19 May. The first phase of elections will be held on the 11th of next month, the second phase on 18th of April, and third on the 23rd of April. The counting will be held on 23rd of May.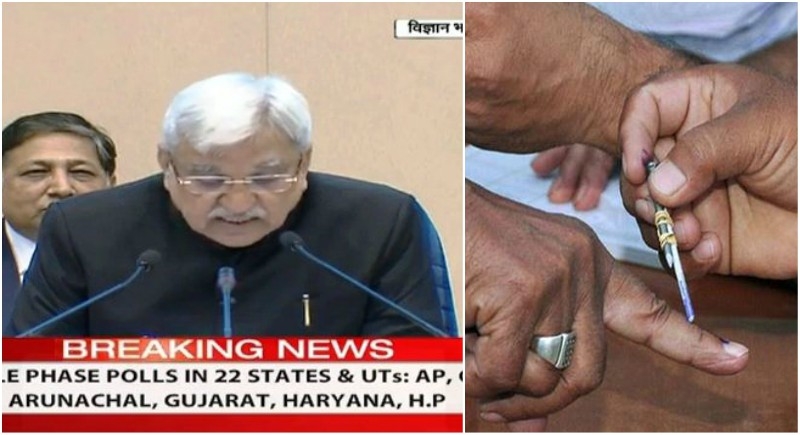 Chief Election Commissioner Sunil Arora announced the poll schedule in New Delhi today evening. The model code of conduct has come into force in the entire country with the announcement of the poll schedule. Announcing the election schedule, Chief Election Commissioner (CEC) Sunil Arora said: "The gazette notification will be issued on March 18. The last date of nomination of first phase polling will be March 25." "The last date for withdrawal of candidature for the first phase is March 28. The first phase polling will take place on April 11. The date of counting will be May 23, 2019. As many as 91 constituencies in 20 states will go to polls in the first phase," he said.

Here is the seven-phase schedule of Lok Sabha Election 2019:
The CEC also stated that the examination schedule of all state boards and occasions like festivals, harvest season, etc were taken into consideration while fixing the poll dates.

"The panel held deliberations with several departments, including railways, to ensure smooth movement and facilitation during the conduct of polls," said Arora. He also informed that the final electoral roles have about 900 million voters. "This marks an increase of 84.3 million voters since 2014. There are 15 million voters in the age group of 18-19. The number of polling booth has also increased from 9 lakh to 10 lakh," he said.